If you've been on Instagram lately, you must have noticed an influx of Reels popping up in your feed. According to Demandsage, Reels have a very high engagement rate of upto 3.79% which makes it a very important part of your Instagram growth journey.
However, making Reels regularly can be painful and you might even run out of ideas at some point. That's exactly where Instagram's built-in Reel templates come in.
These Instagram Reel templates take a major chunk of the guesswork out, as it already provides you with framework behind trending Reels. That being said, I have created an easy-to-follow step-by-step guide for you on how to create Instagram Reels using one of Instagram's templates.
How to Use Instagram Reel Template
To use Instagram Reel Template, open Instagram > your Profile. Then tap the Plus (+) icon on top and select Reel > Templates. Now, swipe left and right to discover different Reel templates, and tap Use Template when you find the one you like. Then, you can start customizing it with your photos and clips.
1. Accessing Instagram Reels Templates
To use Instagram Reels templates, you first need to access the Instagram Reels templates library. To do this:
Open Instagram and tap your Profile icon in the bottom right.
Now, tap the + icon on the top right of your profile screen.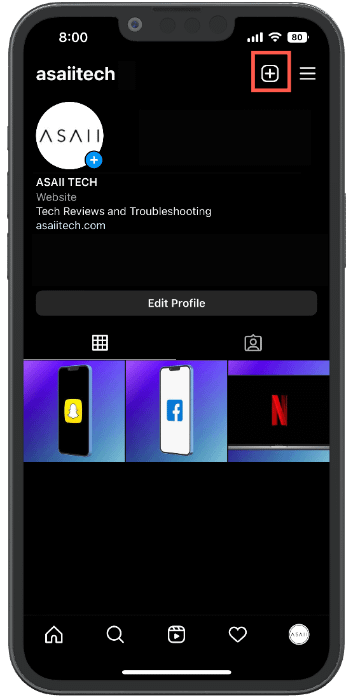 Select the Reel option from the list that emerges.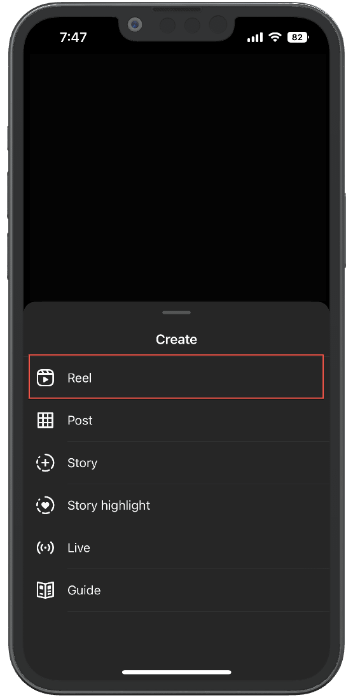 Tap Templates to access the library of Instagram's in-build templates.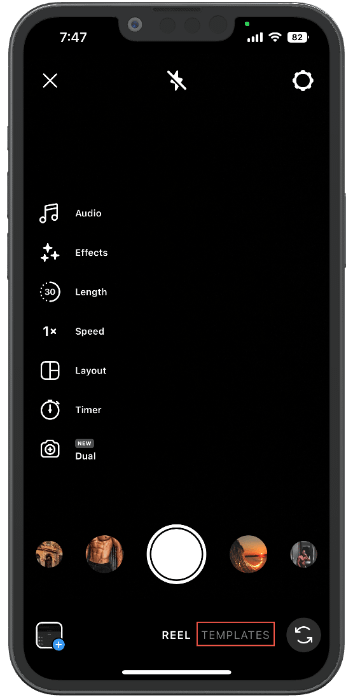 2. Choosing a Reels Template
Once you have entered the templates library, it's time to choose a template of your choice. These templates will have a certain visual filter/effect and audio integrated into them. Keep in mind that you will have to add your own media to it later. So, select a template accordingly that goes best with your photos and video. Here's how to browse and select a template on Instagram:
In the Instagram in-built Reel Templates library, you will see various options. Swipe left to discover more options.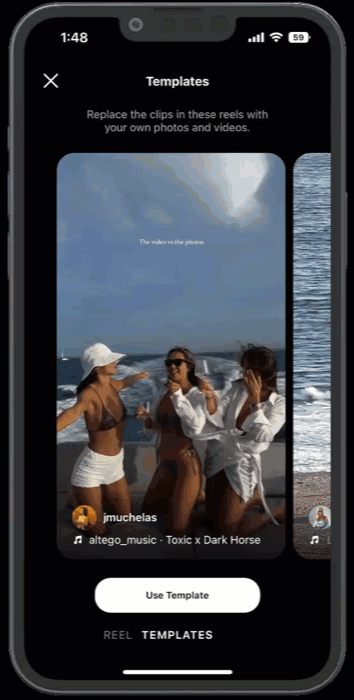 Once you have found a template of your choice, tap the Use Template button.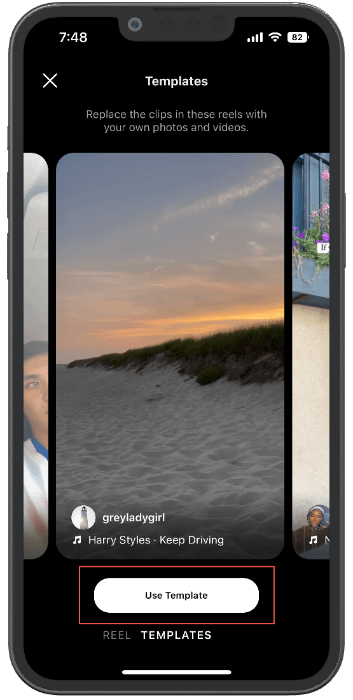 3. Adding Your Photos & Videos to Instagram Reels Templates
After you have selected the template that caught your eye, it's now time to start customizing it with your own photos and videos. Tapping Use Template will automatically open that template in Instagram's Reels editor. From there on, do the following:
In Instagram's video editor, tap the Add media button on the bottom to add your photos and video clips to the template.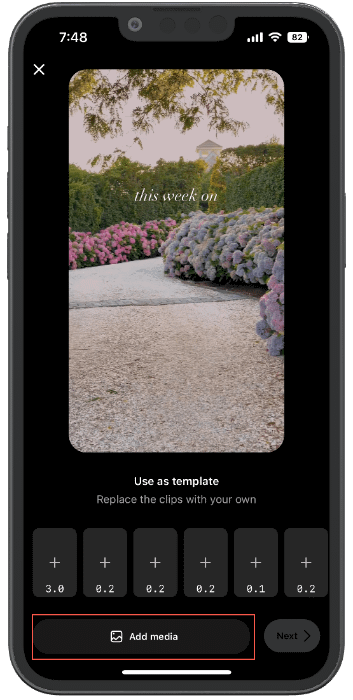 This will open your camera roll. From here, tap the photos and videos you want to add to your Reel.
Note: Remember that the photos/videos will be added to the Reel in the same order you tap on them. This means that the ones you select first will appear first in your Reel, followed by your second, third, and succeeding selections.
Also, the number of photos/videos you can add is limited to the number of slides in the template. And you have to select at least three clips.
Once you are done selecting your photos and videos, tap the Arrow button in the bottom right.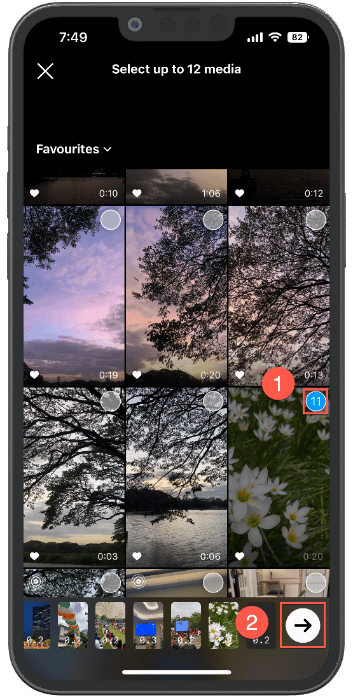 This will move your selected media to the Instagram video editor and give you a preview of what your media will look like in the given template.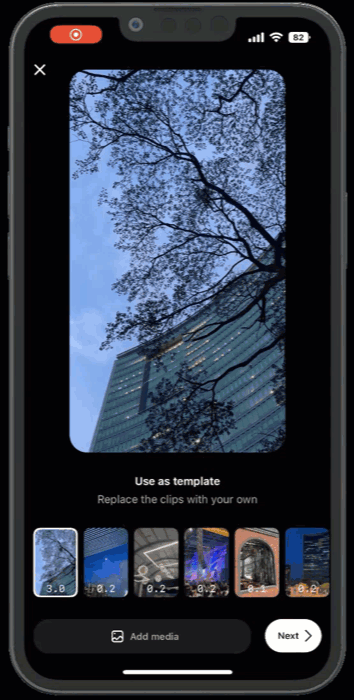 Here, you can even remove or replace media from a slide by tapping on it. Then tap the Replace Media button, which will take you to your camera roll. From there, you can select another photo/video. Additionally, you can also adjust the clip lengths by tapping on each clip/photo.
Once you are satisfied with the placement of your media, tap Next in the bottom right corner.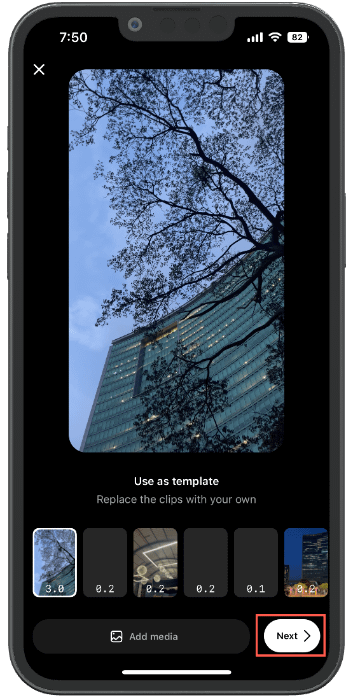 4. Editing and Captioning Your Reel
At this point, your Reel is almost ready. Now, you can use different editing tools for personalizing and customizing your Reel. For example, you can change effects/filters, add stickers, doodle, add text, etc. on your Reel. Once you are done:
Tap Next in the bottom right corner.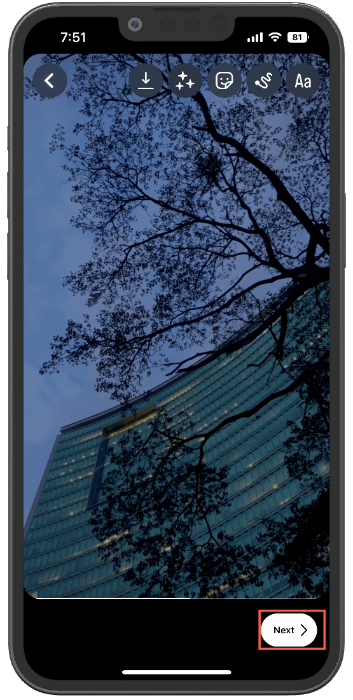 Then, it will open the sharing options. Here, you can also write a caption for your Reel in the text box labeled Write a caption…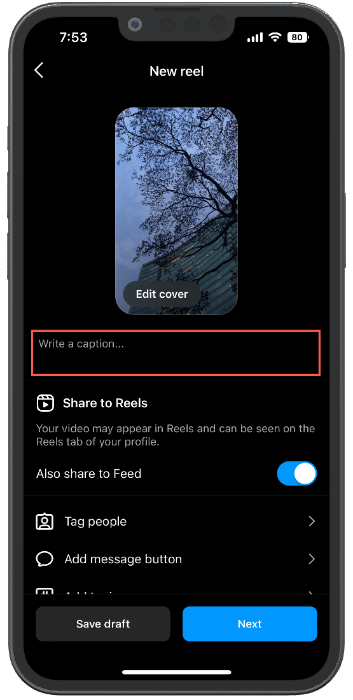 I suggest putting in the effort to write a catchy or quirky caption. You can also use emojis to make your caption more interesting. Additionally, you can use your caption to give context, description, or a CTA (call to action).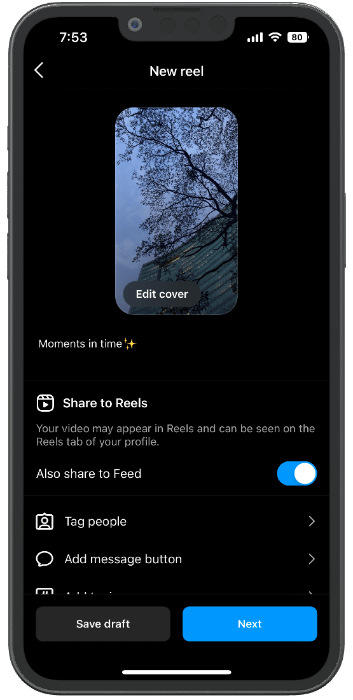 5. Adding a Cover to Your Instagram Reel
After finalizing your caption, it's time to edit your cover. The cover is basically the photo that will appear before your Reel starts playing. To edit your Reel cover, tap Edit cover.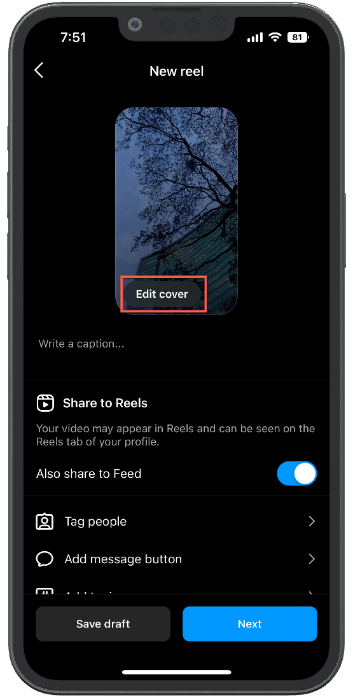 Now, you have two options. You can either select a frame from your existing reel or tap Add from camera roll to add a different picture as your Reel cover.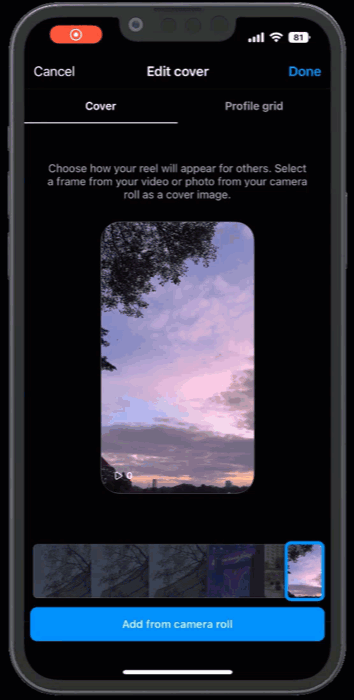 Keep in mind that your Reel cover plays a big role in attracting a viewer. So, be sure to add something eye-catchy and intriguing as your Reel cover to make your tickle your viewers' curiosity.
Tap the Profile grid option on the right side of your screen. This will give you an idea of how your Reel will appear in the grid view among other posts on the Explore page and your Profile. Move the image around until you are satisfied with how it looks.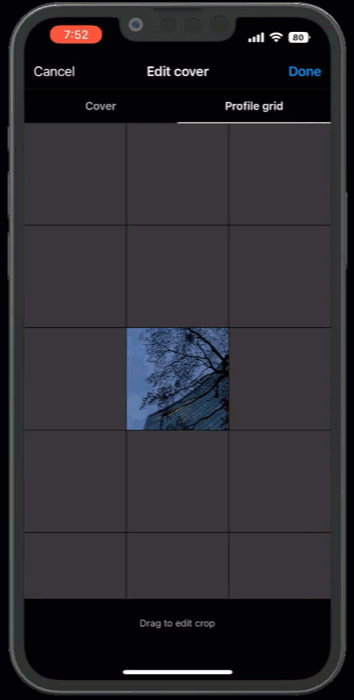 6. Finalizing and Sharing Your Reel
Now, your Reel is ready to be shared. It's time for some additional settings.
You will find a bunch of different sharing options on this page. Here's what all of them mean:
Tag people option allows you to tag other Instagram accounts. You can use this feature if you have made the Reel in collaboration with someone or when you simply want to dedicate it to them.
Add message button doesn't appear on personal accounts. It'll only appear if you have a business account. This is an excellent way to improve engagement on your Reel.
Add topics is another option that only appears on public business accounts. It helps make your reel more discoverable.
Add location, as the name suggests, helps add a location.
Recommend on Facebook is another feature that you can use to make your business account Reel visible on Facebook.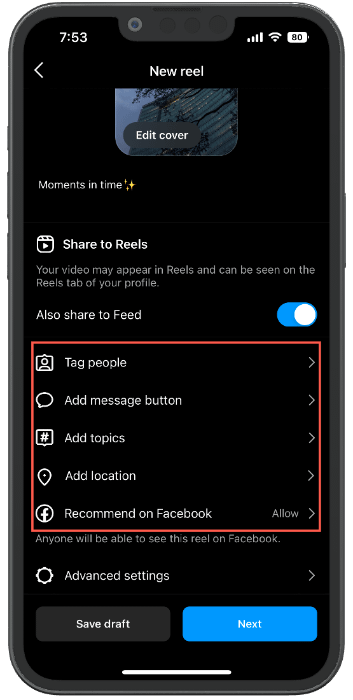 Once you are done with all sharing and visibility settings for your Reel, it's time to publish it. Simply tap the Next button on the bottom right.
After this, Instagram will ask you to confirm your choice. Tap the Share button to finally publish your Reel.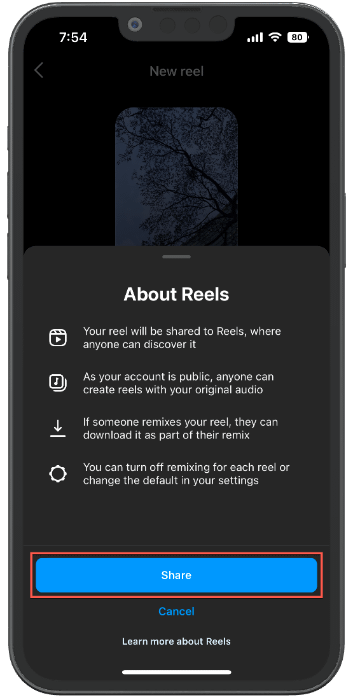 And it's done! You have now successfully created and shared a Reel using Instagram Reels templates.
Frequently Asked Questions
How to use the template of the Reel I saw?
To use the template of a Reel you saw, simply open that Reel and tap the Use template button. However, it is important to note that not all Reels have this button. So, if the Reel you like doesn't have that button, you can't copy its template.
How to Use Instagram Reel Template?
Here's how to use Instagram Reel Templates:
1. Open the Instagram app and go to your profile.
2. Tap the plus icon and select the Reels option.
3. Tap on the Templates option on the lower right.
4. Select a template you like.
5. Add clips to the template and upload your reel to Instagram.
Does Canva have reel templates?
Yes, Canva has some excellent customizable templates for Instagram Reels. On top of that, the image and video editing tools of Canva are a lot better than that of Instagram. Here, you can customize and add more character to your Reels.
What does the Remix option do on Instagram Reels?
The Remix option in Instagram Reels helps you integrate your Reel into that Reel. Basically, when you tap the Remix button, it allows you to add a new Reel to the existing Reel. Both Reels appear next to each other in a single frame. This is an especially useful feature for giving reactions and responses to a particular Reel.