Being a Snapchatter, nothing can be worse than getting your Snapchat locked all of a sudden- especially when you have no idea why you are hit with the locked notification. What's even more concerning is that one wrong move can make you lose your Snapchat account forever.
So, if Snapchat locked your account and you have no clue why, read this post and find ways to get your account back.
Why Is Your Snapchat Locked? -7 Possible Reasons
Your Snapchat could be locked for a number of possible reasons, such as posting offensive content, logging in from an unknown device, and suddenly adding too many friends. Or you may have possibly violated Snapchat's community guidelines in some way, and Snapchat has locked your account.
There are many possible reasons why your Snapchat account got locked. Finding out the right reason can help you troubleshoot the problem better. Here's what could have happened:
1. Adding Too Many Friends At Once
If you haven't verified your email and contact number, and you suddenly add too many friends in a short period of time, Snapchat detects it as suspicious activity. Considering it a cyber threat, it may temporarily lock your account until you verify your necessary details.
2. Violating Snapchat's Community Guidelines
Snapchat expects every member to follow their community guidelines. That includes avoiding abusive behavior, spreading misleading information, sending spam messages, bullying, and more. In short, you must avoid sharing or posting any content that can harm others. It is possible that you may have unintentionally shared inappropriate content, which is why your Snapchat account is temporarily locked.
3. Detecting Security Risks
Your Snapchat account can also get locked due to security risks. For instance, you may have logged into your account with a different device and tried to change your verified information. Or you may be using an older version of the app with outdated security features. In both cases, Snapchat locks your account to keep it safe from unauthorized access.
4. Using Unauthorized Third-Party Apps To Use Snapchat
Third-party apps use unsecured connections and often try to make some changes to your account using bots. Moreover, they can cause information leaks, cyber-attacks, and other security risks. So, if you have installed any unauthorized third-party app to use Snapchat, that's probably the reason why Snapchat has locked your account.
5. Trying To Log In From A Banned Device
Using Snapchat on a banned (or stolen) device not only locks your account but also saves that device's IMEI in the Snapchat server. So, if you recently logged in from a different device and your account got locked out of Snapchat, the device you were using may be on the blacklist of the relevant authorities and Snapchat server.
6. Using Suspicious Network
Masking your network with a VPN makes it untraceable and imposes serious security threats. This increases the risks of cyberattacks against you and other Snapchat users as well. To avoid such a security breach, Snapchat locks your account until you log in from an authentic network. So, if you have accessed Snapchat with a VPN, that may be the reason why your account is locked.
7. User's Reports For Inappropriate Content
Snapchat takes its members' reports seriously – to the extent that it locks the responsible account for a few hours. Then unlocks it with a warning to ensure that the content owner does not post such content again. So, it is possible that someone reported your content to Snapchat, and they may have locked your account.
How to Unlock a Snapchat Locked Account? -7 Effective Methods
To unlock your Snapchat account, try Snapchat's unlock option, update the app, clear your Cache, or uninstall unauthorized third-party apps. If nothing works, use Snapchat's support forums to register your request to unlock your Snapchat account.
Let's take a look at some of the tried-and-tested ways to safely unlock your Snapchat account:
1. Use Snapchat Unlock Option
This is the fastest and safest way to easily unlock your Snapchat account. Just follow the steps mentioned below:
First, open the Snapchat login page.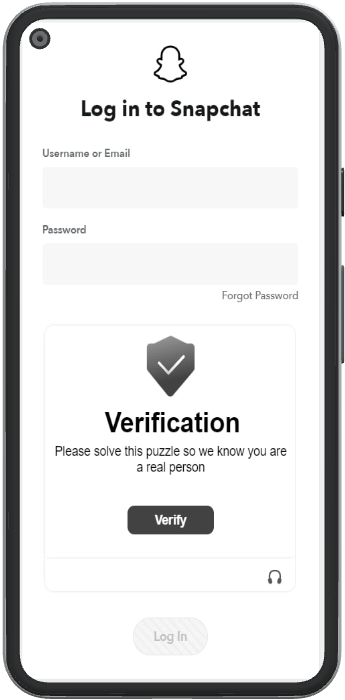 Enter your username and password. Then, solve the verification puzzle and tap the Log In button.
If you have already added the verified mobile number or email address to your Snapchat account, then you'll see the following screen on your device.
Once you press submit, you'll get a notification code via SMS or email – depending on the option you choose. Now, enter the received code and tap on the Submit button.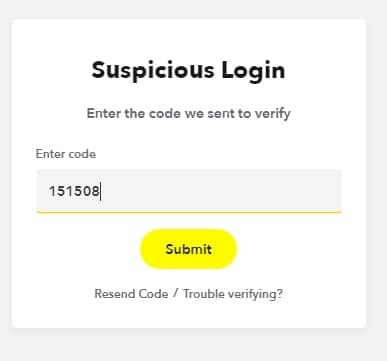 Here, you'll see the Locked Account notification. Click the yellow Unlock button below it.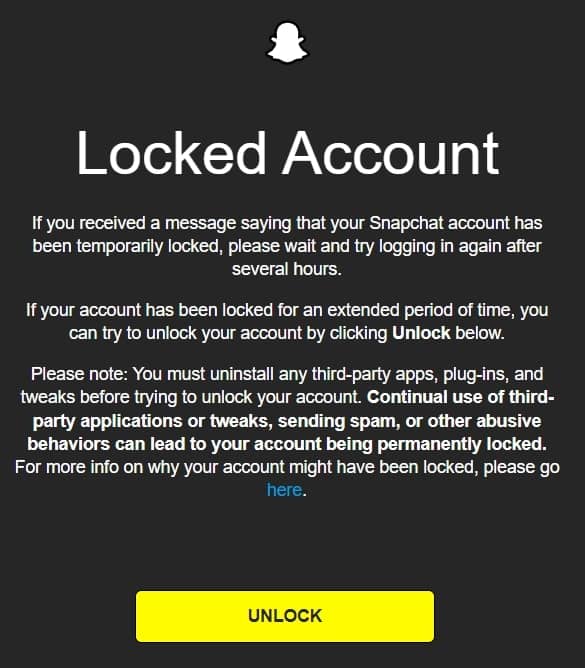 And finally, you'll see the Success notification within a few seconds.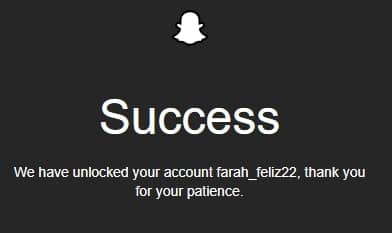 If you have at least one verified information added to your account, you can unlock your account a lot quicker. So, make sure to add and verify your Snapchat account information to ease your account's unlocking process in future.
2. Uninstall Third-Party App For Using Snapchat
Snapchat strictly discourages the use of any unauthorized third-party app to keep their platform safe for all users. Here is what you need to do to uninstall third-party apps:
Open the App Management within the Settings menu of your device. Find the third-party app that you have installed to use Snapchat. In this case, it was Streakers.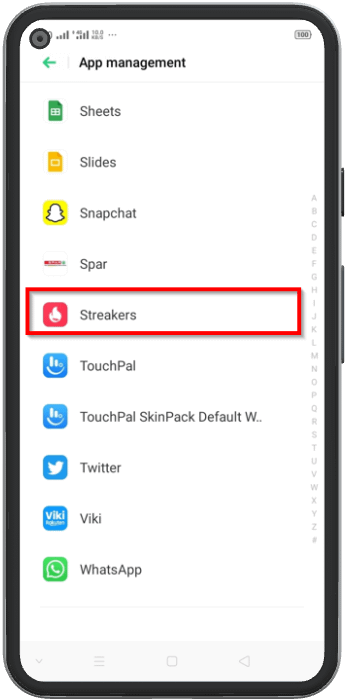 Now, tap on a third-party app icon to open App info. Then, tap on the Uninstall option.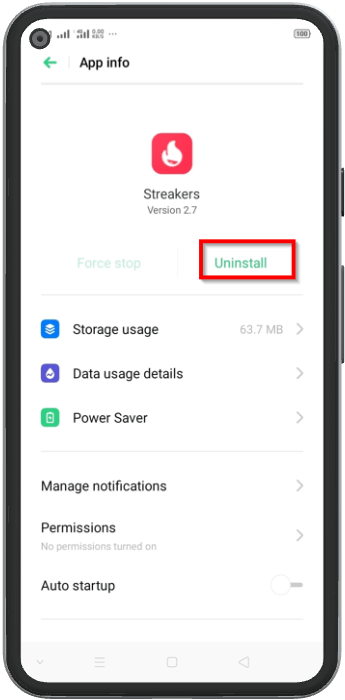 Finally, tap on Ok to complete the uninstall process.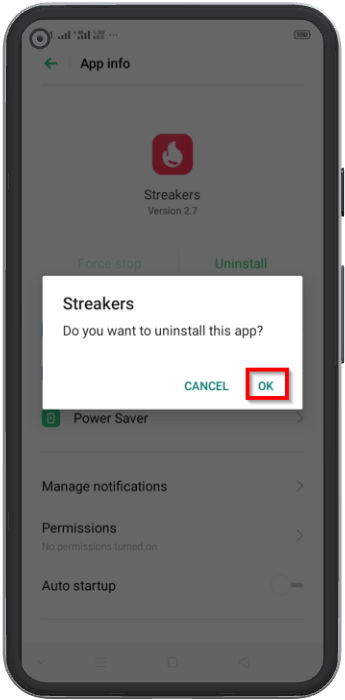 Once the uninstalling process is done, launch the Snapchat app and log into your Snapchat account. Now, you should be able to use your Snapchat account again.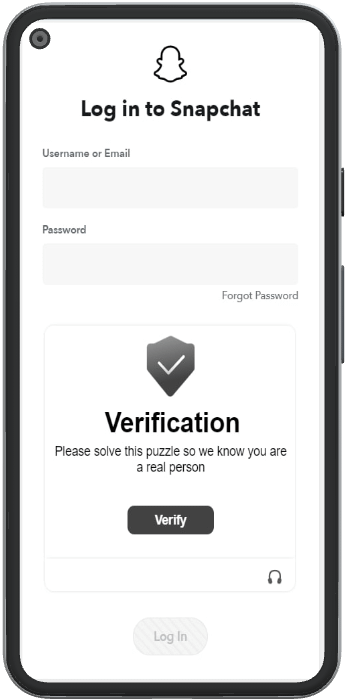 However, if you use an unauthorized third-party app again, you could get your Snapchat account locked again. In fact, you could face severe penalties (or get permanently locked) for violating Snapchat's community guidelines.
3. Clearing The Cache Of The Snapchat App
If your account shows an error that says, "Uh oh, something went wrong. Please try again later." and you are unable to log in even after following the previous unlocking methods, then the problem may lie in your device's cache.
So, it's time to clear your Snapchat cache. Here's how to do it:
Navigate to the App Management tab via your device Settings.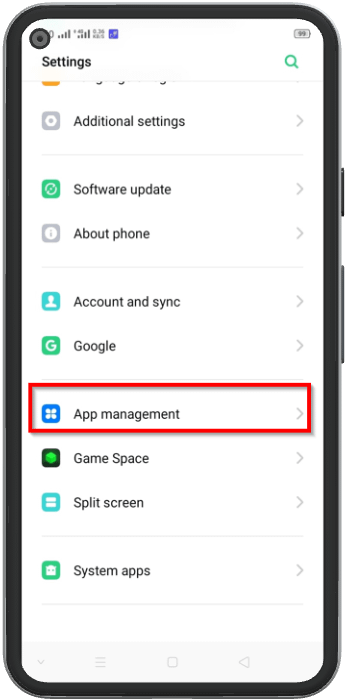 Find the Snapchat app in the list.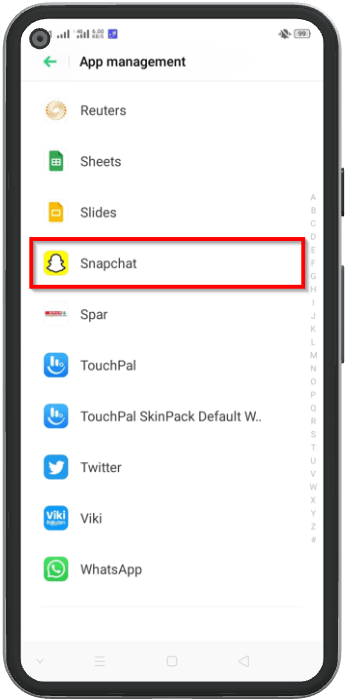 Tap on the Snapchat app to view its App info
Here, tap on the Storage usage to view more details.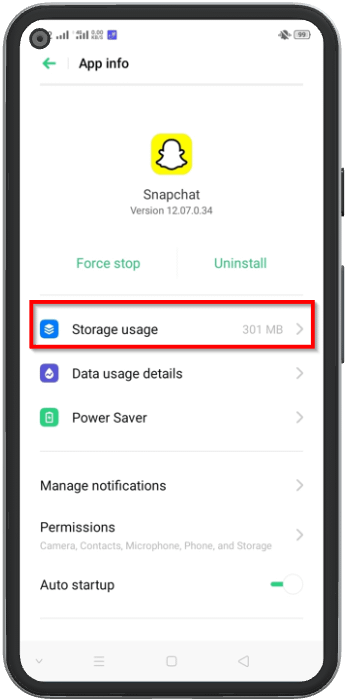 Now, click the Clear cache option to clear data from the cache memory.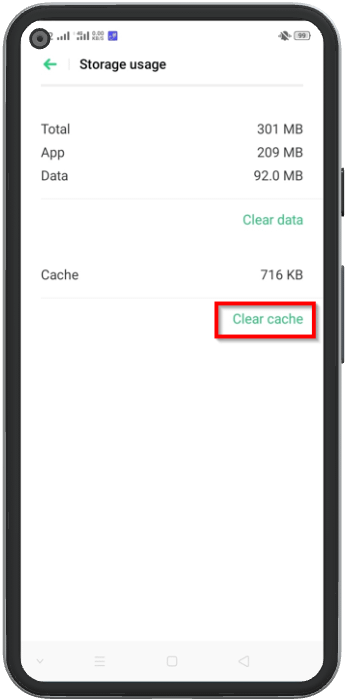 If the cache clear process completes successfully, you'll see 0 B in front of the Cache.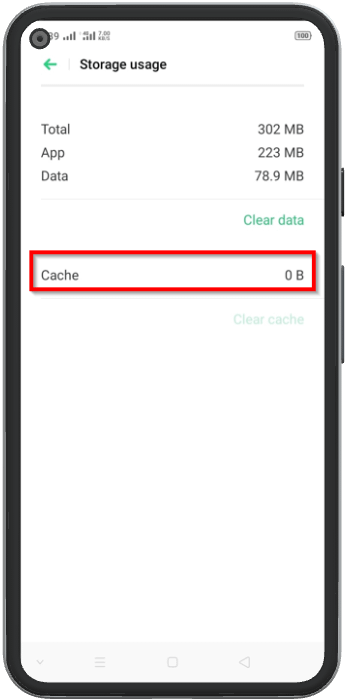 If the cache was the issue, you would be able to log into your Snapchat after trying this fix.
4. Recover Your Account From Hacker Or Unknown Access
In case your account is compromised and you are unable to log into it. Then, you can follow these steps to unlock your Snapchat account:
Open your web browser and type https://support.snapchat.com/en-GB/i-need-help. On this web page, you'll see a form with some options. You have to select the one that says, "I think my account has been compromised".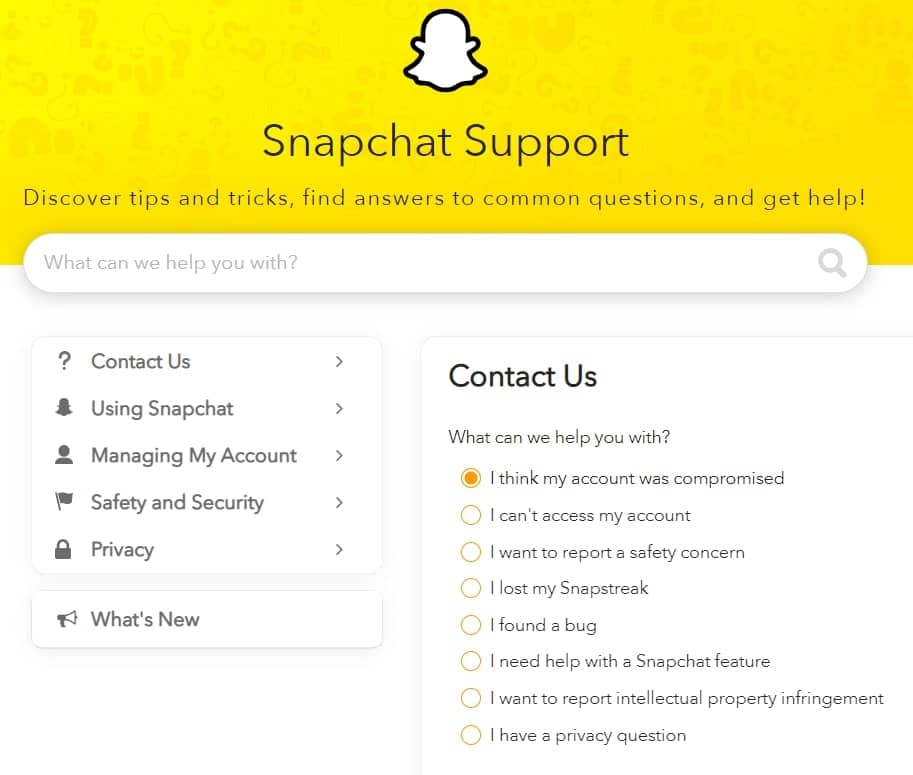 Now, fill in the required information, and explain your Snapchat account's situation in the description box. Then, tap on the Send button.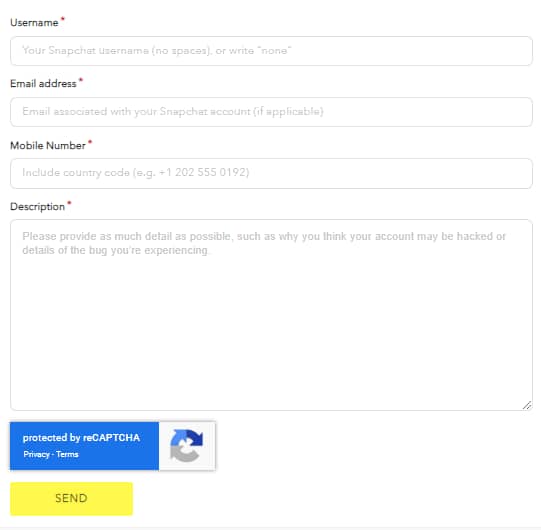 Now, wait for the Snapchat team to get in touch with you via email.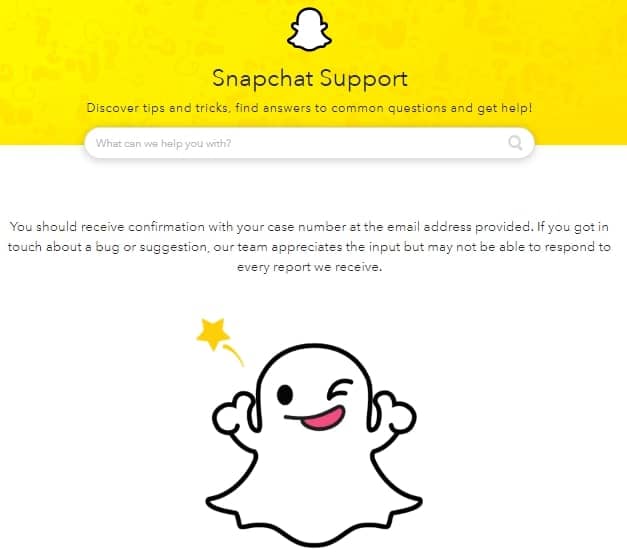 Generally, the issue is resolved within 24 hours to 72 hours. But if the problem persists, then you should contact Snapchat's support team one more time to resolve your account issue as soon as possible.
5. Update The Snapchat App To The Latest Version
Using the old version of Snapchat may cause security threats to your account. In fact, most apps roll out their updates to fix their security issues. So, you should always use the latest version of any app to experience the maximum level of security for your online data.
Here is how you can check and install the latest version of Snapchat on your Android devices:
Open the Play Store and tap on your profile icon, located at the top-right of the screen. Then, click the Manage apps & device option.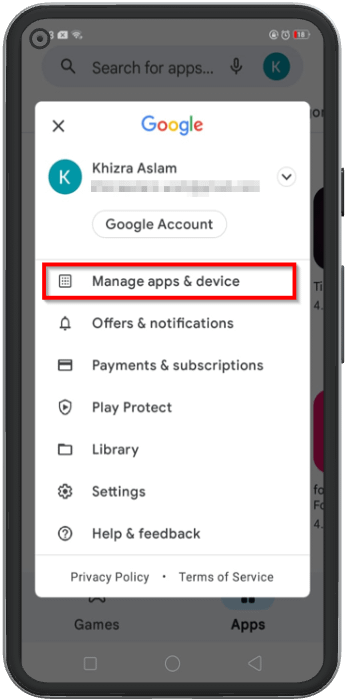 Tap on the Updates available option and find the Snapchat app in the list.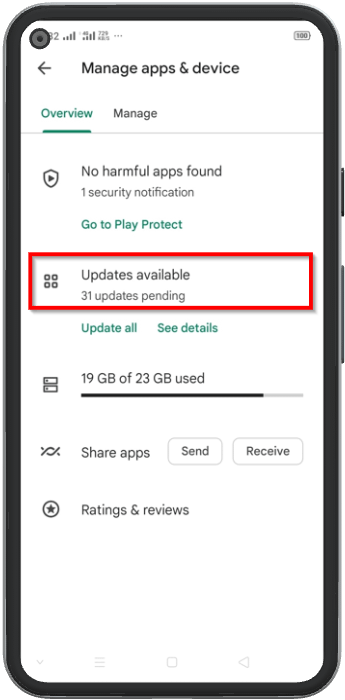 If you see an update is available for the Snapchat app, then tap on the Update button.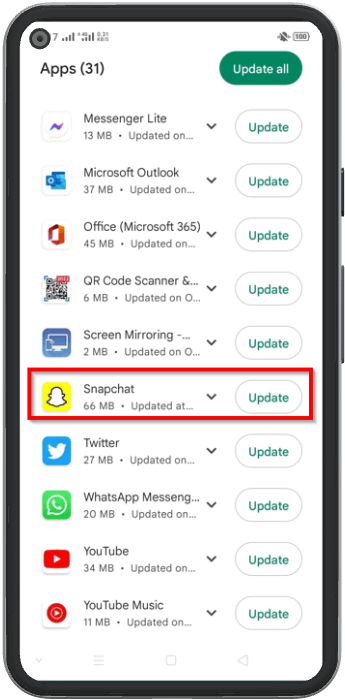 Once the update is successfully installed, launch the Snapchat app to log in to your account.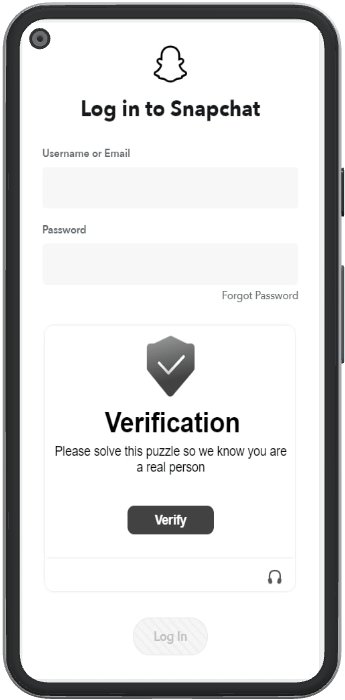 If the outdated version of the app was the issue, you should be able to log into your Snapchat account now.
6. Reinstall The Snapchat App
Sometimes, old Snapchat app data on your device can cause you to see the Locked notification – even after you have unlocked your Snapchat account. So, you may need to reinstall the Snapchat app on your device to delete or overwrite all previous data and get access to your Snapchat account.
Here's how to reinstall the Snapchat app on your Android device:
First, find the Snapchat app on your device.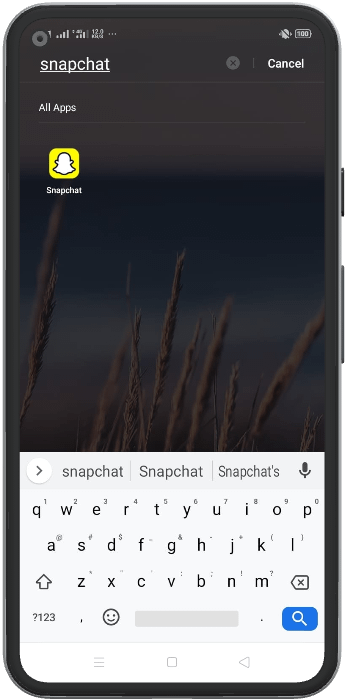 Long press the Snapchat icon to get more options.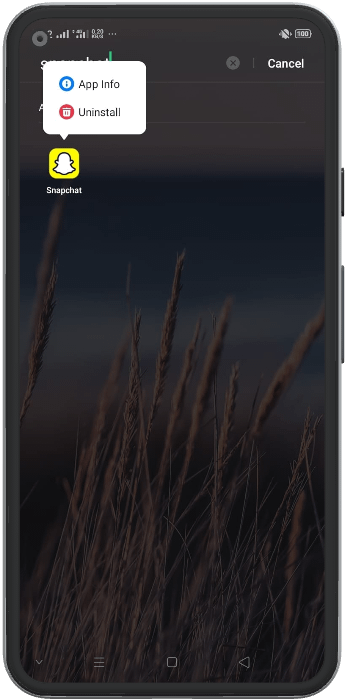 Choose the Uninstall option. If you're not able to uninstall the app directly, click the More info option (which might also be App info in some cases). This will open the app settings, and you will be able to uninstall Snapchat from there.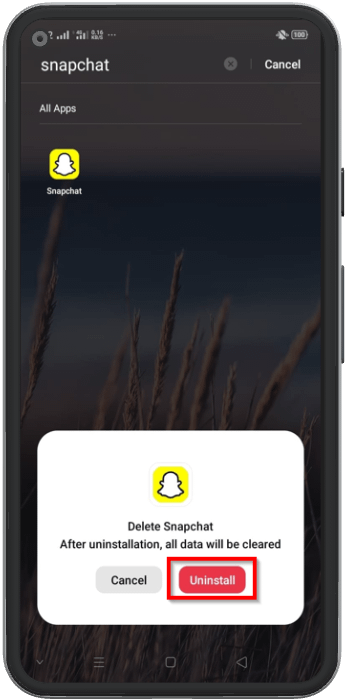 Now, open the Play Store and type Snapchat in the search bar.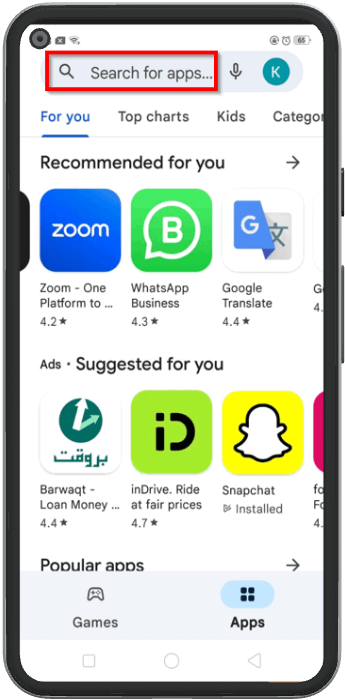 Select the Snapchat app and tap on the Install button.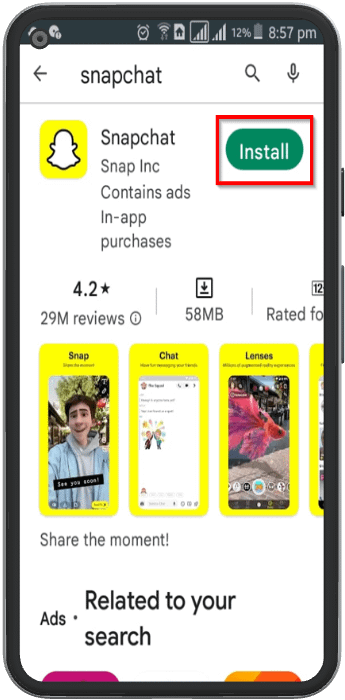 7. Report The Issue To Official Snapchat Support Team
If none of the above solutions works, you may need to contact the official Snapchat team, as recently, many Snapchatters reported that they got their accounts back – even when they were permanently locked from the platform.
So, here is the faster way to recover your Snapchat account:
Go to Snapchat's Contact Us page via your web browser using the link https://support.snapchat.com/en-US/i-need-help

Choose the "I can't access my account" and "I think my account was hacked" options in the form.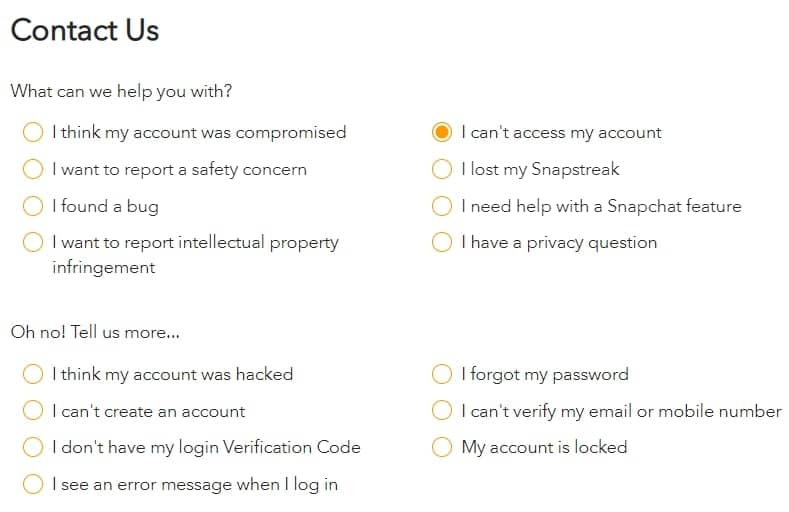 Fill out the details, send your request, and wait for the Snapchat support team to connect with you via email.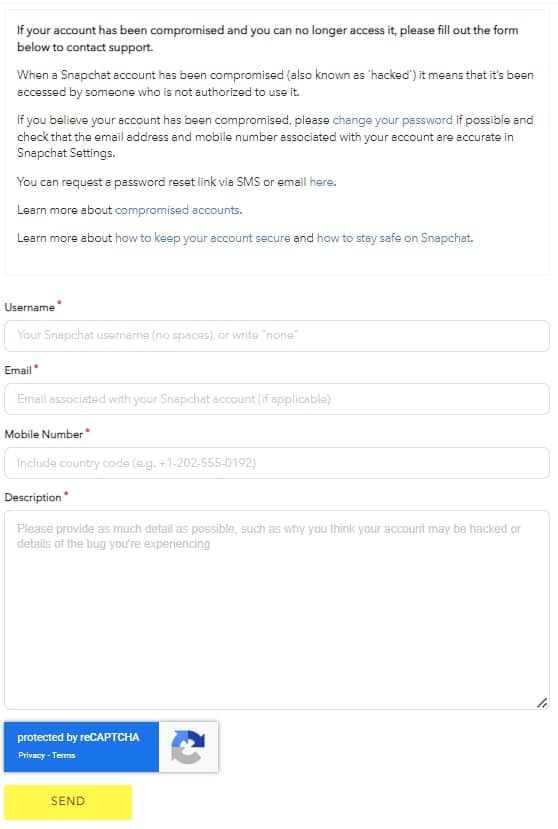 Another way to get a quick response from the Snapchat support team is through their Twitter-verified accounts, which are @Snapchatsupport and @Snapchat. You can tag them in your tweets to report issues related to your Snapchat account. Sending the images with a proper description of your locked Snapchat account may help you to get their attention faster and resolve your issue more quickly.
How To Prevent Snapchat Account From Getting Locked -7 Tips
To prevent your Snapchat account from getting locked again, make sure to strictly follow its community guidelines and avoid sharing any inappropriate content. Also, you should not use any third-party app, unauthorized devices, suspicious networks, and VPN to access your Snapchat account.
Once you get your Snapchat account back, you have to be more cautious. Here are some tips for you to prevent your Snapchat account from getting locked again:
1. Abide by Snapchat's Community Guidelines And Rules
If you are again caught breaking Snapchat Community Guidelines, it will consider your actions as an intentional violation. This can cause you to lose your Snapchat account permanently. So, the first and foremost thing that you must do is read Snapchat's community guidelines carefully. Then, follow all of Snapchat's rules to prevent your account getting locked again.
2. Enable Two-Factor Authentication For Your Snapchat Login
When you enable two-factor authentication, Snapchat sends a login code to your verified contact number or email. You must enter this code within a specified time limit. This extra layer of the verification process protects your Snapchat account from unauthorized apps – from the apps that are currently or were previously installed on your device.
3. Use Authorized Third-Party Apps For Your Snapchat Account
To enjoy extra fun features on Snapchat, you can use any authorized third-party apps via Snap Kits. Since Snapchat's trusted developers have built these apps, they are much more reliable and secure from cyber attacks. You can view some of the Snap Kits apps here.
4. Verify Your Email and Mobile Number
Verifying the email address and mobile number associated with your Snapchat account lets you secure it from anonymous access. This also makes recovery of your Snapchat account much easier and faster than unverified Snapchat accounts. So, make sure to add and verify your information using the Snapchat app and relevant accounts.
5. Use Snapchat Account On Whitelisted/Allowlisted IMEI Devices
Always use your Snapchat account on legally registered devices. But if your device got locked due to its IMEI issue, you must first get it removed from the blacklists of the relevant authorities. In this case, it is the service provider and Snapchat server. Then, contact the Snapchat support team to unlock your device from their list and let you easily access your Snapchat account from it.
6. Access Snapchat Account Using a Secure Network
Snapchat stores information about suspicious networks and IPs on its servers. This helps Snapchat lock the accounts that use such malicious networks and keep their platform safe for its members. That's why you should not use VPNs or fake networks to avoid getting your Snapchat permanently locked.
7. Always Respect Other Snapchat Members
Make sure to review your content carefully before posting or sharing it with other Snapchatters. Be thoughtful of what you are posting and sharing on this platform. Make sure your content doesn't create any negative or unpleasant experience for anyone – like bullying, harassment, violence, or anything inappropriate that may in any way harm others.
Frequently Asked Questions
Why is Snapchat not letting me unlock my account?
You may have unintentionally failed to comply with Snapchat's community guidelines and terms of service. Or you may have used incorrect Snapchat login credentials to sign in to your account. So, it's possible that Snapchat has locked your account temporarily or even permanently. But before giving up, make sure to try all the fixes given in the article.
Does Snapchat ban IP or IMEI?
Snapchat can ban both – IP and IMEI. If an IP uses VPNs or fake networks, Snapchat bans that IP address. Similarly, if you try to access your Snapchat account from an illegal device, it bans the device with its IMEI. Furthermore, Snapchat saves all this information on its server to prevent anyone from using these banned networks or devices with their Snapchat accounts.
Can you be unbanned from Snapchat?
For a permanently locked Snapchat account, you'll need to submit a request to unblock your Snapchat account with a reasonable explanation to Snapchat's support team and wait for their response email. Or you can consider creating a new Snapchat account. But in the case of a temporarily locked Snapchat account, you can use the unblock link option.
How do I know who logged into my Snapchat account?
Snapchat saves your login history in the My Data option, which is also available to download via your verified email address. You can easily look into your login activity using that data and know if there is anything unusual going on with your account. Moreover, Snapchat has a one device at a time policy, which limits access to your Snapchat account from multiple or unfamiliar devices at a time.