Do you often find yourself running around, asking people for wi-fi passwords to get internet access? Thanks to Apple, this is no longer a problem that you should scratch your head on. If you are using IOS 11 or higher, you can easily share your wi fi password with anyone.
In case you have not used this feature in the past, or it sounds new to you, then no worries. Let us have a quick look at how to share passwords—iPhone to other apple devices and android phones.
How to Share WiFi Password from iPhone -4 Ways
To share wi fi password, ensure you have saved each other's contact info. With one device already connected to the internet, the other person should select the same network. A notification will pop up on the other device asking permission to share the password. Tap Share Password and your password will be shared.
Apple allows you to instantly share passwords between iPhones, iPad, Macbooks, Windows, and android devices. This feature allows you to share passwords instantly with anyone without revealing them. But if you are unable to do it on your own, follow these simple steps.
1. Share WiFi Password iPhone to iPhone or iPad
To share your wi fi password, make sure that you are in the range of another person's device, the Bluetooth is turned on, and your device is running on the latest iOS version. 
Turn wi-fi and Bluetooth on both devices by swiping down the control center from the top right corner of your screen.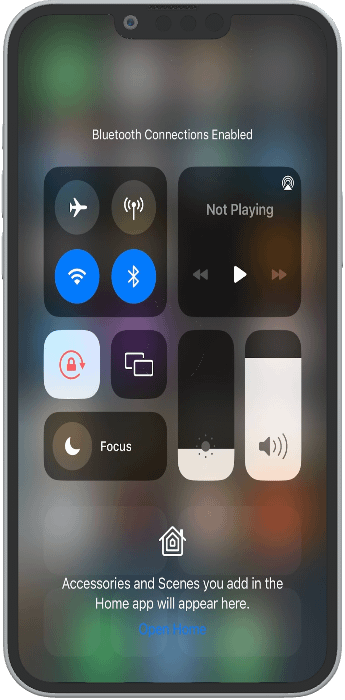 On the iPhone or iPad, wait for the connection to appear. Then, go to the settings app and choose the wifi network you want to connect. Make sure both devices connect to the same wi fi network.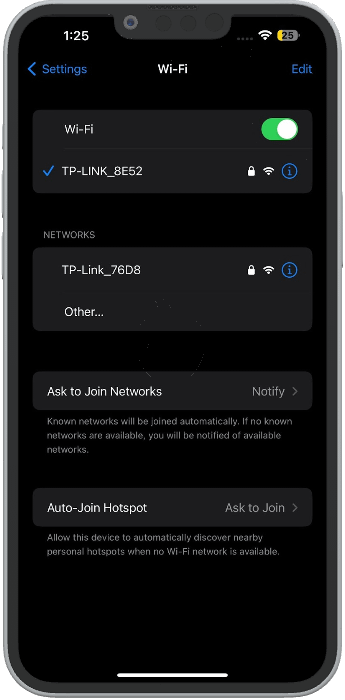 As soon as you tap the wi fi network, the other device will receive a notification to share the password. Select Share Password from the menu.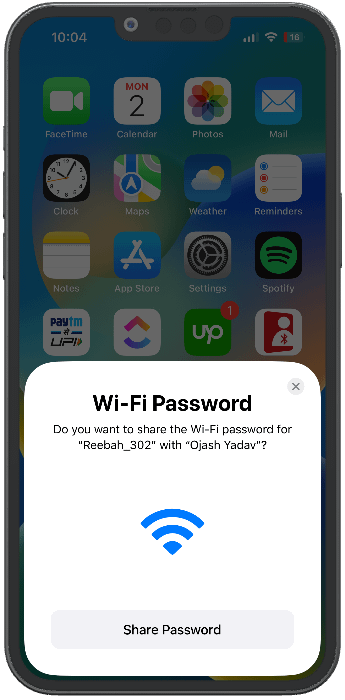 2. Share WiFi Password iPhone to Macbook
Before sharing your password on Macbook or from any other Apple device, you should add the contact details of the other device on your Macbook. This allows your device to easily identify if anyone from your contact list needs wi fi sharing.
For this, navigate to Finder. Select Applications from the list and open the Contacts app. Tap on the plus button to add a new contact.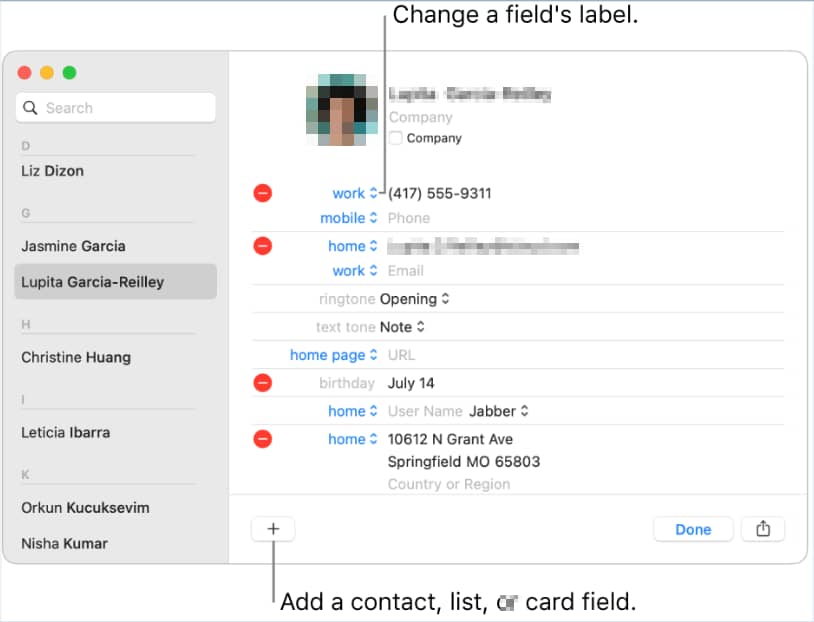 Once you have added each other's contact, go to wi fi option on your MacBook and select the network you want to connect. You need to select the same network the other device is connected to, or else the option for password sharing won't show up.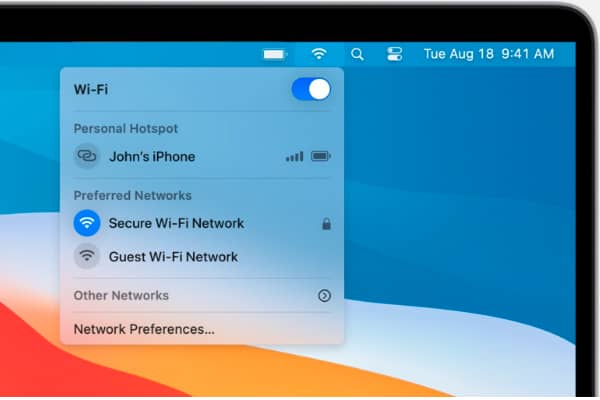 Immediately, a prompt will show up on the iPhone. Select share password to allow MacBook access to the internet.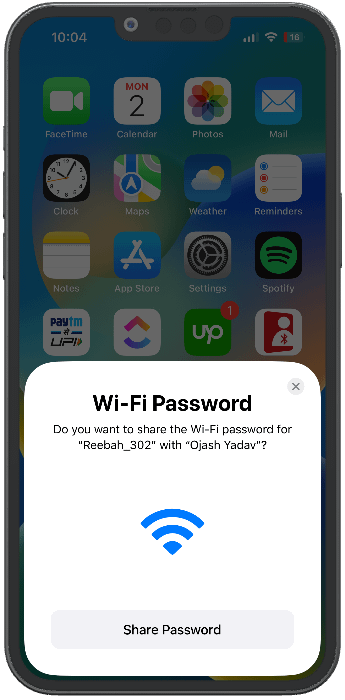 3. Share WiFi Password iPhone to Android
Since Android phones do not run on the same operating system as iPhones, it can be a bit tricky to share wifi passwords. For this purpose, you need to install a QR code app on your iPhone. In this case, we are going to use Visual Codes, which you can download from this website.
Open the app and tap on Add Code.
On the next screen, select Connect to Wi fi.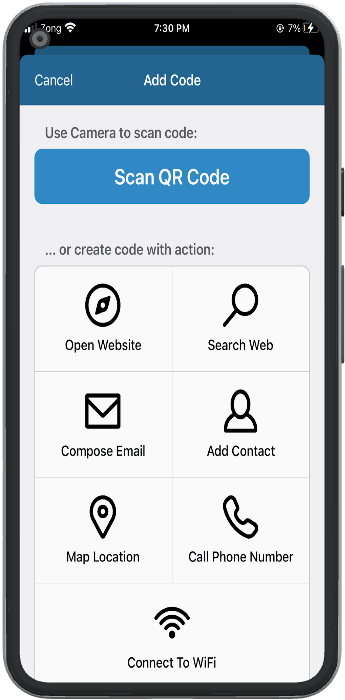 Fill in your wi fi details, such as name, password, and security type.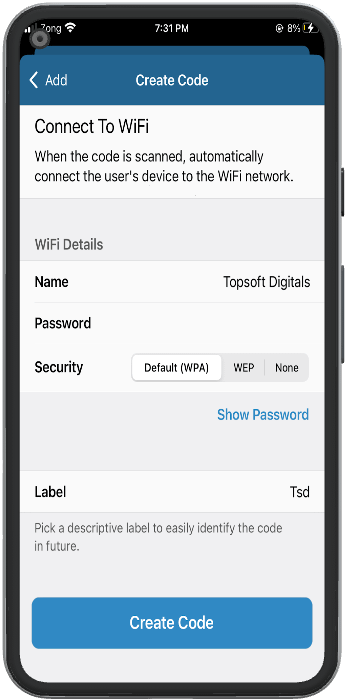 Finally, hit Create Code. This will allow you to create QR code that can be scanned on other devices to connect your wi fi without actually revealing its password.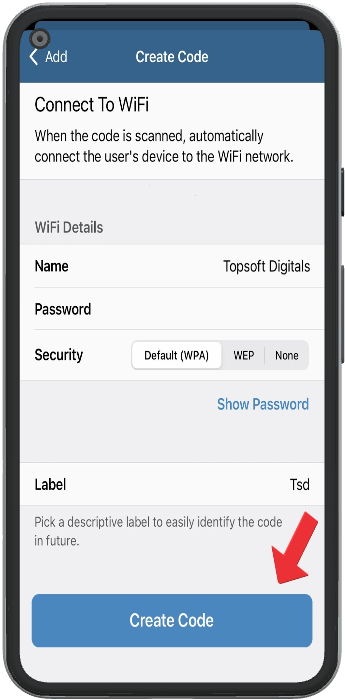 On the next screen, you will see your wi-fi network listed as a QR code.
On the Android phone, scan the QR code from the camera. You will see an option on the bottom screen to connect to the wi fi network. Tap it to connect to your iPhone network.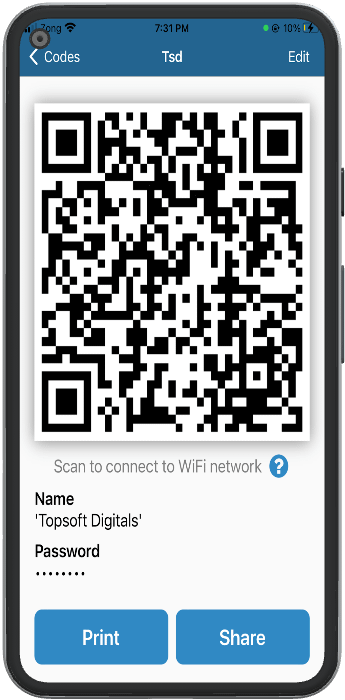 4. Share WiFi Password iPhone to Windows
Currently, there is no direct way to share wi fi password to Windows from iPhone. But we have found a way that would work in any case. This method can work on any device, whether you have iPhone, iPad, MacBook, Android phone, or even Windows. The only catch is you need to have at least IOS 16 version on your Apple device.
Open the Settings app and go to Wi-Fi. You will see a blue tick right next to the Wi-Fi network you are connected to. Tap on the connected network to view its settings.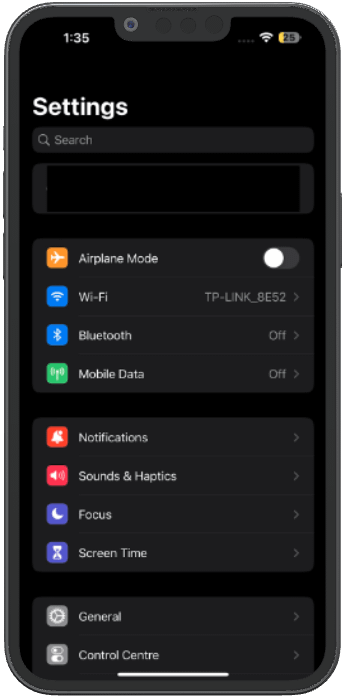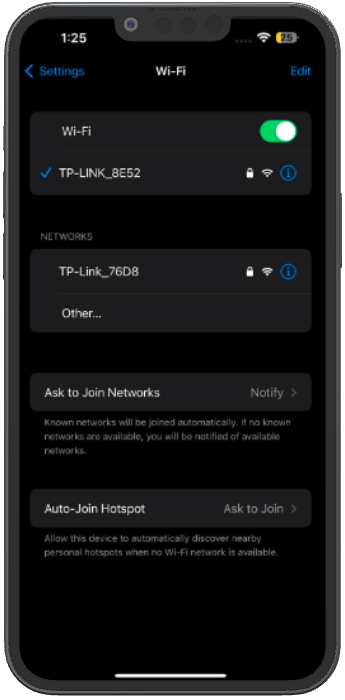 Select the wi fi network you are currently connected to.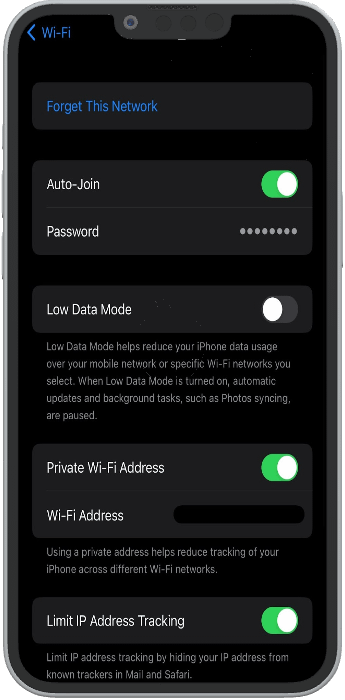 Tap Password on the next window.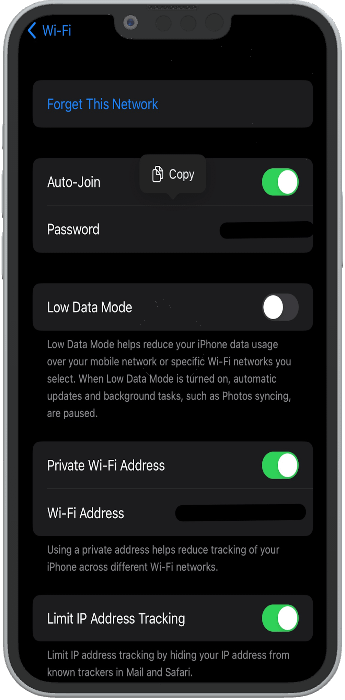 Once you see your wi fi password, connect to the same wifi network on your Windows. You have to type the password that you see on your Apple device.
What to Do if I Can't Share iPhone Wi-Fi Password?
There may be multiple reasons why you can't share your iPhone Wi-Fi Password with other devices. So, make sure that you are running the latest iOS, both devices are in range with each other, and the Bluetooth is turned on. Moreover, you should also add the contact information in the needed devices and sign in to your iCloud.
There can be times when you can't share your wi fi passwords. Before blaming your mobile phone, it's better to check if you have fulfilled all the essential requirements.
To check if you are running the latest iOS version, go to Settings, then General, and choose software update. You will see if there are any updates available or if you are running on the latest version.
You won't be able to share your password if the device is too far. Make sure that you hold them next to each other when sharing passwords.
The Bluetooth should remain open on both devices. If it's already turned on, try restarting it by clicking on the small green bar twice.
The contact information, such as the email address and phone number of each device, should be saved on each device.
To enable password sharing, your Apple device should be signed into iCloud. For this, open settings and look at the top. If you see your name, then you are already logged in. However, if not, then you need to sign in with your apple id.
Thanks to the latest update by Apple on their iOS firmware, Wi-Fi sharing has become very easy nowadays. You can now view the secret code and share passwords between iPhones and other devices. But make sure that you don't risk your personal details and only share your password with someone else you can highly trust.
Frequently Asked Questions
Why am I unable to view passwords on my iPhone?
If you can't find your saved passwords on your iPhone, make sure your iOS is updated. After updating the iPhone version, go back and look into the settings menu. Now, you'd be able to see your passwords on your iPhone.
Can I share Wi-Fi password from Mac to iPhone?
Yes, you can easily share wi fi passwords from Mac to any other apple device. Just make sure that your Mac is not locked, connected to the wifi network, and logged in to the Apple ID.
Is it safe to share your wifi password?
Yes, it is generally safe to share your WiFi password with others, as it only gives one access to an internet network. In this sense, your phone and other devices connected to the network are safe.
However, you should still only share your WiFi password with the ones you can trust, as they can change the password of the network for everyone.