ASRock Polychrome RGB is a software that comes with its motherboard to personalize RGB lights and other LED effects of PC components.
So, if you have an ASRock Polychrome RGB motherboard on your PC with Windows OS, you'll need to download and install the ASRock Polychrome RGB software to control the lighting effects.
Need a guide? Then, have a look at this blog post to learn how you can set up and run ASRock Polychrome RGB to create extraordinary RGB illumination with your PC running on Windows. So, let's begin!
What is ASRock Polychrome?
ASRock Polychrome is an app that allows you to customize the RGB lighting effects of your PC components with ASRock motherboards. You can simply use this software's simple UI to sync and manage the ASRock motherboard's light functions with all other ASRock RGB LED devices on your PC.
These devices include a chassis, strip, CPU coolers, CPU fans, and more. Plus, ASRock polychrome has 15 great lighting effects, including scan, cycling, wave, strobe, water, and rainbow, to show on led strips.
3 Reasons to Use ASRock Polychrome RGB
ASRock Polychrome RGB is mainly used to configure the lighting aesthetics and sync functionality of polychrome accessories with your PC components. So, whoever wants to sync the RGB components of a PC with the polychrome accessories to control lighting effects, can go for the ASRock Polychrome RGB software.
However, there are several uses of ASRock Polychrome sync software. So, I'll discuss the top three uses and their benefits to let you understand the ASRock Polychrome RGB software more clearly.
1. Component Syncing
The first use of Polychrome is to synchronize and manage RGB hardware with the ASRock motherboard. The components include CPU coolers, fans, PC cases, RGB keyboards, RAM, and other parts that you can sync using this software.
Once you sync your PC components with this software, you can easily customize the light effects however you like and manage them. As a matter of fact, you have more control over every part of your PC components to create your unique shining and superior light effects.
2. Lighting Effects
The second use is that you can have full control over super cool RGB light effects for your PC components. It has approximately 15 illumination effects, which include Water, Strobe, Rainbow, Wave, and more.
Furthermore, you can personalize the color and create your own unique lighting style for your PC component. These personalized lighting effects get your creative side out in the open and match your mood energy. This makes you more productive with your gaming or whatever work you do.
3. Gaming Experience
The last use of ASRock Polychrome is that it supports Razer Chroma. With this feature, you can sync your LED devices with certified accessories.
This enables you to control lighting styles and effects during gaming. In this way, you get to enjoy the exceptional lighting effects on your PC while gaming and take your gaming experience to the next level.
How to Download ASRock Polychrome Software for Windows
To download ASRock Polychrome Software for Windows, you should first head over to the ASRock Polychrome official site. After that, locate the Support panel and choose Device Drivers. Next, choose your motherboard version for your Windows OS from the list. Finally, click the Download button to successfully download this software on your system.
You can easily install ASRock Polychrome on your PC running on Windows OS, but there are several sites with malware. So, to make sure that you download ASRock Polychrome from its official site, follow these steps:
Open your web browser, and navigate to ASRock's Official website.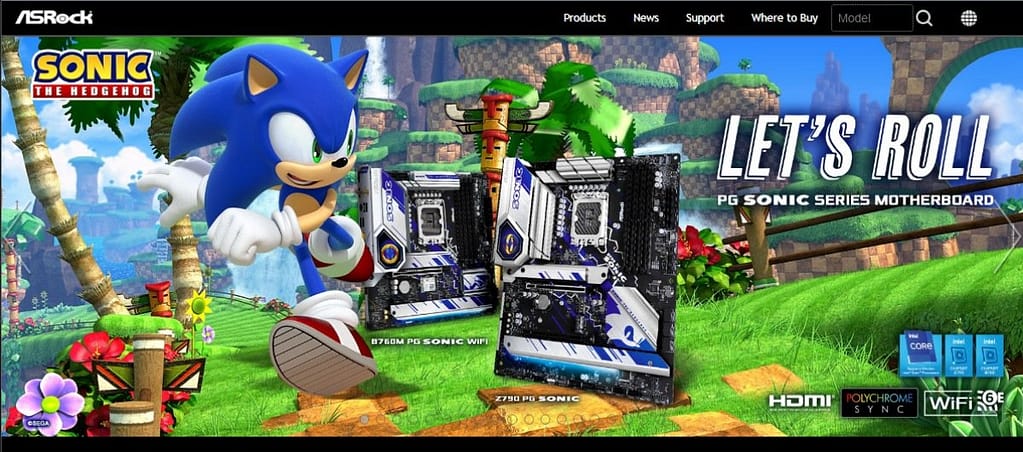 In the top navigation bar, click Support.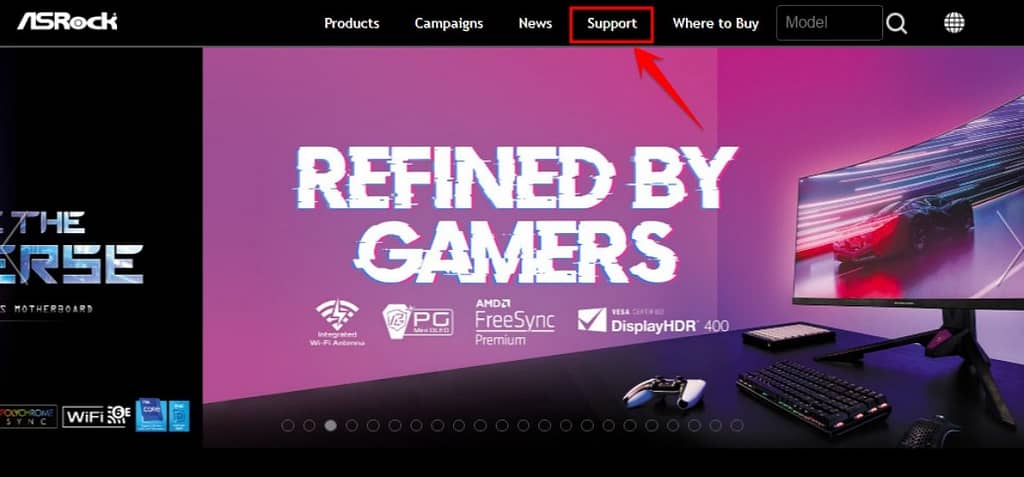 Next, click the Latest Drivers Update option on the page.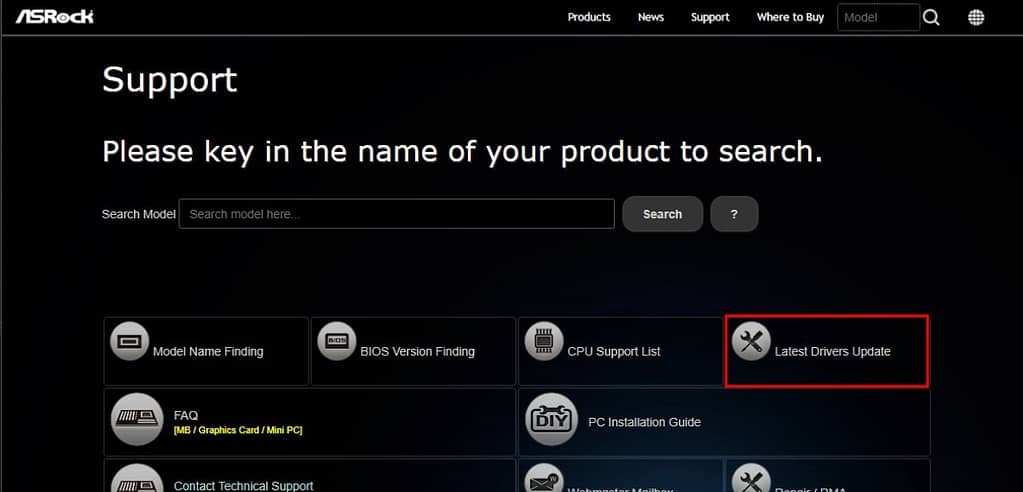 Navigate to the Latest Utilities Update in the left panel, and then locate ASRock Polychrome RGB in the list. Now, click the Download button in front of it.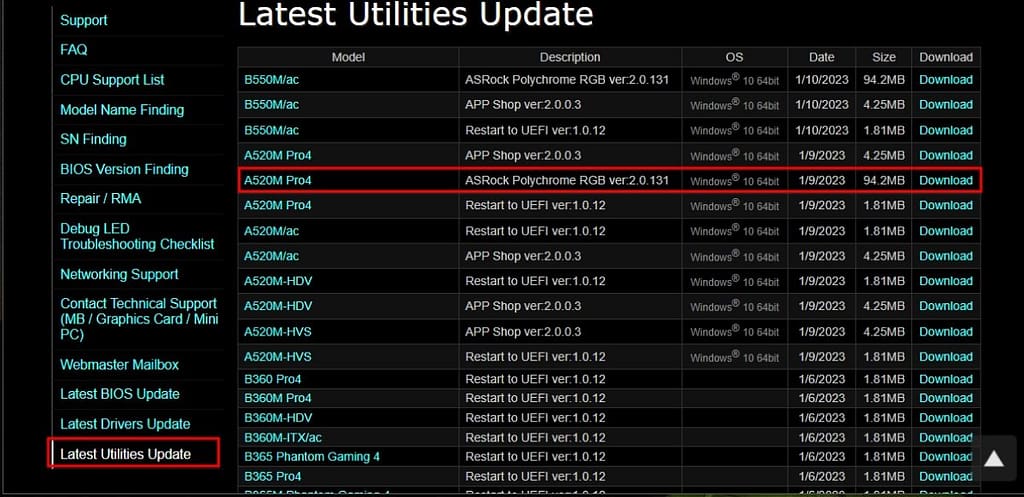 Select the Windows OS version in the drop-down list. Then, locate the utility version from the list that matches your Windows OS and PC's requirements.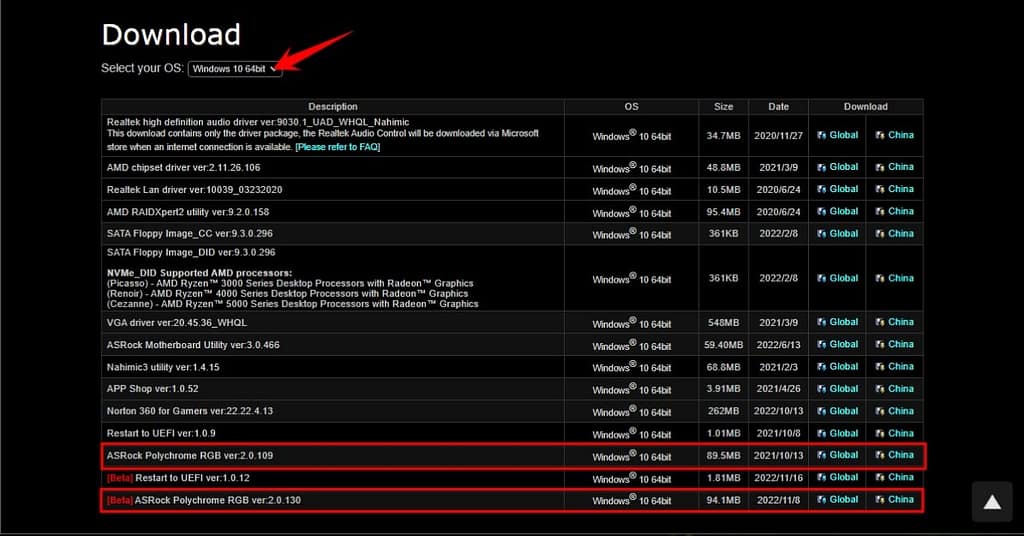 Choose either of the download servers, which are Global or China.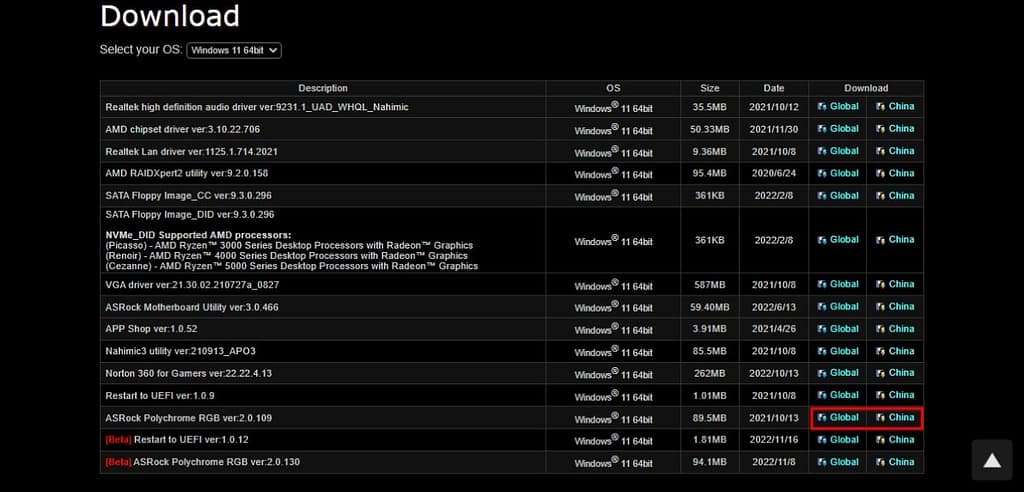 Click the server option to start the download process.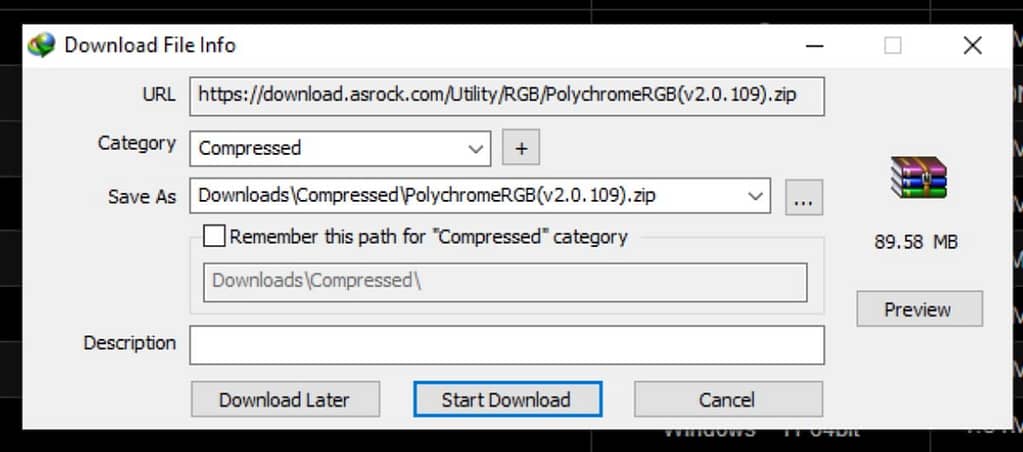 Wait for the download to complete before you install it.
By the last step, you should have successfully downloaded the ASRock Polychrome software for Windows OS on your PC.
How to Install ASRock Polychrome Software on Windows
To install ASRock Polychrome on Windows, head over to the folder where it was downloaded. Locate the application and unpack it using any unzipping utility software. After that, launch the .exe file and follow the on-screen instructions. Once done, you can successfully launch it.
Installing ASRock Polychrome on Windows is actually a straightforward process. However, you can follow these steps to install the ASRock Polychrome software on your Windows:
Locate the downloaded archive on your machine.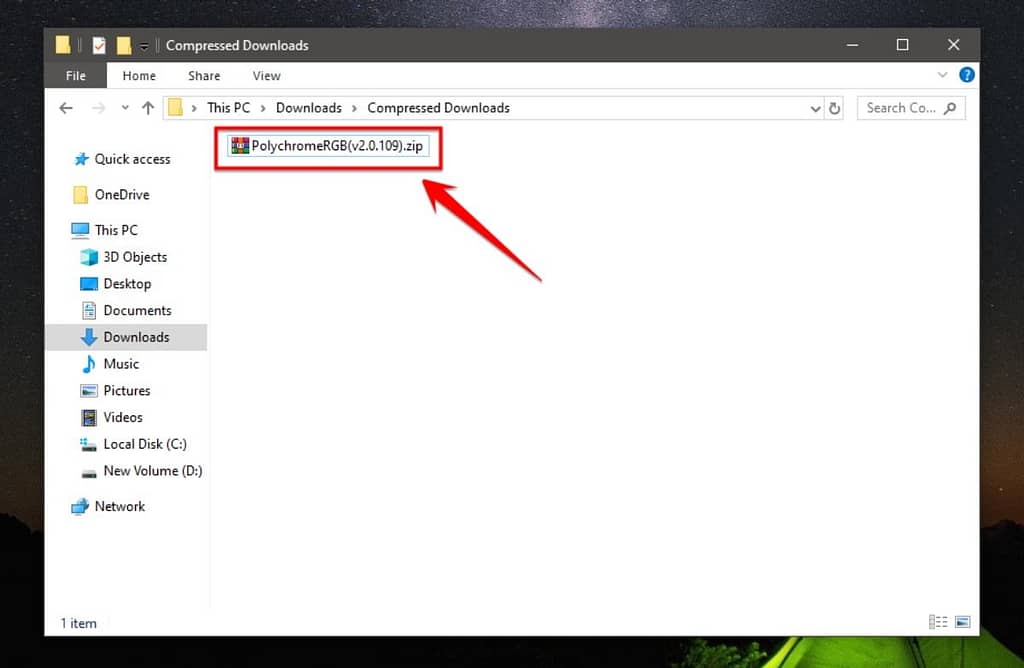 Right-click the folder and unzip it using any unzipping software such as WinRar or WinZip.
Next, open the folder and double-click the ASRockPolychromeRGB.exe file to launch the setup.
Click Install to proceed with the installation.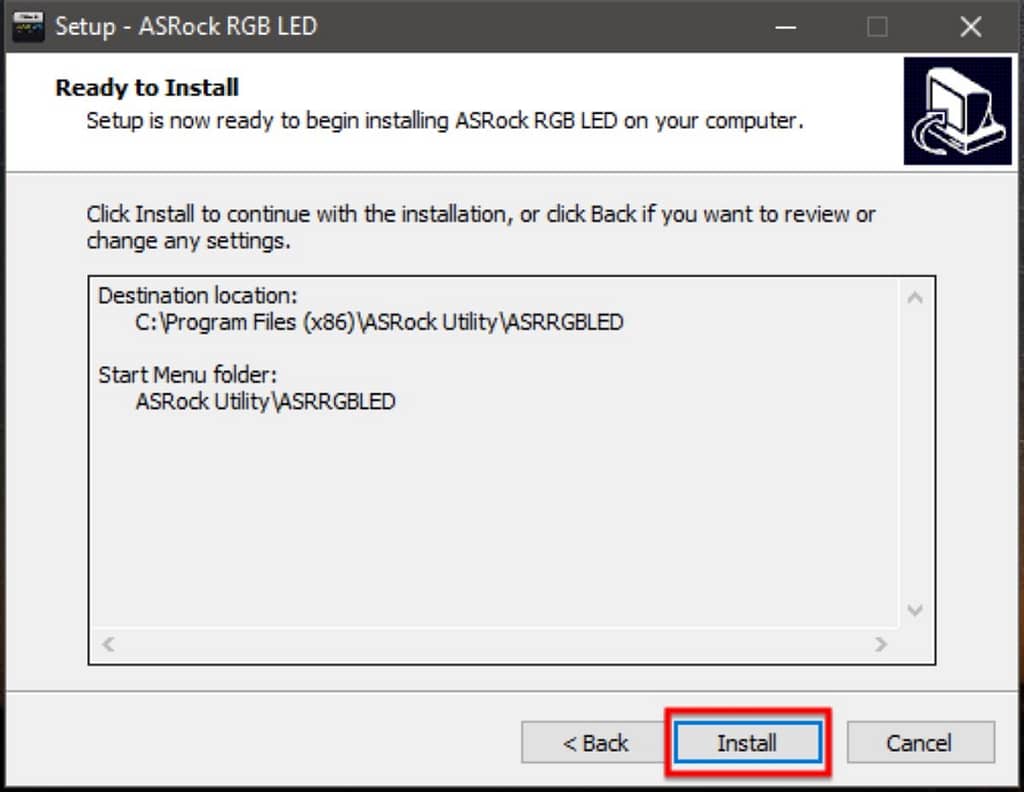 Once completed, click Finish. You can now easily launch this software on your PC.
Note: Make sure to launch the ASRock Polychrome as an administrator because some users have complained that it shows errors if it is not launched with administrative rights.
How to Fix ASRock Polychrome Not Working on Windows
To fix the ASRock Polychrome crash error, exit the application first. After that, head over to the Bin folder in Local Disk C. Then, launch the WriteFW.bat file. Wait for the execution to complete. Once done, relaunch the software. And now, you should be able to use ASRock Polychrome with no error.
If ASRock randomly crashes, freezes, or doesn't launch on your PC, you can fix it by following these steps:
Exit the ASRock Polychrome application.
Next, head to the Bin directory located at C:\Program Files (x86)\ASRock Utility\ASRRGBLED\Bin.
Once the folder is open, locate the WriteFW.bat file.
Double-click the .bat file to launch it.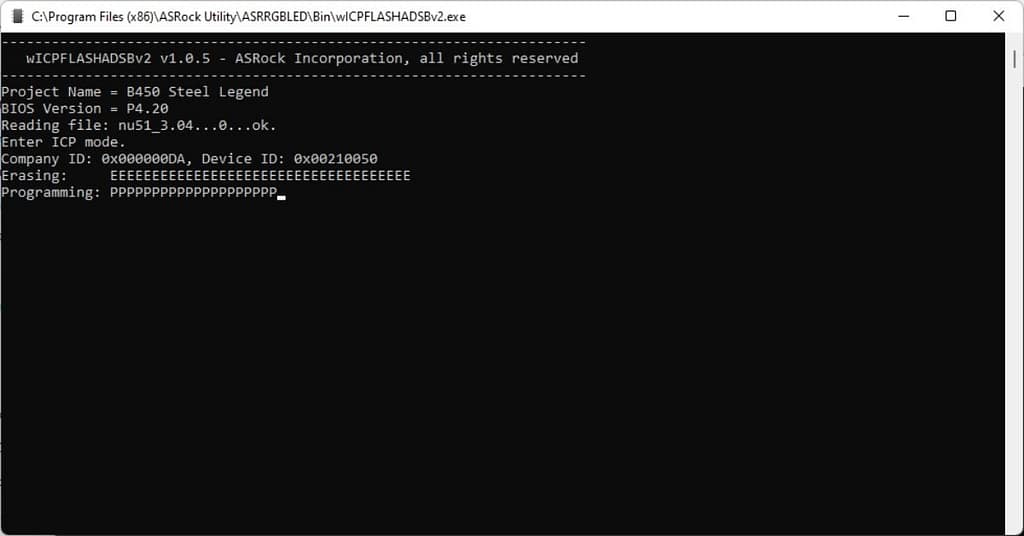 Wait for the file to finish the process.
Once it has completed its execution, relaunch the ASRock Polychrome. This should solve the problem.
How To Enable Razer Chroma In ASRock Polychrome RGB Software
To enable Razer Chroma Effect, open ASRock Polychrome RGB first. After that, head over to the Chroma Connect section. Enable the Chroma Connect option. Next, open the Razer Synapse app and ensure that ASRock Polychrome RGB sync is turned on under the Devices tab. Now, you'll be able to adjust all the ASRock Polychrome addressable RGB effects.
Enabling Razer Chrome in ASRock Polychrome allows users to control the RGB lighting effects on the connected devices. Let's look at how you can do the same by following the steps discussed below:
Open ASRock Polychrome Sync on your system.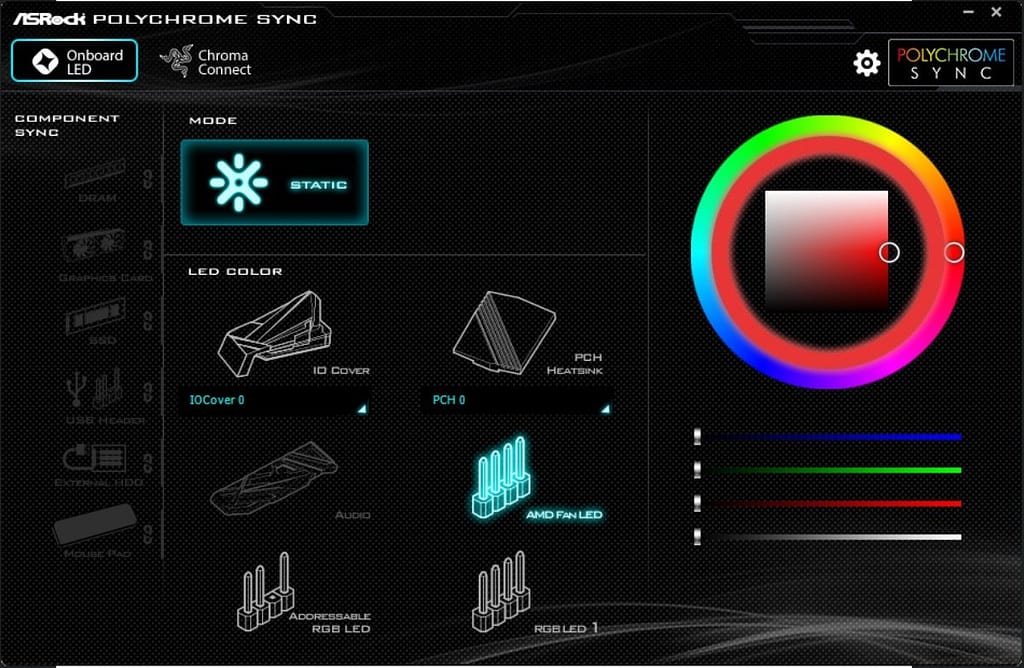 Next, open the Chroma Connect tab and click the toggle bar to enable it.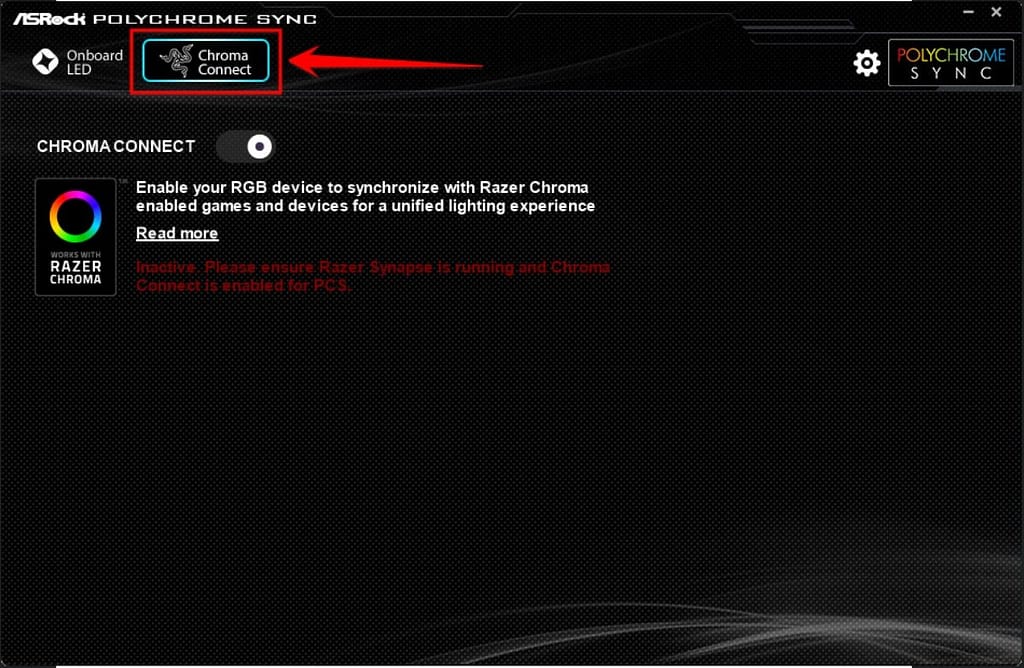 After that, open the Razer Synapse app. But make sure that you've installed this app on your PC.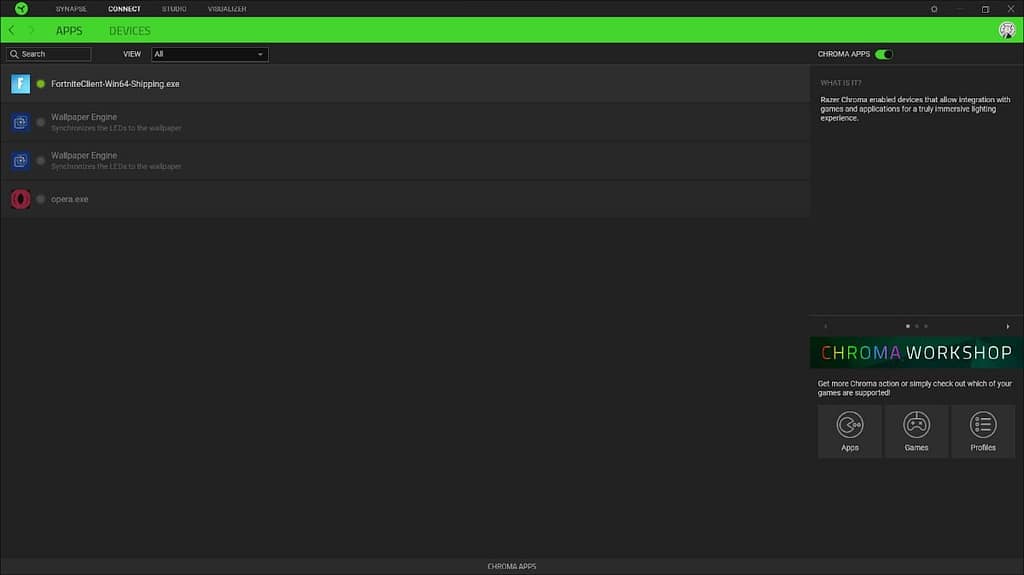 Open the Devices tab from the Menu bar at the top. Then, turn On ASRock by clicking the toggle bar to control the lighting effects.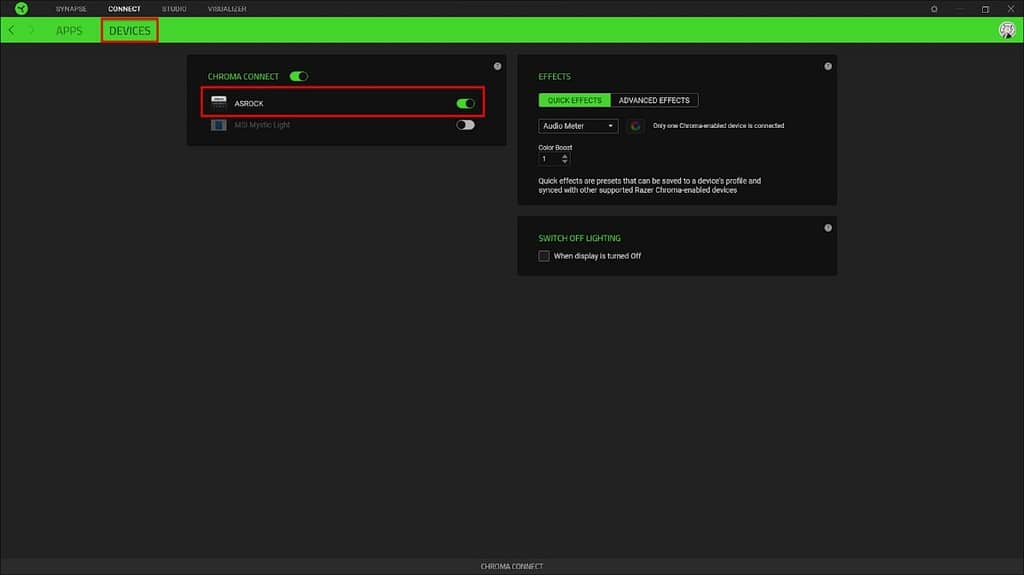 Frequently Asked Questions
Is ASRock Polychrome compatible with Aura Sync?
The answer is Yes. It is compatible with Aura sync. Basically, Aura Sync is a technology that syncs RGB components, so you can easily use Aura Sync if you want to control ASRock motherboards.
How do I reset ASRock Polychrome Sync?
If you want to reset your ASRock Polychrome Sync, you should:
1. Navigate to the C drive.
2. Find this program file C:\Program File(x86)\ASRock Utility\ASRRGBLED\Conf. 
3. Then, erase all the data.
This should let you reset all the settings of ASRock Polychrome Sync.
How to turn off RGB on a Polychrome motherboard?
To turn off RGB on ASRock Polychrome, click on the Advanced option on the main windows of the software. There are many options here, so locate ACPI Configuration and click it. Look for Deep Sleep, click and open it. Then, set Enabled in S4 and S5 options.
Save these settings and exit the app. After the shutdown, you will no longer see RGB on the motherboard.