Have you ever been in the middle of a thrilling live stream on Discord, only to encounter a shocking hush? This can be super frustrating. But luckily, this audio issue is super easy to fix on your own.
In this blog post, I'll share 5 quick fixes for the Discord Stream No Audio issue. So, whether you're using Discord on your computer or smartphone, don't let this error disrupt your streaming experience!
3 Causes for Discord Stream No Audio Error
Discord stream no audio error is generally caused by outdated drivers, faulty audio settings, or high latency issues. Addressing these issues generally fixes the No Audio error on the Discord stream. However, you may also experience audio issues if your microphone isn't set up correctly.
The cause of this dreaded no-audio error can be tricky to figure out. Here are some possibilities:
1. Outdated Drivers
You should have compatible and latest drivers installed for the headset, microphone, or speakers you are using with your computer. If your drivers are outdated or missing, this can cause sound issues for your Discord Stream.
2. Audio Settings Not Configured Correctly
Many computers come with default audio settings. So, sometimes they do not match the requirements of your Discord stream and cause conflicts. If the settings aren't compatible, severe disruptions can cause the Discord Stream No Audio error.
3. High Latency Issue
High latency in your internet connection may cause audio lag or stuttering during playback. To test if this is the issue, run a speed test on another device on the same network as yours and compare the results. If there is a significant difference, it may be a high latency issue.
5 Quick Fixes for Discord Stream No Audio Error
To fix the Discord Stream No Audio error, check your microphone, adjust your device's audio settings, and get the latest Discord app version. If none of these fixes helps, change the server region to reduce latency issues. Otherwise, restart your device and router to refresh the internet connection.
Here are the details of the 5 quick methods that will help you get back to Discord streaming with fine audio in no time:
1. Make Sure Your Microphone is Working Properly
To make sure that your microphone is functioning correctly, verify that it's securely connected and properly configured. You should also set the volume at an appropriate level and turn off the boost. Access these sound settings from the speaker icon in the System's tray of your PC.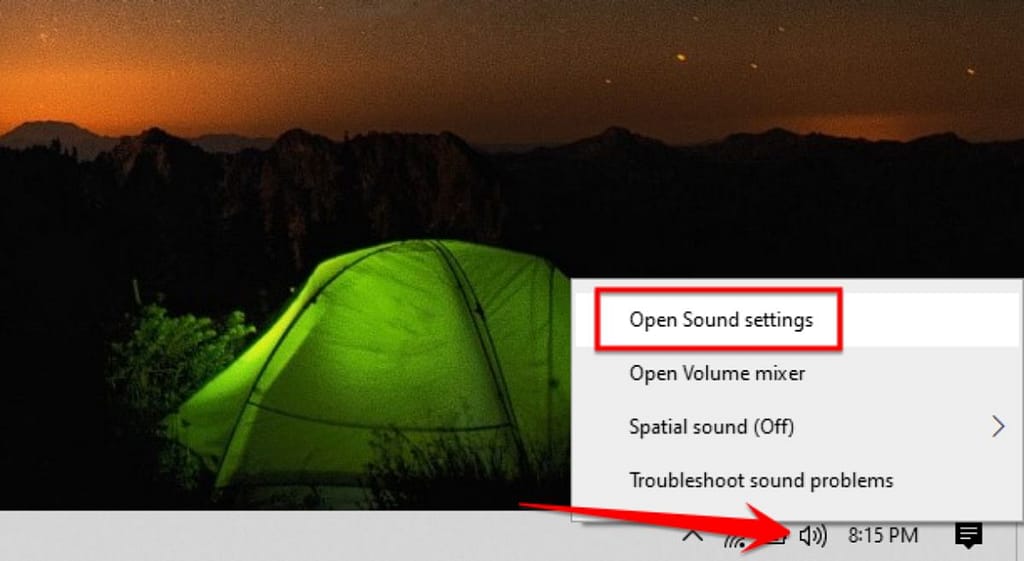 Also, make sure that you're not using any third-party applications. This is because such programs or services can interfere with your microphone settings. If all of these checks look good, try using a different microphone or updating your drivers.
Here is how you can check and update your PC's audio drivers:
Search Device Manager in the Window search bar, and click Open.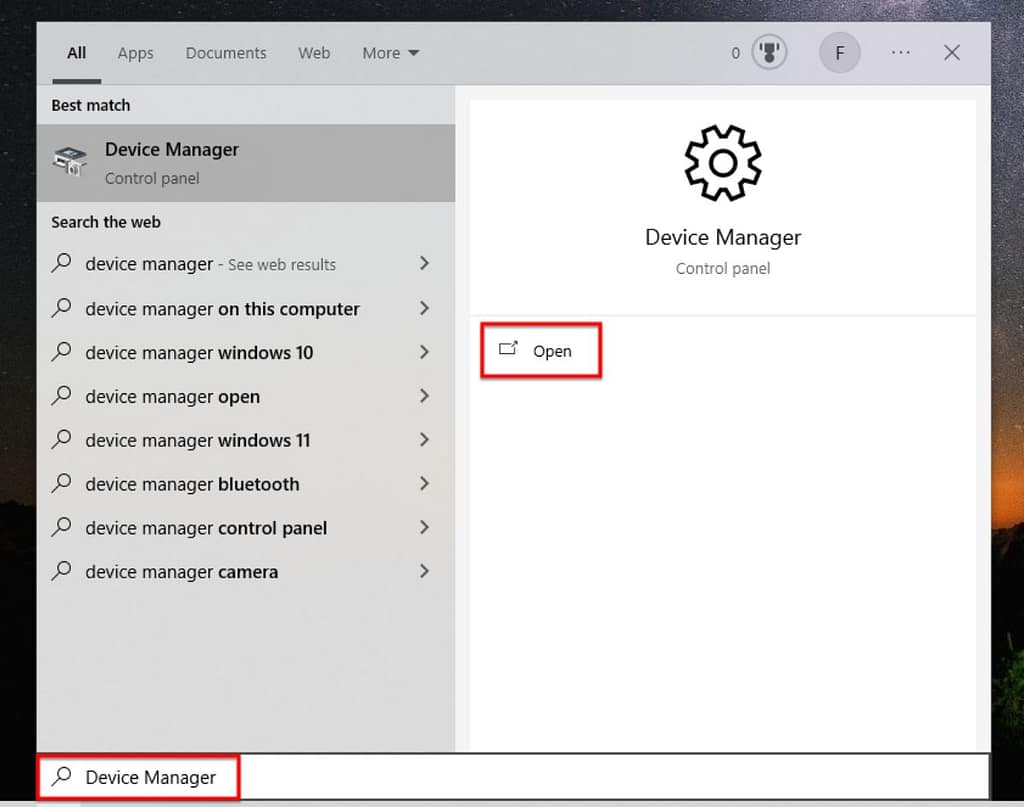 Click Audio inputs and outputs. Then, right-click the Microphone option in the list and select Update driver.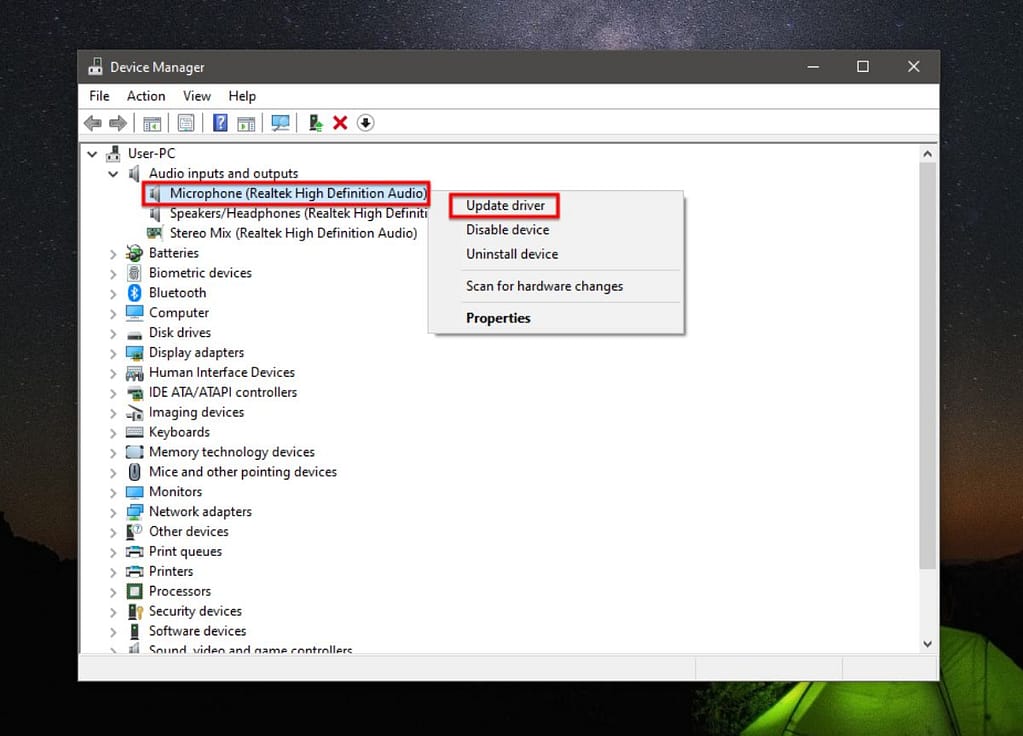 Click Search automatically for updated driver software.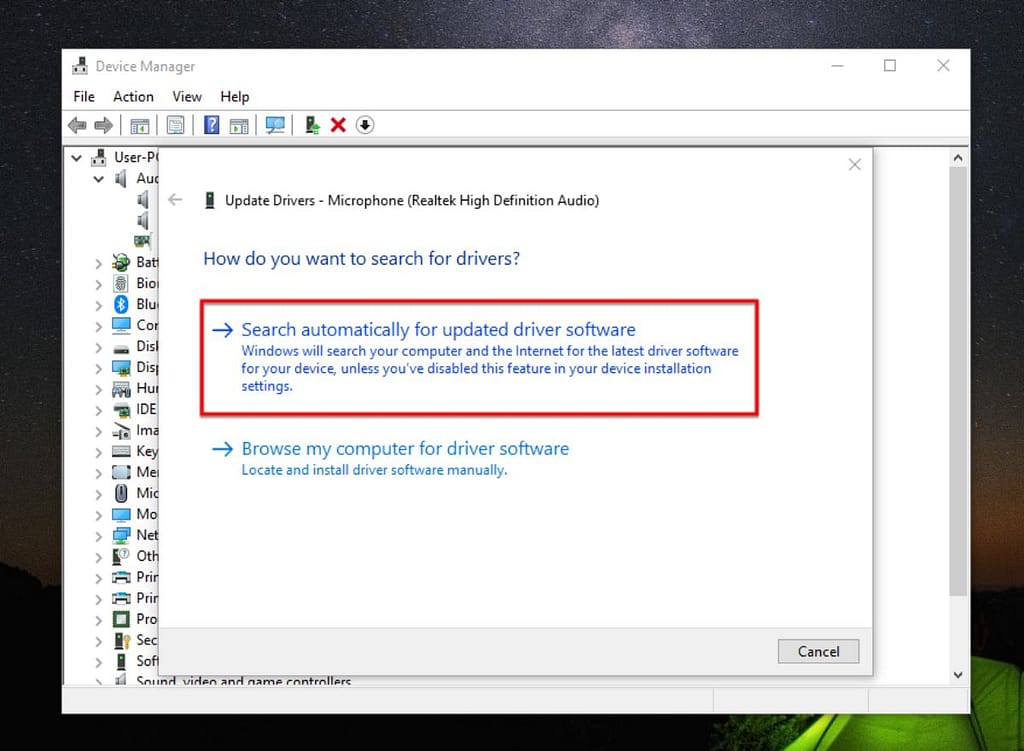 If there are any updates available, install them to update your audio drivers.
Lastly, restart the Discord app and start streaming to check whether the issue is fixed or not.
2. Adjust Audio Settings
If each device in your setup is working properly and you have the latest drivers, you can adjust the audio settings within the Discord app. To do that, follow these steps:
Launch the Discord app and navigate to Settings > Voice & Video.
Scroll down and change Input Sensitivity to 0 dB.
Select Echo Cancellation and turn the toggle off.
Next, change the Audio Subsystem to Standard.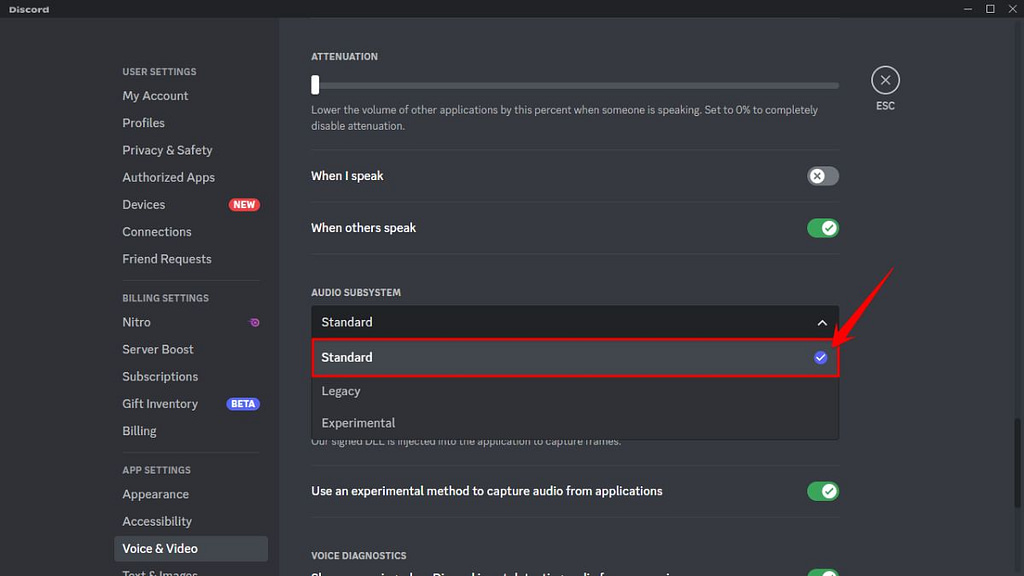 Now, launch the Discord app and start streaming to check whether these audio settings have fixed the issue.
3. Update Your Discord App
If you are still experiencing the "No Audio" error after trying the above-mentioned methods, you may want to try updating the Discord app to see if that resolves the issue. To update the Discord app, follow these steps:
Launch the Discord app and look into your system's tray at the bottom right.
Find the Discord app icon in the system tray and right-click.
Now, click Check for Updates.
If there are updates available, install them.
Restart the Discord app and start streaming to see if the audio streaming issue is resolved or not.
Alt Text: update-discord-check-system-preferences
Note: Sometimes, you may also need to update any other software that's related to Discord, such as Windows or Mac OS X, if they are outdated.
4. Change Server Region
You should change the server region to fix the no audio error. This reduces the loading time and overall performance. To change the server region, follow these steps:
To change the server region, navigate to Discord's Server Settings Menu.
Select the Arrow next to the server you wish to change the region of.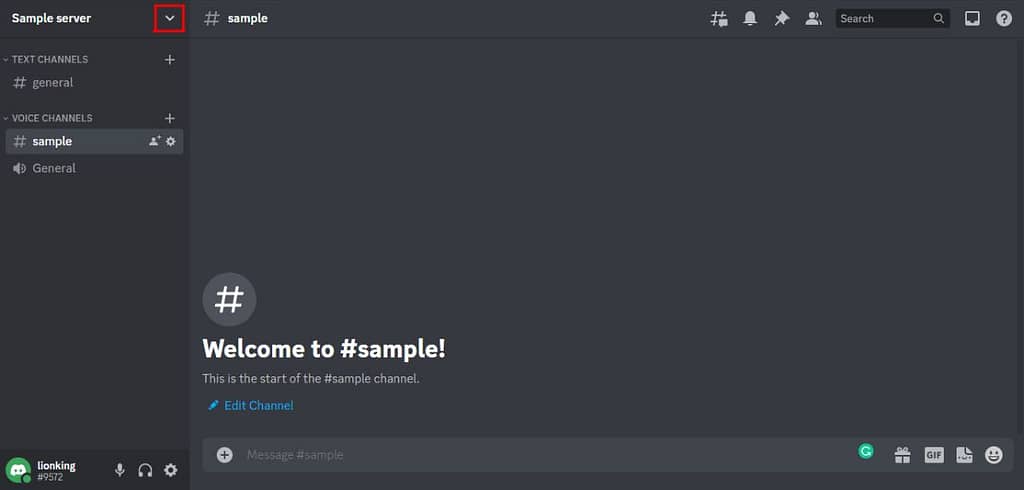 Click on Server Settings from the dropdown bar.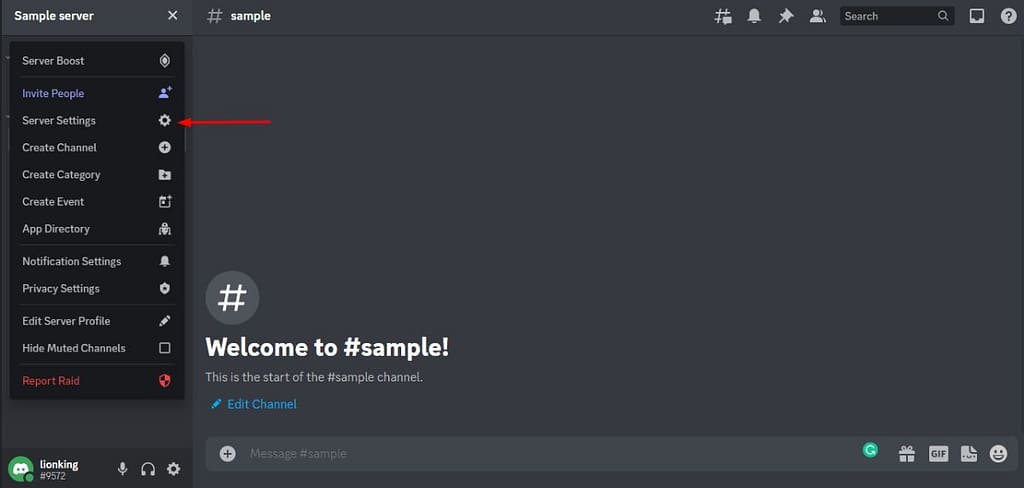 From the Overview Tab, select the Change Server Region.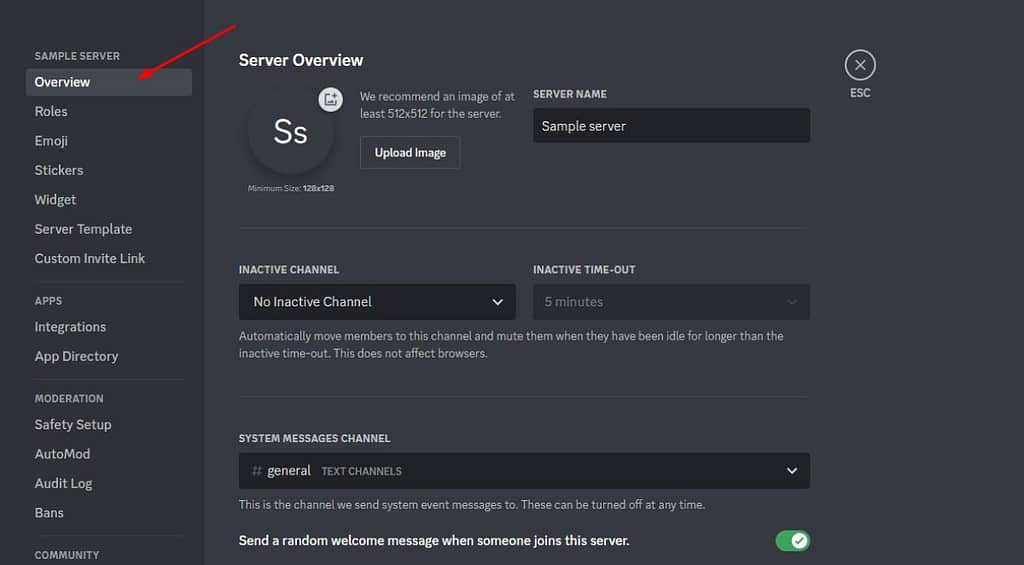 Choose one from the list of available regions.
Selecting another region may help alleviate any network latency issues which could be causing problems with audio streaming on Discord streams.
5. Restart Your Computer and Router
Lastly, restarting your computer and router can often help resolve issues with streaming on applications like Discord. Since it clears out any cached data or settings which might be causing problems with streaming audio/video online.
5 Quick Tips For Discord Stream Audio Settings
To ensure an optimal Discord stream audio experience, adjust the input volume, use third-party audio compress programs, or enable noise reduction. You should also use high-quality mics and headphones to stream with a clear voice on the Discord app.
Whether you're just starting or are a skilled streamer, these tips will help you get the most out of your audio settings. This will also ensure that your spectators have the best listening experience possible.
1. Adjust The Input Volume
When streaming on Discord, it's crucial to make sure that the input volume is set correctly. To do this, follow these steps:
Open up the Settings menu and select Voice & Video.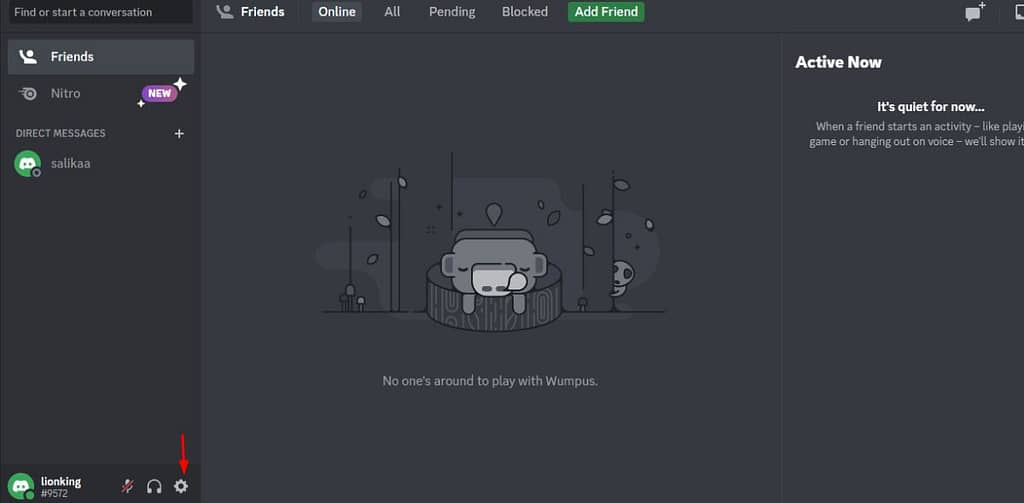 Here, adjust the Input Volume Level until it's at a comfortable level for both yourself and your viewers.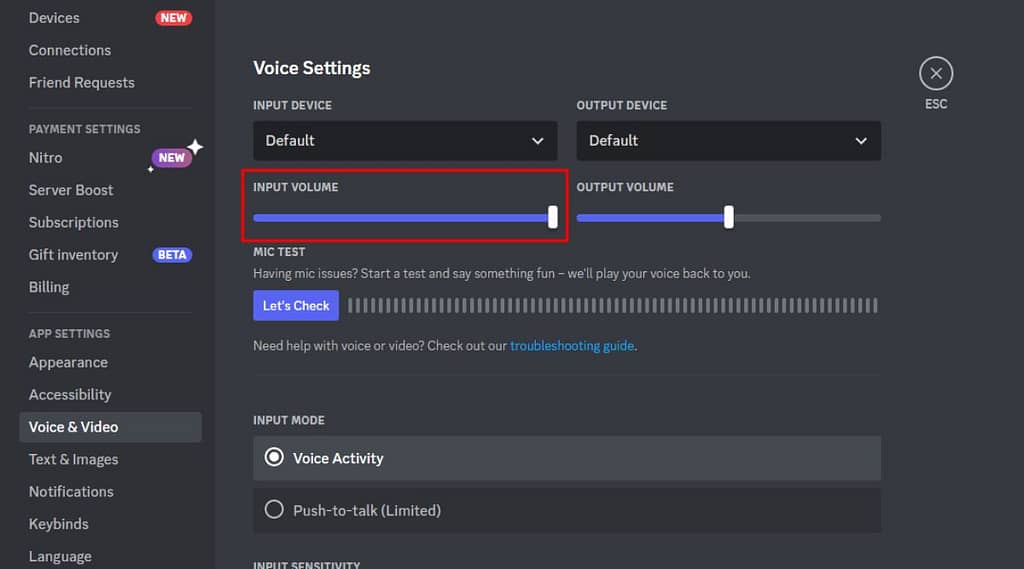 Doing this will ensure that all incoming audio is at an optimal level, making it easier for your viewers to hear what's being said during your stream.
2. Enable Noise Suppression
If there is background noise in your stream audio (such as keyboard clicks or fan noise), enable noise reduction. This can help reduce noise significantly without affecting overall sound quality. Here's how you can enable it:
Open up the Settings menu.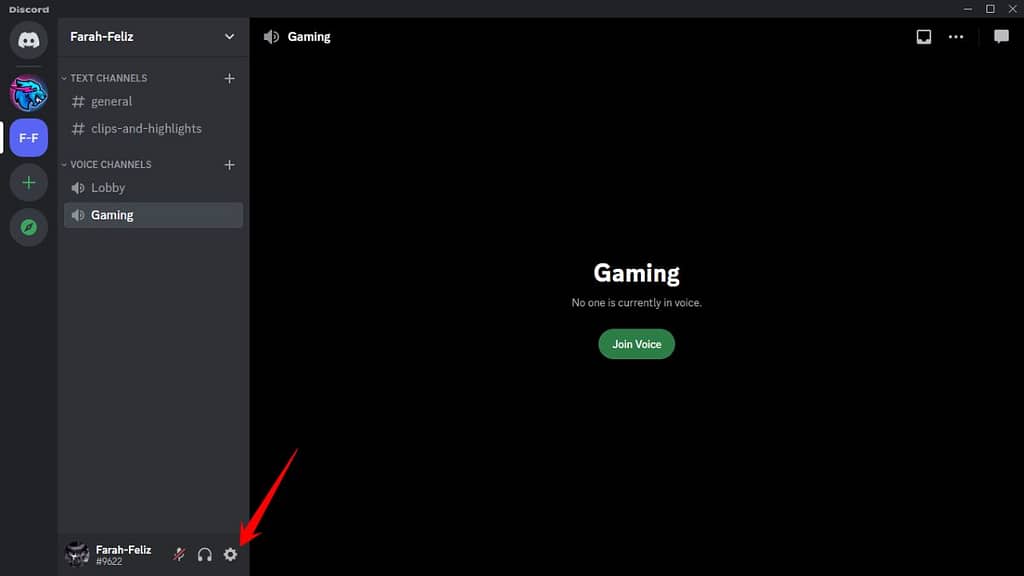 In the Voice & Video tab, scroll down and select Krisp for Noise Suppression.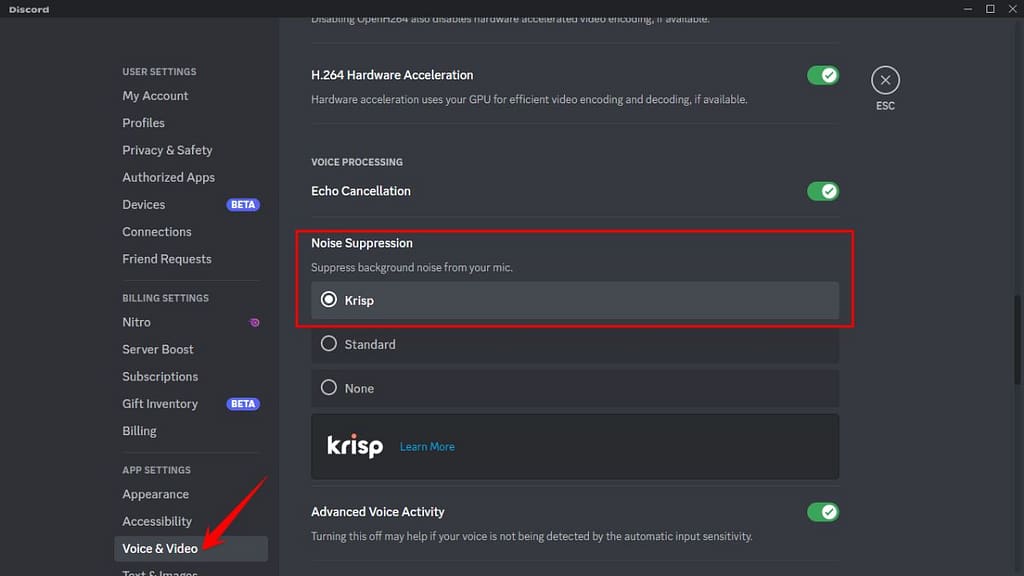 3. Configure Your Computer's Sound Settings
Once you've made sure that all your Voice & Video settings in Discord are good to go, you should also look into the sound settings of your PC. Head on to your computer's sound settings by following these steps:
Search Settings > click Open > select System.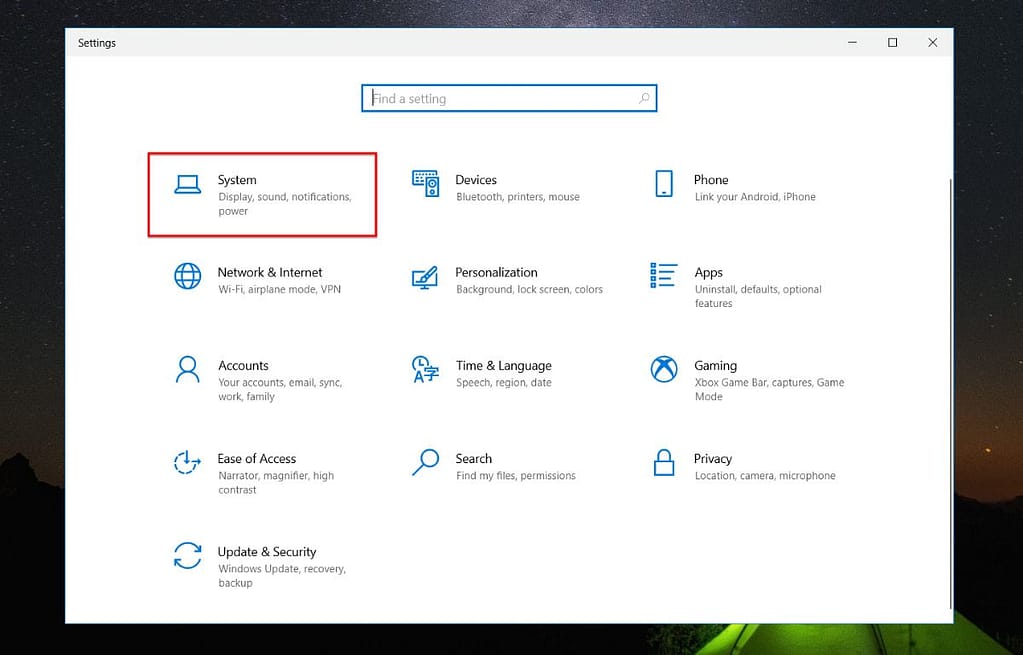 Click Sound to navigate to the sound settings.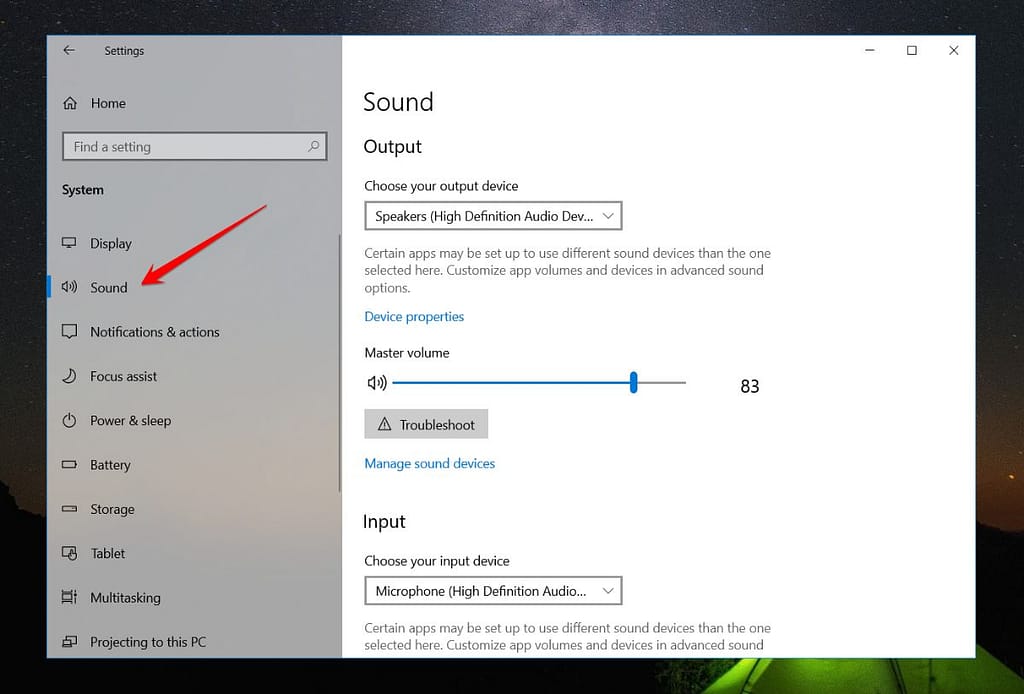 Next, turn the Master Volume level to 100.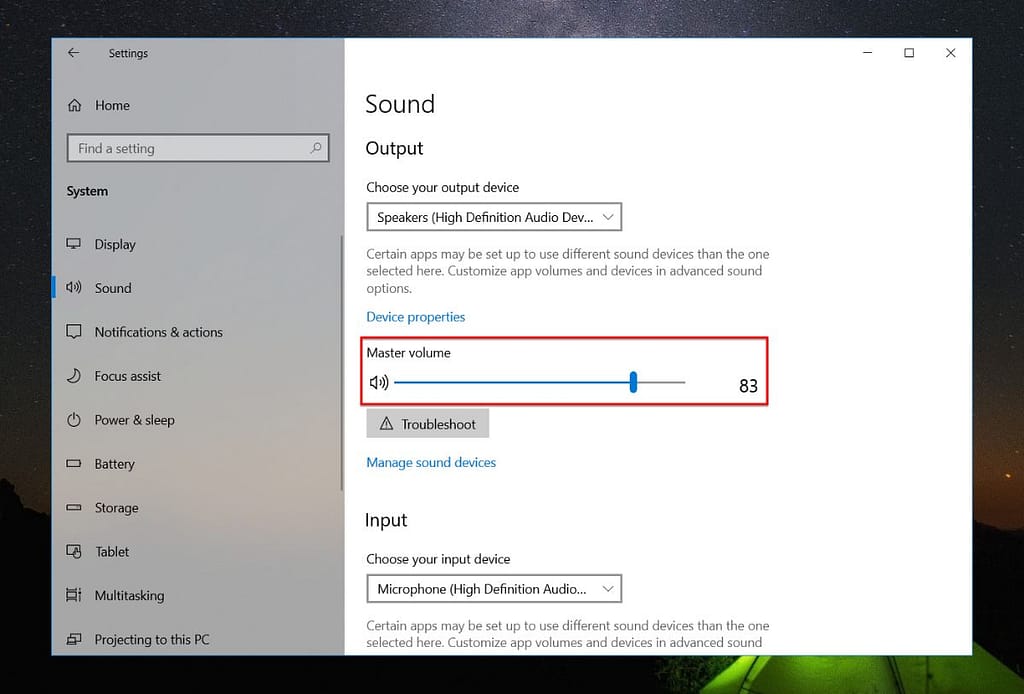 Click Troubleshoot to fix any unapparent problems.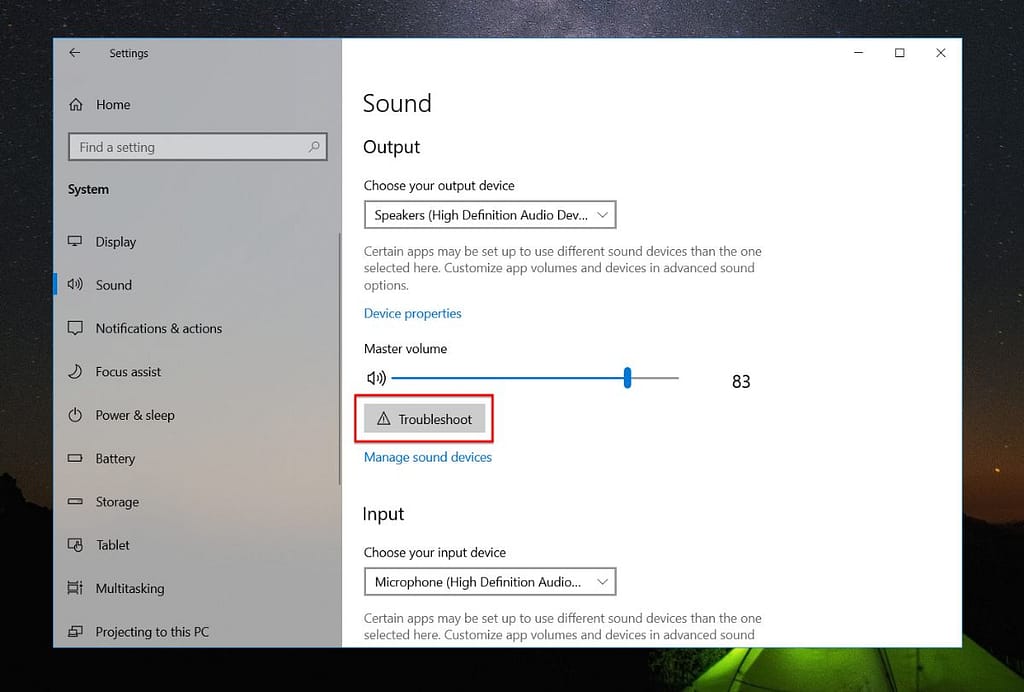 Select Manage Sound Devices.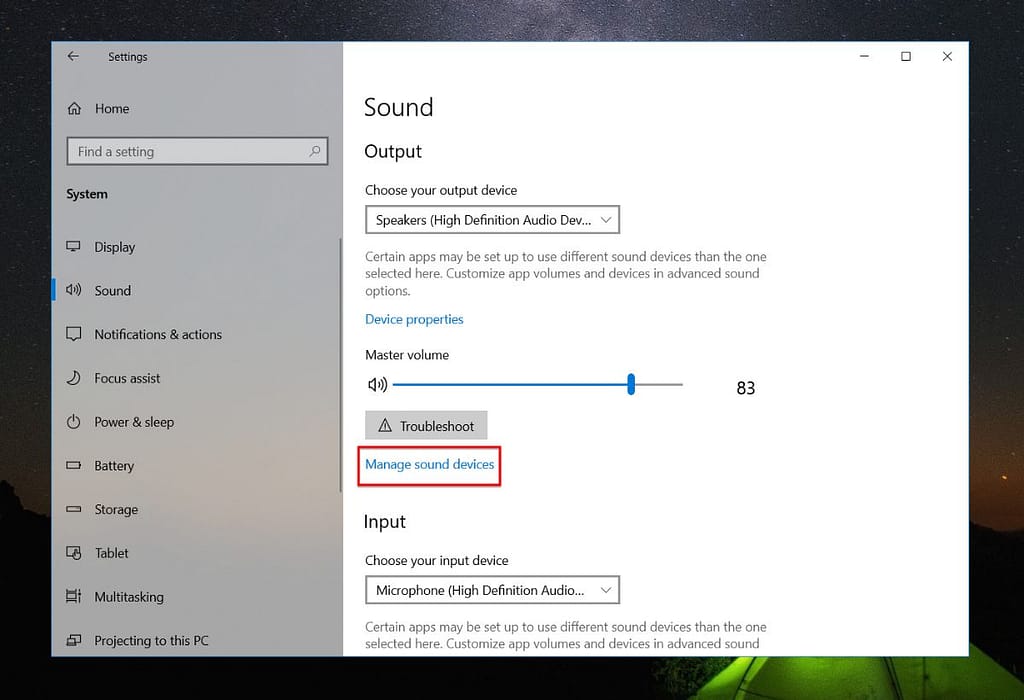 Test Speakers and disable/enable the Mic to see if they are working properly.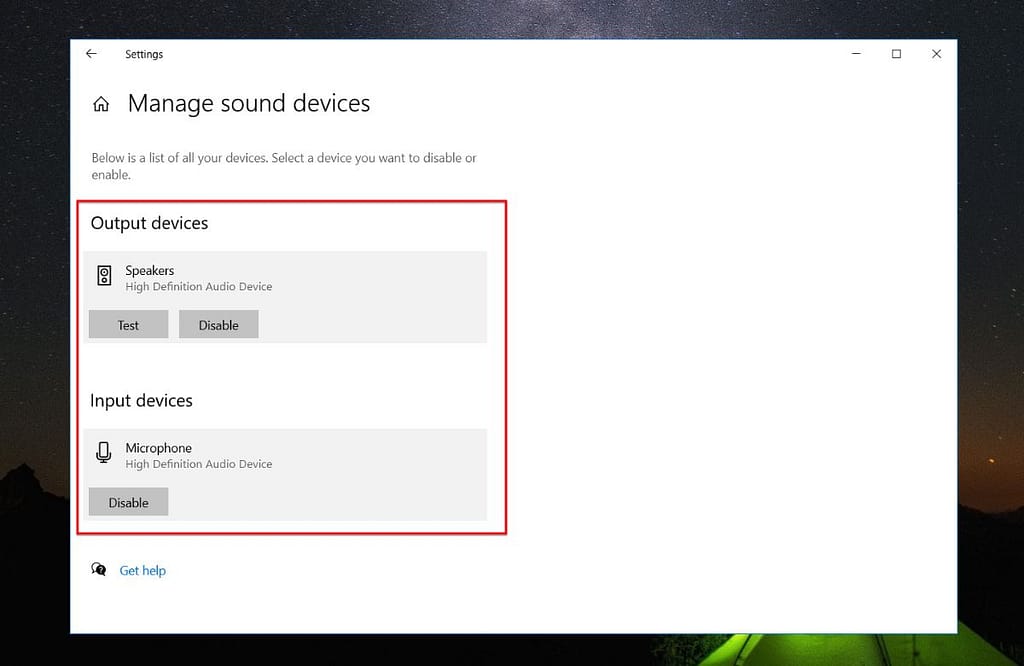 4. Use High-Quality Mics & Headphones
High-quality mics and headphones can make a huge difference in how well your viewers can hear what's being said in your streams. So, investing in good mics and headphones can go a long way in improving the overall sound quality. Also, everyone will have an enjoyable listening experience while watching your streams on Discord.
5. Compress Your Audio
By compressing your audio, you even out any peaks or valleys in your stream audio and add some extra clarity and punchiness. This means that there are fewer chances for you to have any audio issues when you are streaming on Discord. To do this, you will need to install a third-party video compressor or the in-built video compressor app on your computer.
Frequently Asked Questions
Do Discord audio settings affect your gameplay?
Absolutely! Discord audio settings can have a great impact on your gaming experience. The sound quality of voices and games affects the people speaking. Also, the ambient noise doesn't drown out critical plot revelations or timely battle cries.
Why does the Discord stream have no audio on my mobile?
Check that your phone volume is turned up and adjusted accordingly. Additionally, ensure that any headsets or earbuds plugged into your device are firmly inserted. If both of these troubleshooting steps fail, the issue may stem from the application settings. To resolve this, open the Video Setting and Reconfigure the Auto-Detect Setting to best suit your device.
Can I stream audio from multiple sources on Discord?
Yes! Discord allows you to create multiple audio streams that can be heard simultaneously, giving you the power to stream audio from a variety of sources. Whether it's music from various streaming platforms or quick sound effects for a game, Discord is the perfect setup for easy multi-source streaming.
How to fix Discord Stream No Audio issue?
To fix the Discord Stream No Audio issue, you should:
1. Check your microphone and ensure it is working properly.
2. Adjust your device's audio settings.
3. Update to the latest Discord app version.
4. Change the server region to reduce latency issues.
5. Restart your device and router to refresh the internet connection.