Minecraft is such an engaging and interesting game that it's just not possible to get enough of it. So, you come from school and sit to have a peaceful gaming time only to find Minecraft not launching– sounds like a nightmare. Believe me, I know the feeling.
So, after trying and testing different ways, I have come up with a list of the most effective fixes for Minecraft launch issues on Windows 10/11. Here you go!
6 Reasons Why Minecraft is Not Launching on Windows 10/11
Minecraft is not launching on your Windows 10/11 because you may have corrupt game files, background apps blocking Minecraft processes, or mods installed on your PC. This can also happen if your PC does not meet the minimum system requirements of the game, the developer released an update, or the Minecraft launcher is already running in the background.
It's important to diagnose the main reason for the error before you jump to any conclusion. Once you get to the root cause, it becomes really easy to fix the problem.
1. Corrupt Game Files
If Minecraft is not properly installed and the files are corrupt. This can cause unnecessary errors, such as the game won't launch, or you would see a black screen that keeps sticking to your monitor unless you don't exit the Minecraft launcher.
2. Background Apps
One potential cause of problems with the Minecraft launcher is the presence of background apps, such as antivirus programs or Windows defender. Such programs may restrict the launcher from running the Minecraft game.
3. Mods Installed
Game modding refers to the modification of the actual game. They are built by third parties and help to modify graphics, sounds, AI behaviors, and much more. So, if you have mods installed on your computer and are not compatible with Minecraft, they can cause the launch issue.
4. Your PC Do Not Meet Game Requirements
Check the Minecraft system requirements before you install it on your PC. Minecraft itself does not need any top-of-the-line hardware, but if you are using an old Windows version or your graphics card driver is not updated. The game simply won't launch.
5. Minecraft Launcher Is Already Running
At times, Minecraft's program or its processes does not completely stop in the background. So, if you are launching the Minecraft game while its background programs are still running in the background, it'll cause a not launching error on your PC.
6. Developer Release an Update
Minecraft developers regularly release major updates to the game and its launcher to fix any bugs or other errors. In case the current version of the Minecraft launcher you are using is old and infected with a bug. There is a chance that it might not work properly.
6 Simple Ways to Fix Minecraft Not Launching Issue for PC
To fix the Minecraft Not Launching issue for Windows 10/11, you should run Minecraft as an administrator, remove conflicting background apps, update your graphics card driver, delete any mods installed, or disable antivirus. If all fails, try deleting and reinstalling Minecraft on your system.
Try out these solutions step by step to fix the problem until it's solved.
1. Run Minecraft as an Administrator
Running Minecraft as an administrator has helped many people out there, and it can work out for you too. Follow these steps to learn how to run Minecraft as an Administrator.
Navigate to the folder where the Minecraft Installer is located. Right-click the Minecraft icon and click Run as administrator.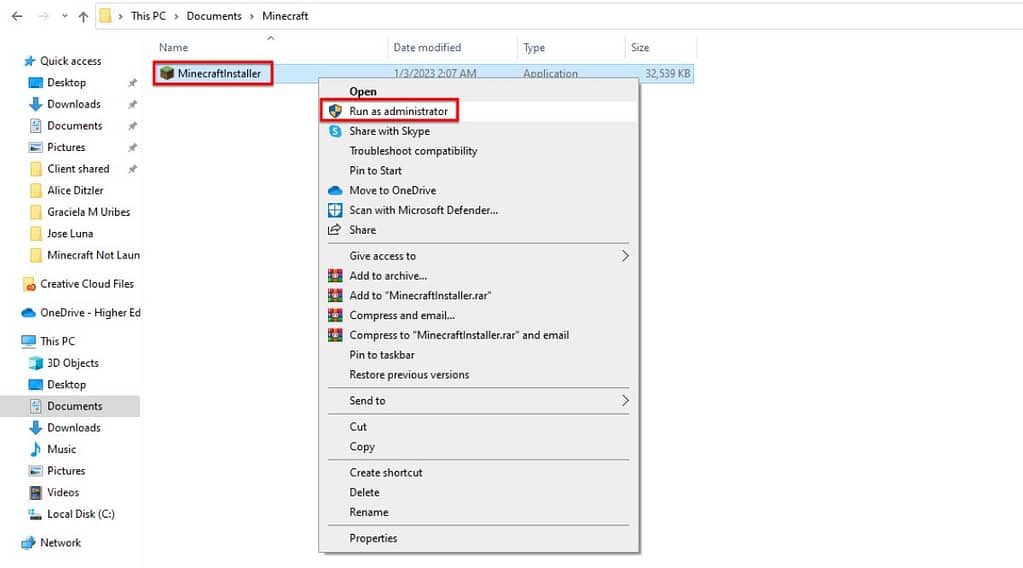 Click yes on the new window labeled User Account Control.
Now start Minecraft and check if it runs fine now.
2. Remove Conflicting Background Apps
If the Minecraft launcher stops working, make sure that you remove all the conflicting background apps from the task manager, including all running Minecraft processes. Follow these steps to end all the tasks.
Press Windows + X key simultaneously. From the menu, select the task manager. You can also press Ctrl + Shift + Esc key to run the task manager.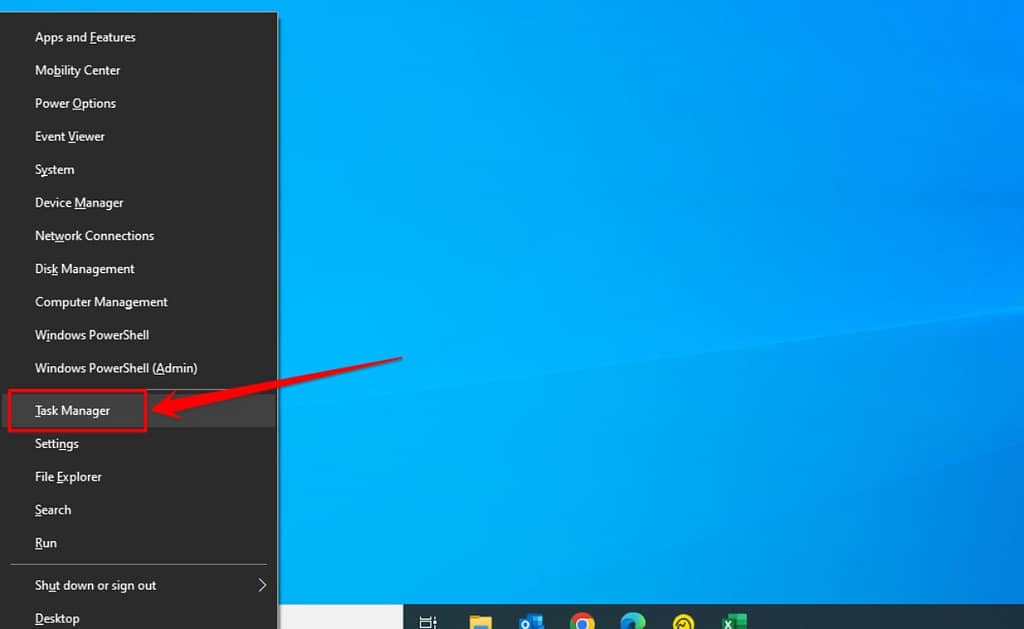 Head to the Processes tab and find Minecraft from the list of programs currently running on your system.
Select the Minecraft Launcher, right click and choose End Task. This should close any Minecraft launcher currently running on your system.
Also, remove any unnecessary background apps that you feel may drain your RAM memory and cause your game to slow down.
After this, run the Minecraft game again and see if you are able to proceed further over the black screen.
3. Update Your Graphics Card Drivers
If you have an outdated video card driver, chances are Minecraft won't launch. So, follow these steps to learn how to update your graphics card driver.
Press Windows + X key simultaneously, and from the list, select Device Manager.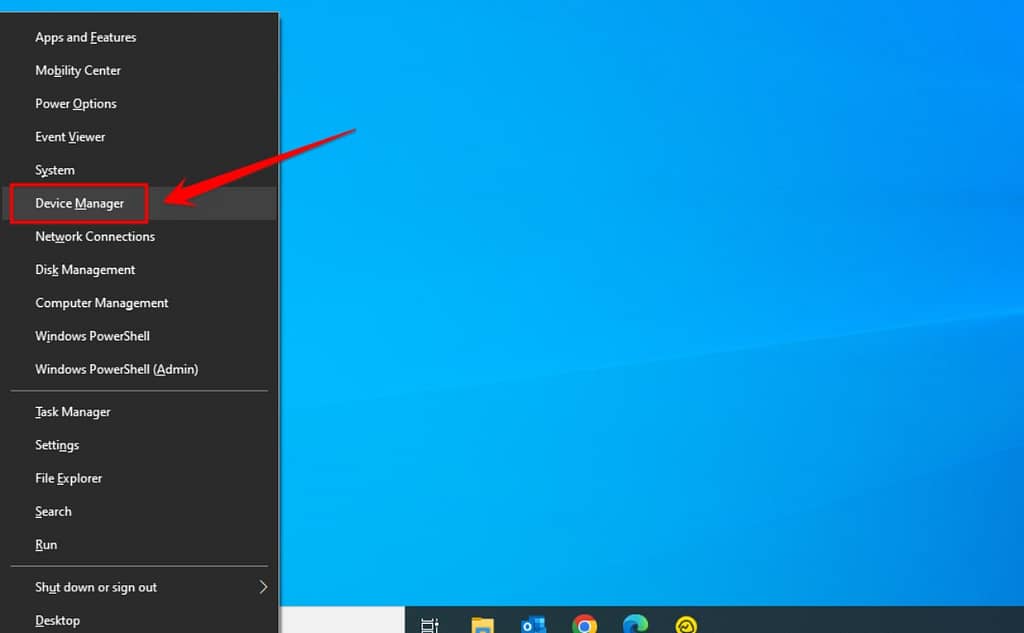 Navigate to the Display Adapters and click the arrow right beside to expand it.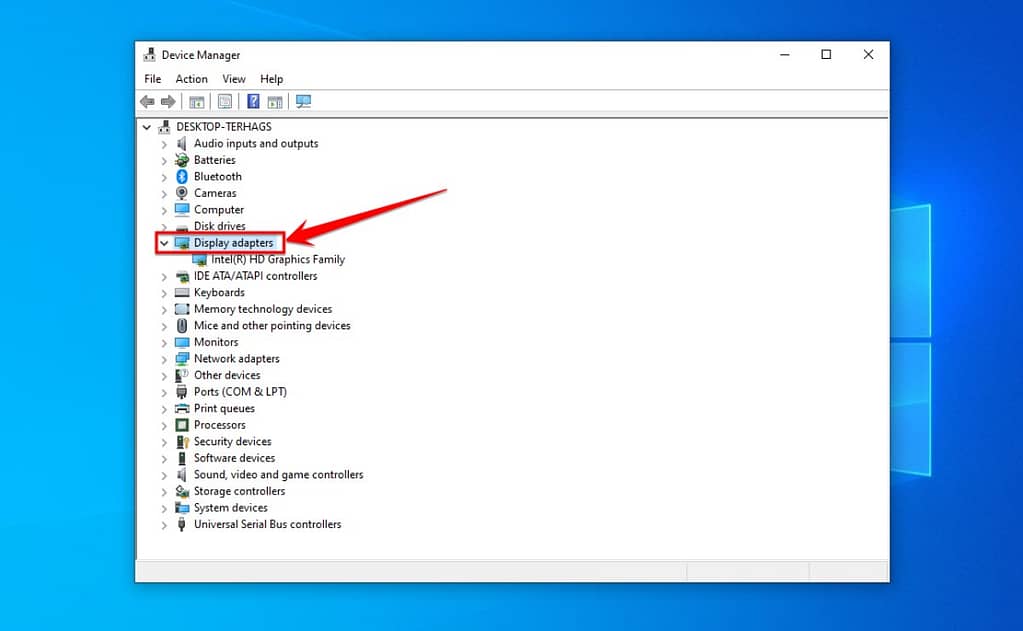 Right-click the graphic card installed on your system and select update drivers. On the new window, you will be asked to update driver software Automatically or Manually. If you already have the downloaded file of drivers on the computer, choose the second option. But, if you don't have it, choose the former option.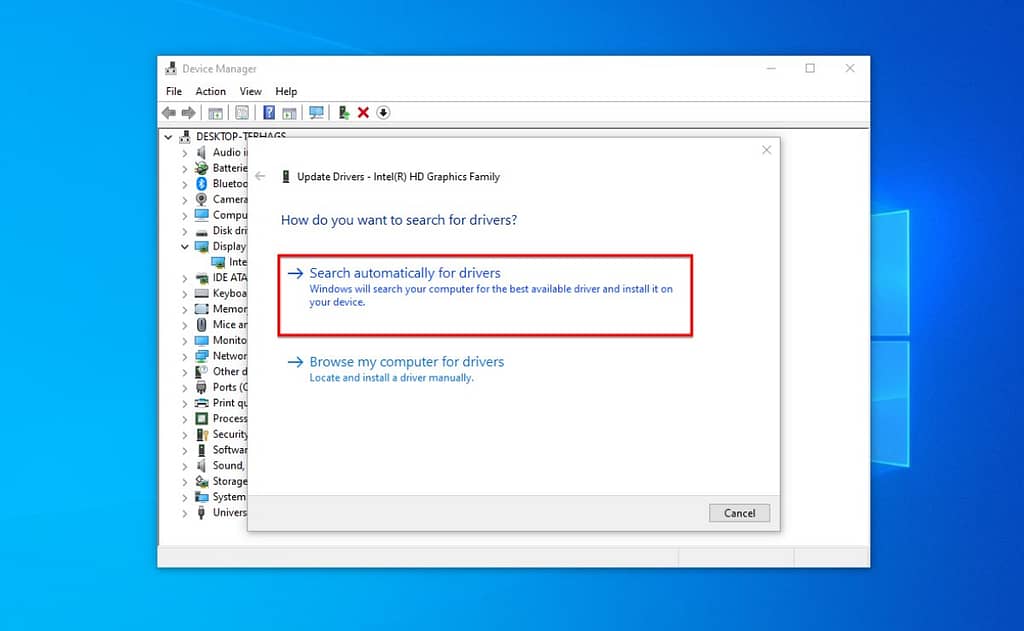 After you update the drivers, start the Minecraft launcher and check if you can run it.
4. Delete Any Mods Installed
If you run Mods while playing Minecraft game. This can be a possible reason why you face an error while launching Minecraft. To delete mods, follow these steps:
Press Windows + R keys together to initiate the run command. In the search box, type %appdata% to open the AppData folder.
A new window will appear on your screen. From the list, look out for the .minecraft folder and open it.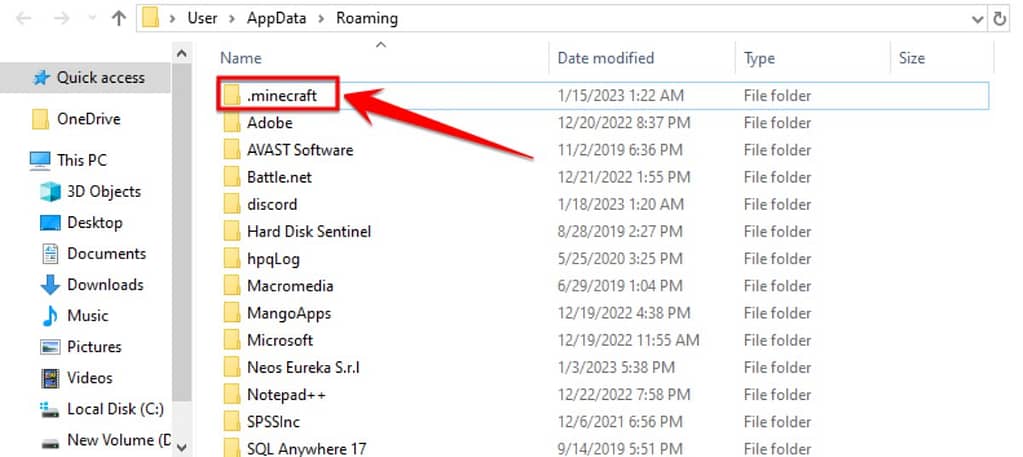 Look out for the mods folder from the list and delete it from your system.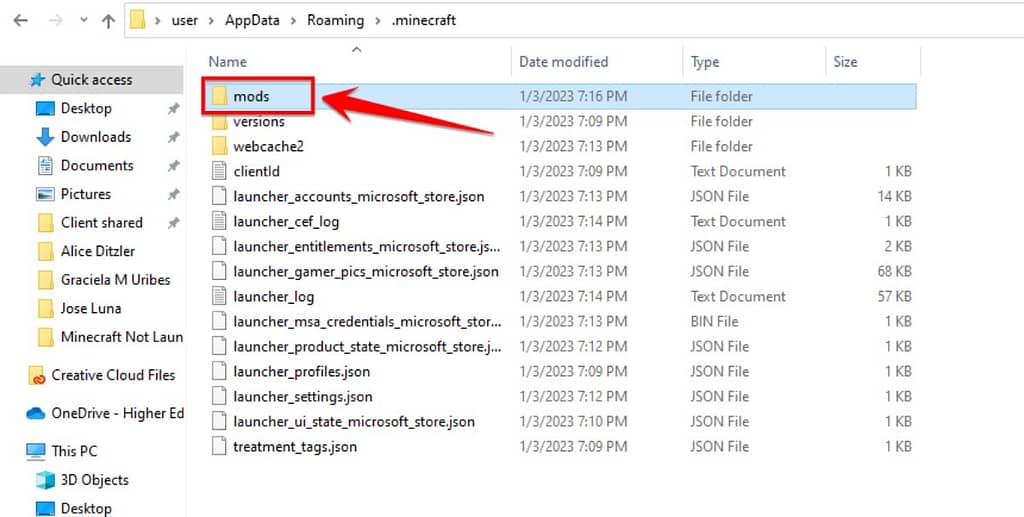 Now give another try to launch Minecraft and see if you are able to fix this issue.
5. Disable Antivirus Software
If you have antivirus software installed on your PC, it can also block your Minecraft launcher from running properly. To disable your antivirus program, follow these steps.
Head to the Windows search bar and type Windows Security.
On the new window, go to Virus & threat protection and open it.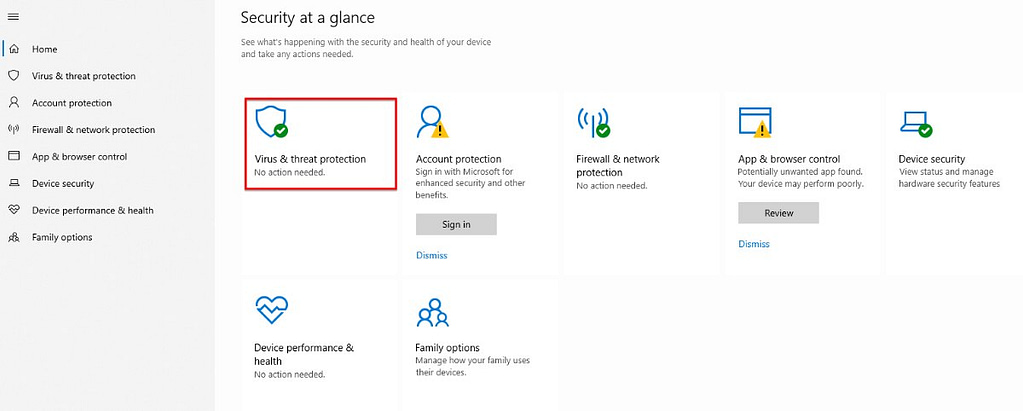 Now scroll down to Virus & threat protection settings, and click Manage settings.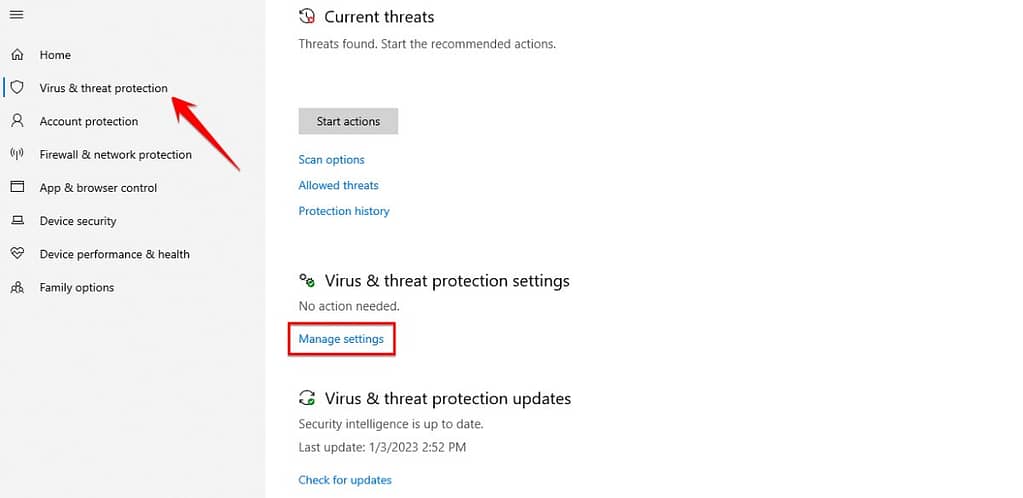 Switch off the real-time protection and press Yes on the User Account Control window.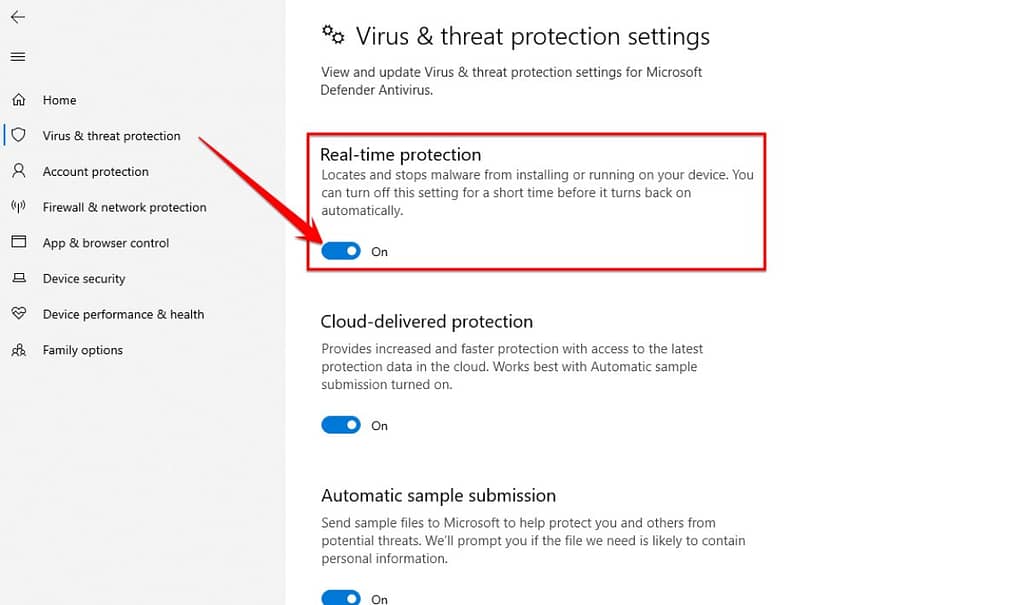 Once you have disabled the antivirus, open the Minecraft game to see if you are able to play it.
6. Reinstall Minecraft
If none of the options work for you, following this one is a good idea. Reinstalling Minecraft helps to solve the issue in most cases. Let's explore how you can do it:
Navigate to the Windows search bar and type Minecraft Launcher in the box.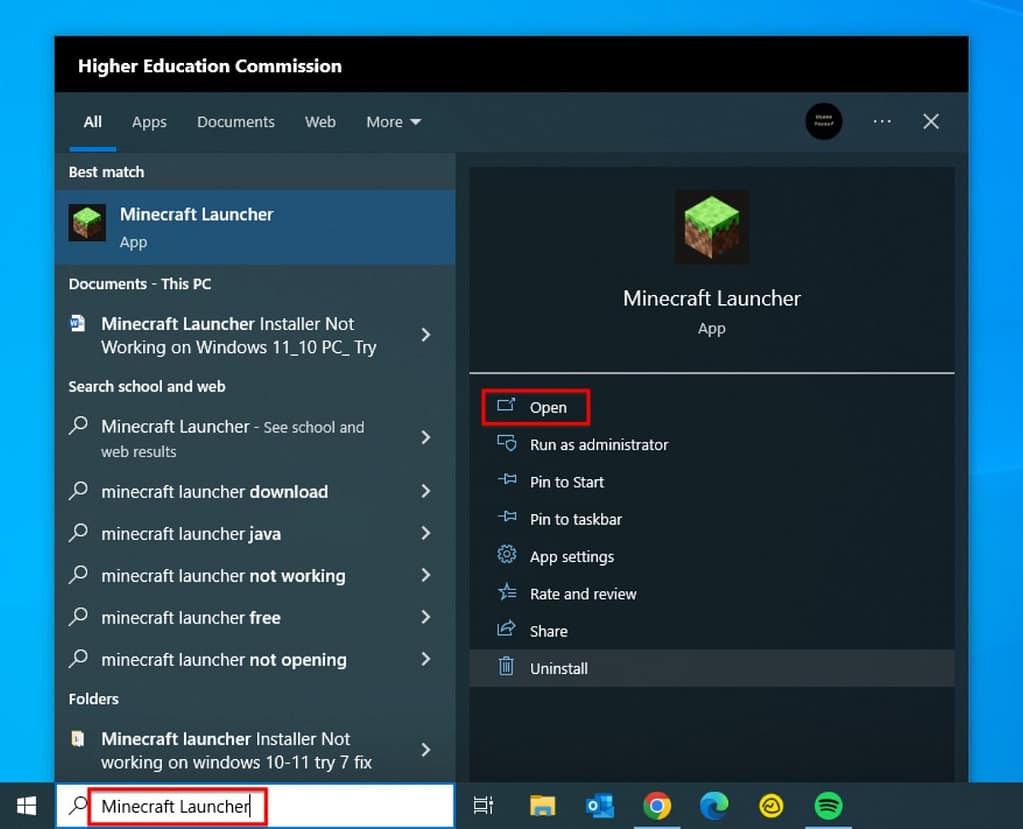 On the right side of the search box, you can view a list of actions that can be performed with Minecraft Launcher.
To remove Minecraft, click Uninstall. A small window would prompt up on the top of the search bar. Select Uninstall again to remove the app and all the relevant data.
Now install Minecraft again to check if the launcher works.
These were the most common methods to fix Minecraft launching issues. Tell us in the comment section which one worked out for you. If you think we missed something out, do let us know by sharing your feedback.
Frequently Asked Questions
Does Minecraft have any glitches?
Yes, just like any other game or application, Minecraft is prone to bugs and glitches, ranging from minor to serious. Developers constantly work on fixing and releasing updates for them. If you encounter a glitch, try checking for updates or report it to the developers for a fix.
Is online connectivity for Minecraft necessary?
Now, online connectivity is not necessary for Minecraft. However, it's a good idea to be connected to the internet while playing Minecraft as it helps you save your game progress, play in multiplayer mode, and keep your account synced with its online servers. Any offline activity won't be tracked down, so you would need to start all over again when you go online.
Is Minecraft free on PC?
No, Minecraft is not free on PC. It is a paid game and offers two packages, Java & Bedrock Edition, which costs $29.99, and the Deluxe collection, which comes at $39.99. But the good news is it offers a demo version for new players looking to create their own virtual world.
How to fix Minecraft not launching issue for Windows 10/11?
To fix the Minecraft not launching issue for Windows 10/11, you need to:
1. Run Minecraft as an administrator.
2. Remove conflicting background apps.
3. Update your graphics card driver.
4. Delete any mods installed.
5. Disable antivirus or add the game to its exception program list.
6. If the above steps do not work, try deleting and reinstalling Minecraft on your system.