Whether you are a streamer, moderator, or just a viewer, Twitch Logs can significantly improve your game streaming experience. That is, streamers can look into the comments and review feedback. Moderators can help to improve the chat experience. And the viewers can catch up on what was said during the stream or refer to a specific comment at a later time.
So, this platform has something useful for everyone. Let's explore Twitch chat logs in more detail and learn useful tips to manage them here.
What are Twitch Logs, and How to Check Them?
Twitch logs are a record of the conversation that took place in a Twitch chatroom. They include details like the usernames of the people who commented, the date and time of each comment, and more. Streamers, moderators, and viewers can view Twitch logs using various methods.
Streamers and viewers can engage with each other on Twitch chat during live streams. So, Twitch chat logs are like the entire chat history of a broadcast. Chat logs help moderate comments and suspend violators. But to do that, you need to know how to check Twitch logs.
Different methods are available for checking Twitch chat history. But not all options are accessible for all three Twitch users: streamers, moderators, and viewers. Below, I've explained how to check the Twitch chat log for all of them.
2 Ways To Check Twitch Chat Logs as a Streamer
If you're a streamer, you can review chat logs on Twitch through the user search command or a third-party chatbot like Nightbot or Chatty. Or else, you can use VOD playback to review your video on demand.
As a streamer, you have more options than a moderator and a viewer to check your Twitch log history. Here's how you can use the features available to Twitch streamers:
1. User Search Command
Twitch User Search Commands are handy for chat moderation. You can find all comments from a specific user through a simple search command, like /user [username]. So, if you're searching for the comments made by a particular user named xyz, you'll write /user xyz, and it will open their comment history.
Follow these steps to check Twitch chat logs using a User Search Command on Twitch:
Head to twitch.tv and sign in to your Twitch account.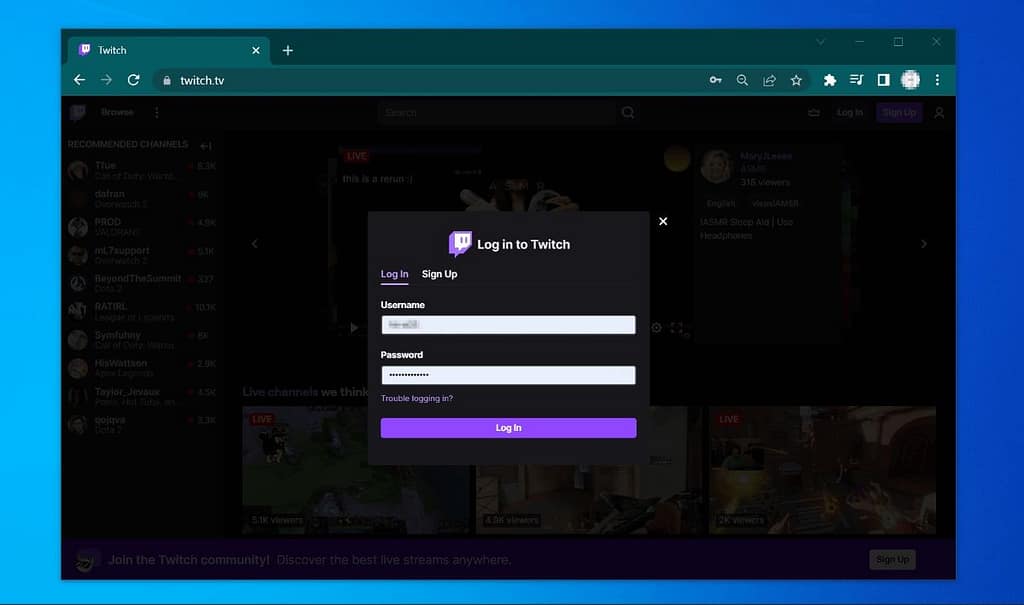 Click your Profile icon in the top right corner.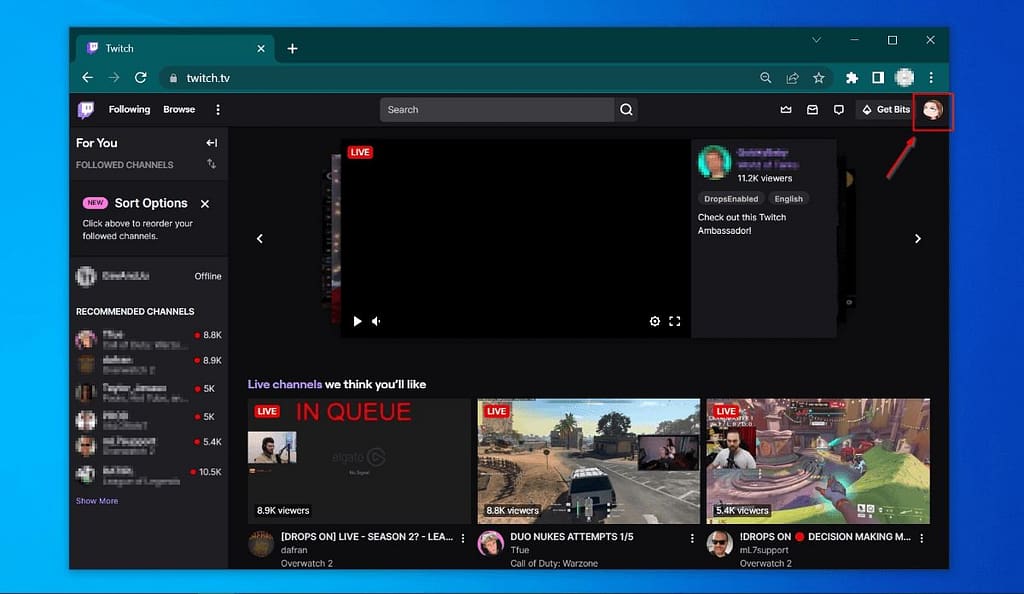 Select Channel from the drop-down menu.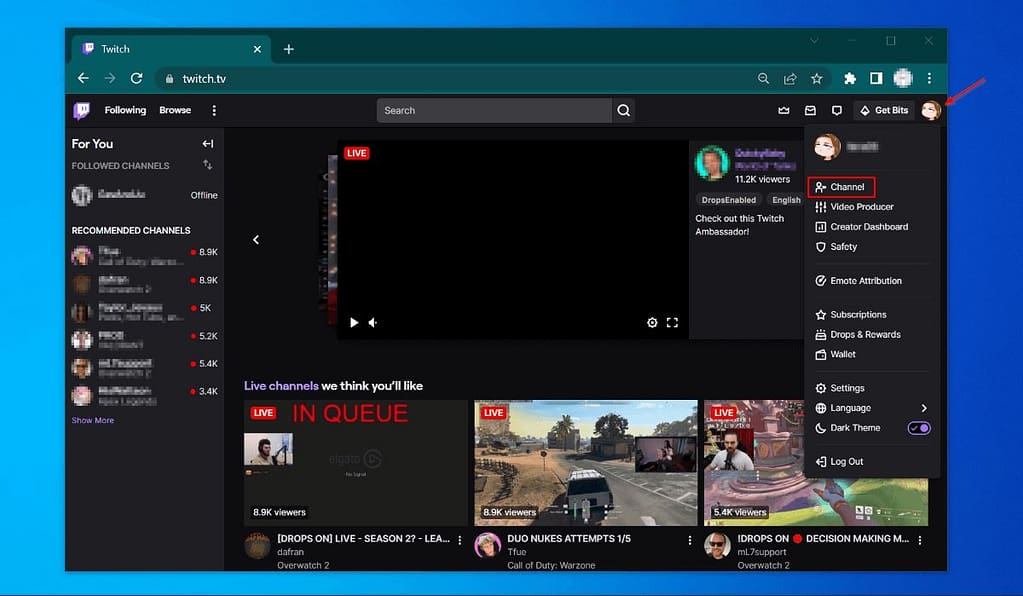 Scroll down to the next page and select ↗ Chat.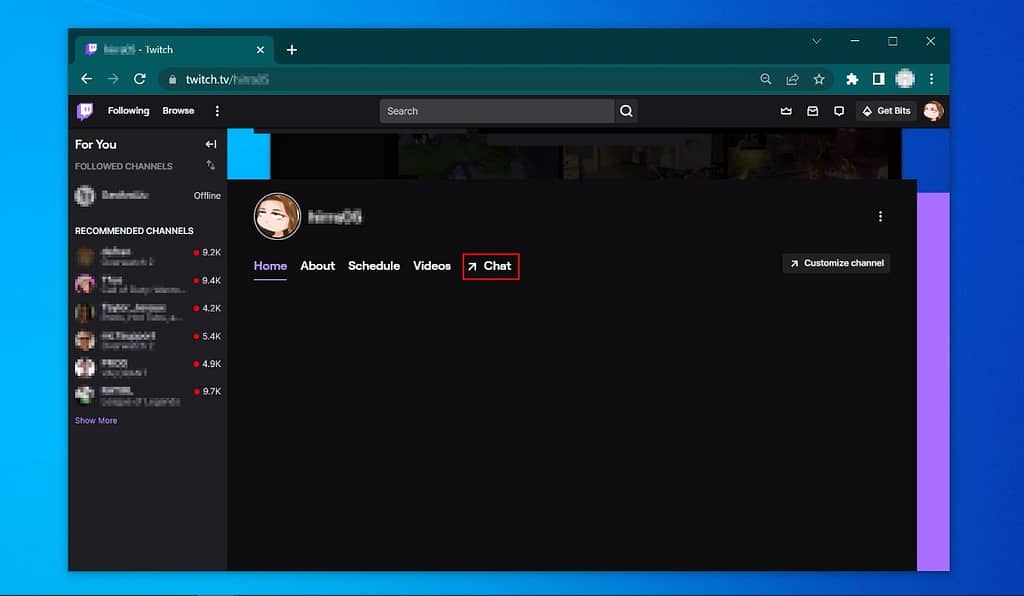 The Stream Chat window will appear on the right-hand side. Here, type /user [username] in the message box.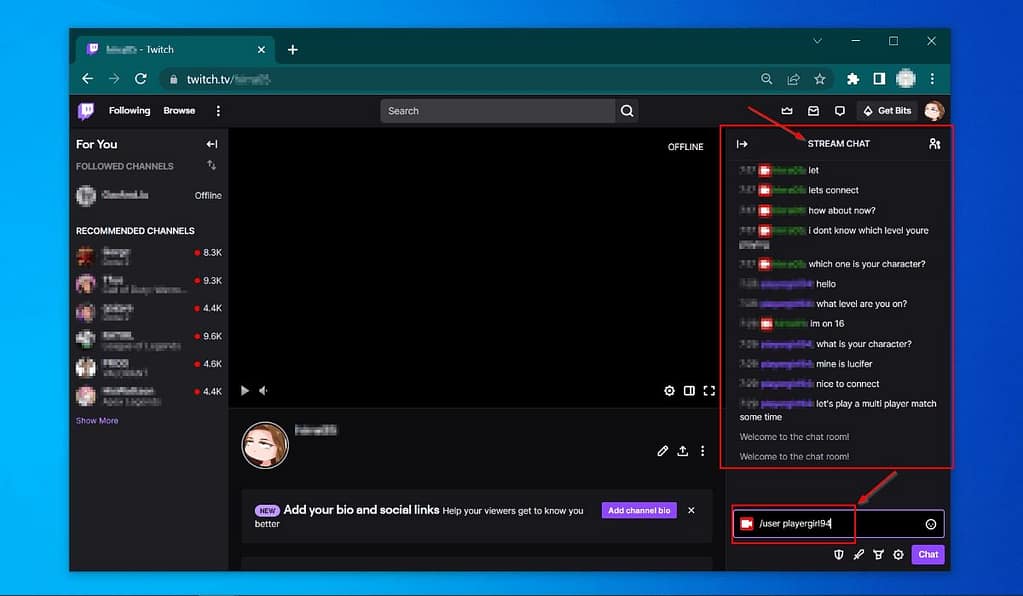 Now, you'll see how many messages you have received from that user. You can click Messages to further expand the entire chat history list.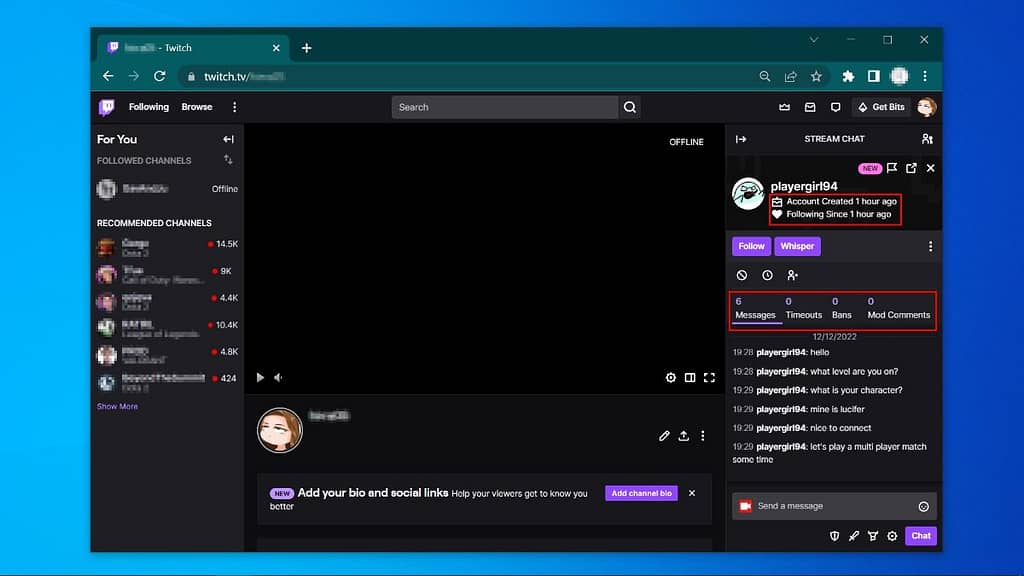 When you click the Messages button of a user, you'll also see when their account was created, how long they've been following you, timeouts, bans, and moderator comments.
2. Review Video on Demand (VODs)
The VOD playback feature allows you to watch your channel's past broadcasts. It is the only reliable option to view the entire chat history, including the comments moderators have already deleted.
You can also download the chat history using TwitchDowloader – a community-run program to download clips, complete VODs, and chat history from Twitch. But if you use User Search Commands or a third-party app to view Twitch chat logs, you won't see comments that chat moderators may have removed.
So, it's better to manually enable recording your Twitch streams from your account settings to get a more comprehensible chat history for your streams. To do that, follow these steps:
Click your Profile icon in the top right corner.
Select the Creator Dashboard from the dropdown menu.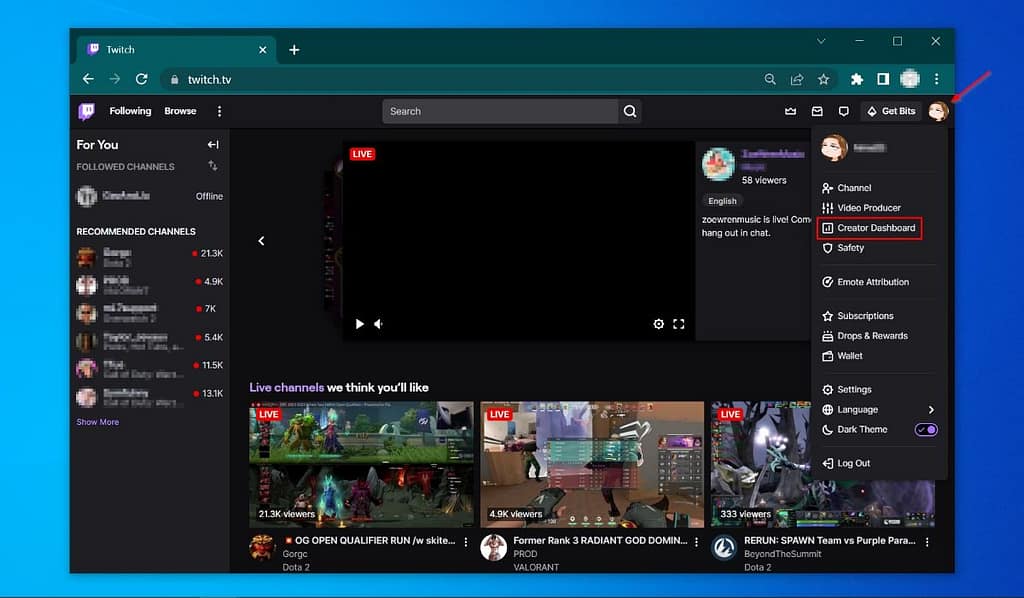 On the next screen, click Settings in the left navigation bar.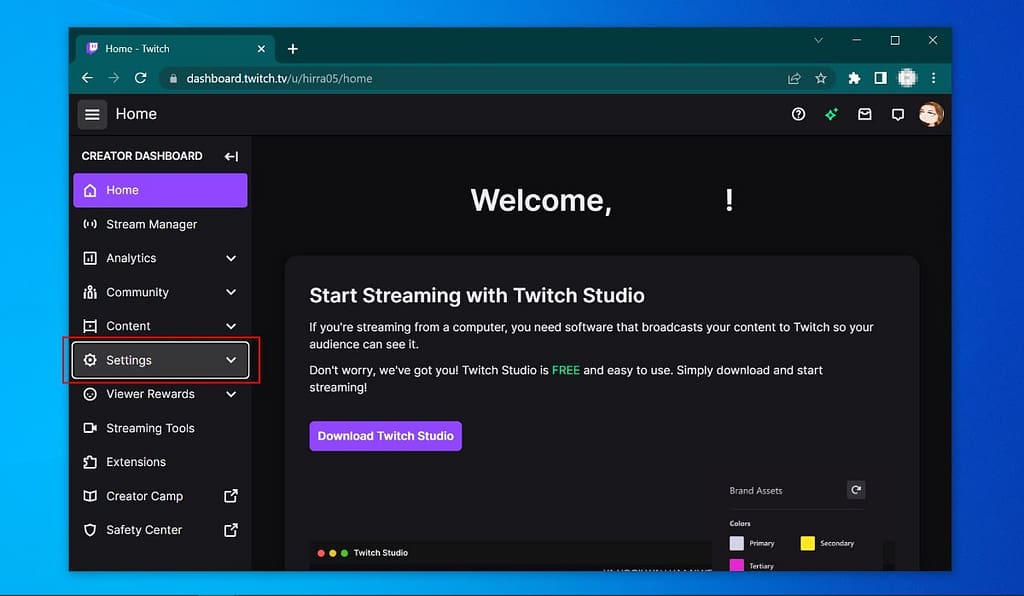 Select Stream from the dropdown menu.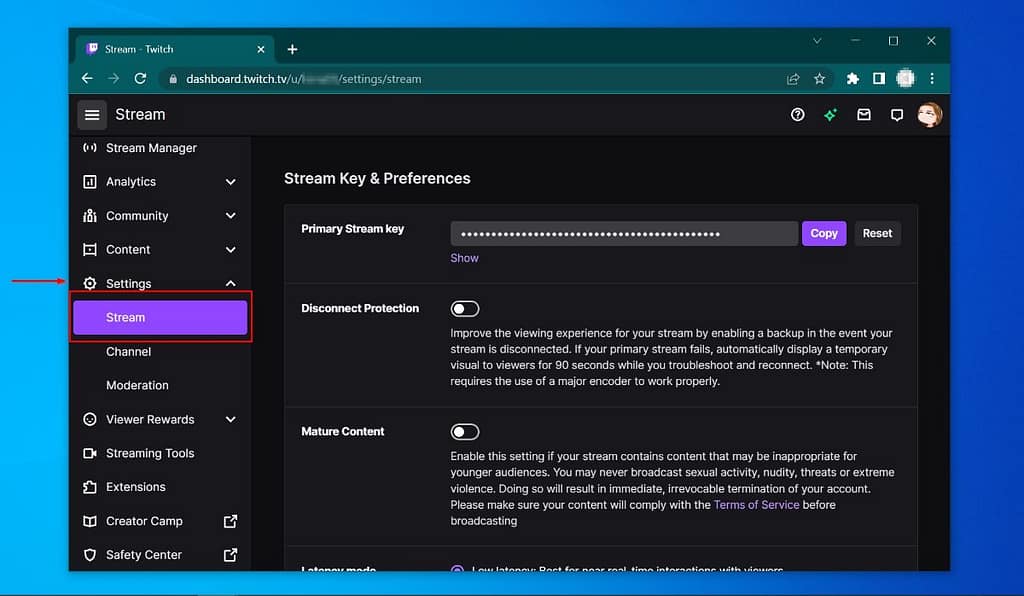 Scroll down to VOD Settings on the right side.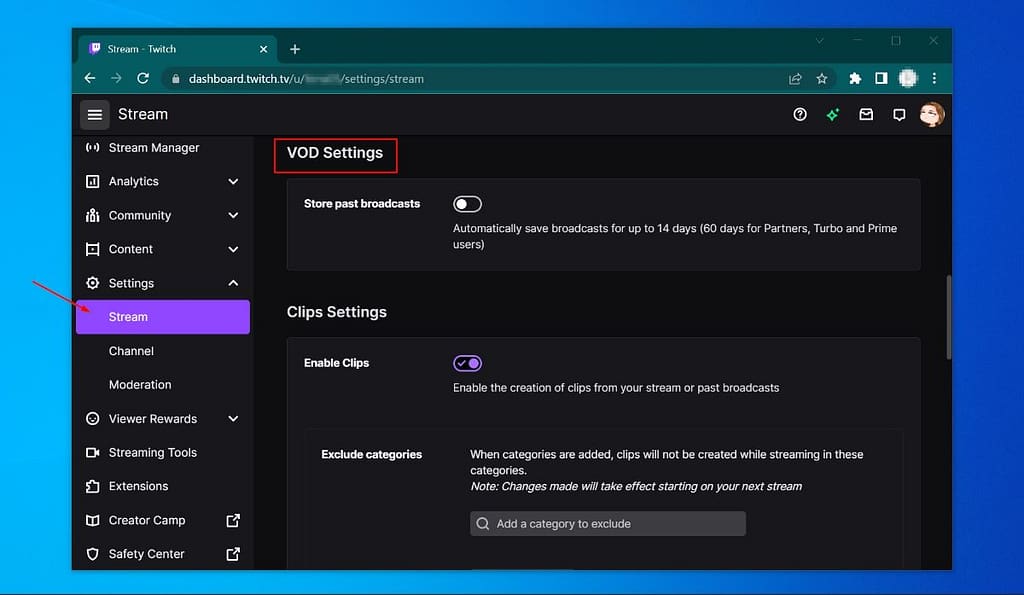 Here, toggle on the Store past broadcast option to save broadcasts automatically.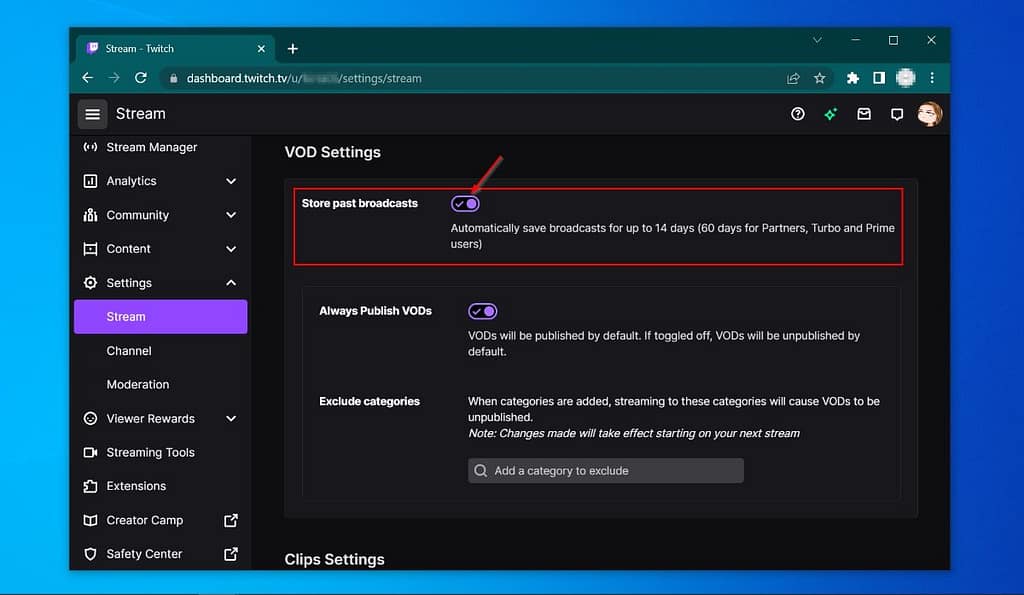 Once you've enabled this option, your Twitch broadcasts will be saved for up to 14 days on an affiliate account. If you're a Partner, Turbo, or Prime user, your broadcasts will be automatically saved for up to 60 days.
To access old broadcasts, navigate to the Videos section of your channel. If you have old broadcasts, they will appear under Videos.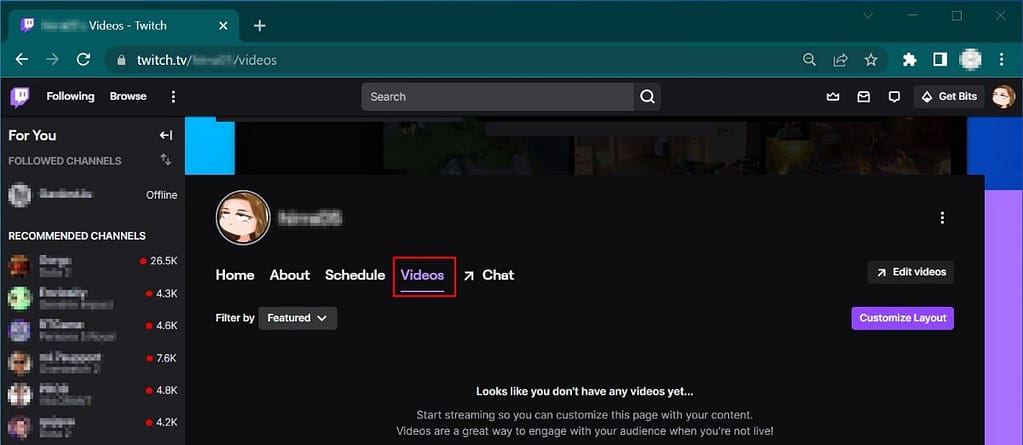 3. Use a Third-Party Program
A third-party chatbot can also help check Twitch chat logs. There are different chatbots available online that you can use to access the chat logs of your channel. Unfortunately, these apps and software don't show comments and messages removed by you or the mods.
Nightbot and Chatty are two of the most commonly used programs by streamers for checking chat logs on Twitch. They are open-source programs with a variety of tools that you can use to access and view your Twitch chats.
Plus, these third-party programs store chat information on your local storage. It means you can review the data as an external file, even if you are offline.
Check Twitch Chat Logs as a Moderator
To check twitch chat logs as a moderator, open your Twitch account and navigate to Profile > Channel > Chat > small sword icon, and enter the Chat Moderator View. Now, you'll see all the users in the chat. Click a username to see more about it.
Checking Twitch chat logs as a moderator is relatively limited as compared to a streamer. Moderators can only use chat commands in the mod view to check chat logs for reviewing messages and comments.
Access to moderator actions allows you to monitor your channel and keep an eye on all the comments. You can take disciplinary action against the users who violate the rules of your channel. Moreover, you can remove inappropriate comments, such as hate speeches or other offensive comments.
Accessing Twitch Logs as a Moderator
To check Twitch chat logs using the moderator view, you need to follow these steps:
Open your Twitch account and click your Profile icon in the top right corner.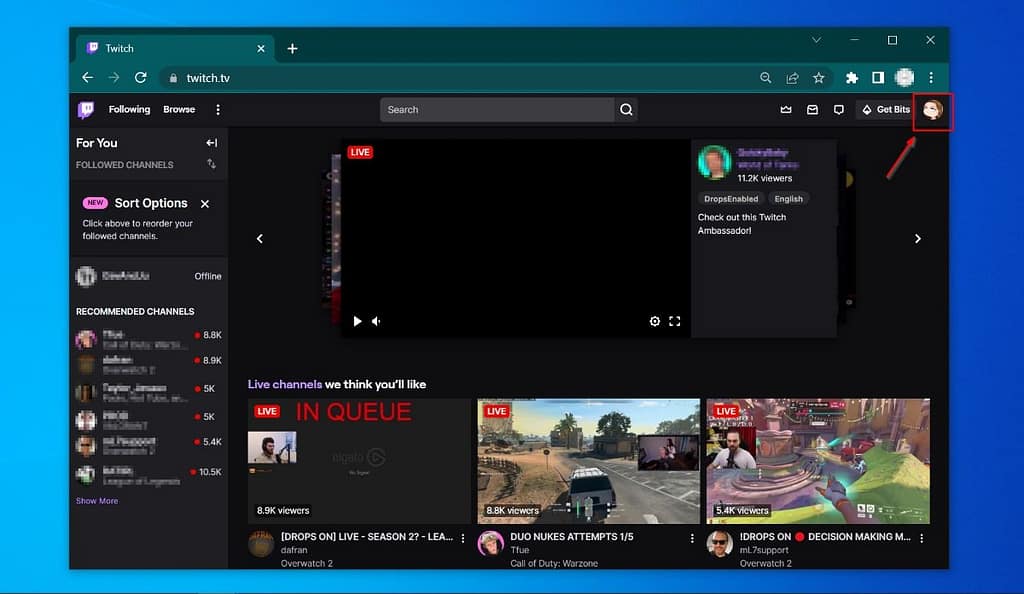 Select Channel from the dropdown menu.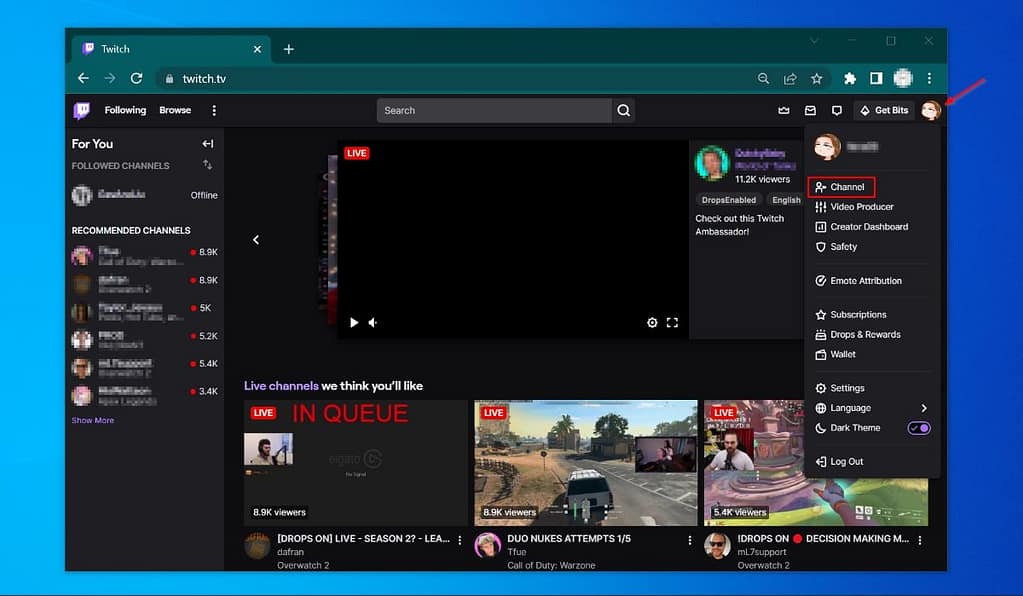 Select ↗ Chat on the next page after scrolling down.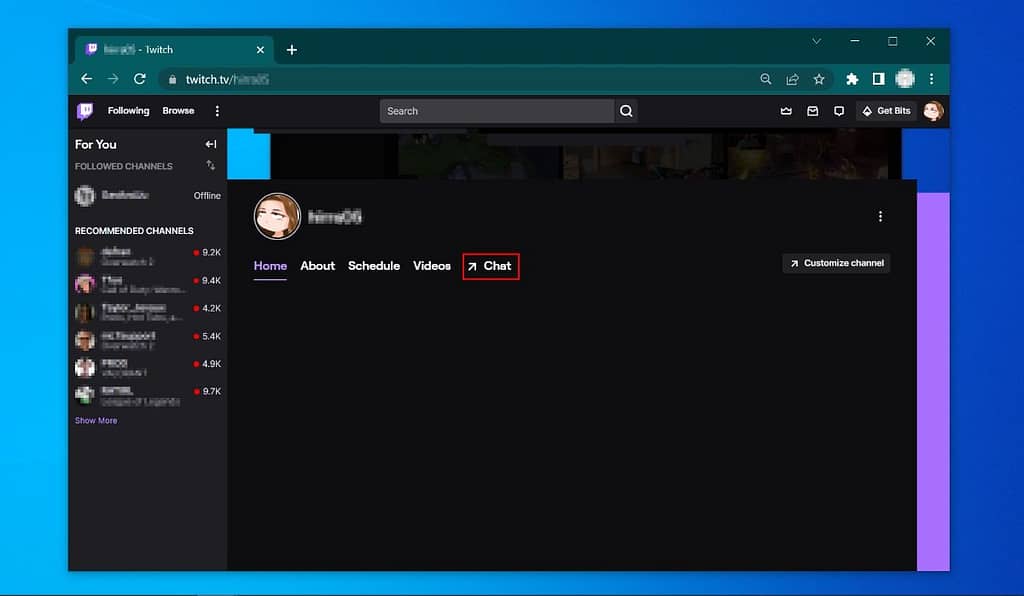 Click the small sword icon at the lower right of the Stream Chat window. This will take you to the Chat Moderator View.
You'll see all the users in the chat on the right-hand side. To check the chat logs of the specific viewer, you can click their username in this list.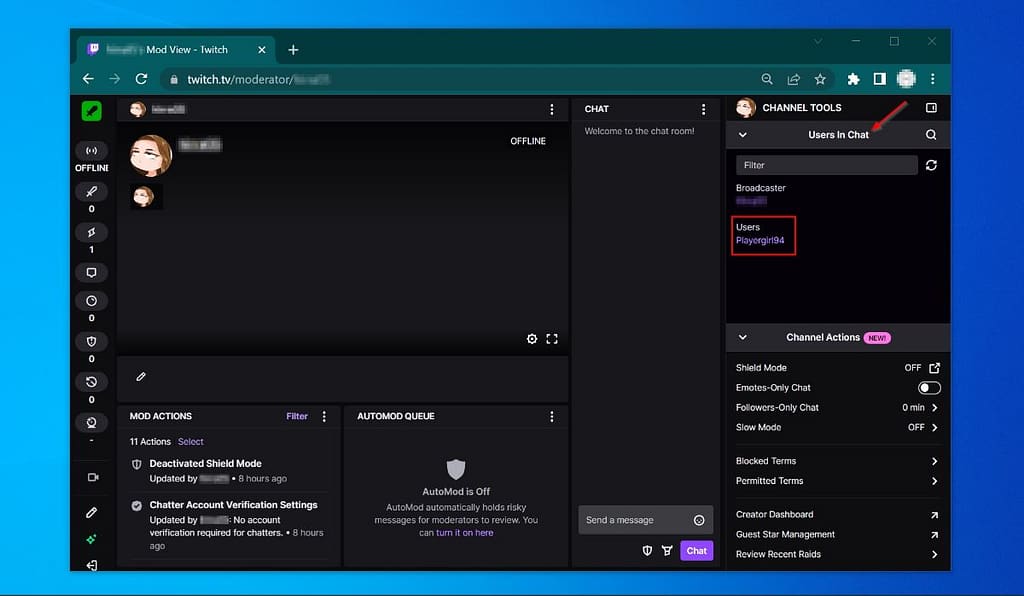 When you click a username, you can see all their messages in the channel, along with the number of their previous timeouts, bans, and mod comments. Plus, toward the bottom-left of the screen, you'll see different options for moderator actions.
Check Twitch Chat Logs as a Viewer
The most reliable way to check Twitch chat logs as a viewer is to watch the VOD uploaded by the streamer. You can also use tools like Chatty to check your chat logs in different channels. There are also some websites that record chat logs, but Twitch's legal team keeps shutting them.
Sadly, there is no direct way to access chat logs as a viewer on Twitch. Still, there are some workarounds. Here are some possible ways to access Twitch logs as a viewer:
Use third-party websites that offer Twitch chat log services.
Get a chatbot to save and access Twitch chat logs.
Search and watch VOD uploaded by the streamer on their channel.
It's worth noting that these third-party tools and websites are not a reliable option, and they often get shut down by Twitch.
Why Should You Check Your Twitch Logs?
Twitch logs help observe the audience's reactions to your content and improve it based on their feedback. It also helps in keeping your Twitch channel's environment safe and positive. You can view chat history, find loyal followers, engage with them, or report any inappropriate behavior of a viewer.
Checking your chat logs allows you to understand your audience while keeping them in check. It is a great way to grow your Twitch channel, keep loyal viewers, kick out troublemakers, and improve your content.
How to Manage Twitch Chat History
You can manage Twitch chat logs using the moderator view. Enter the mod view on Twitch by clicking the small sword icon at the bottom-right of the Stream Chat window. Now, you can access moderator tools that allow you to delete specific comments, give users time outs, and ban or report violators.
As long as you monitor your logs regularly, your viewers will have a positive chat experience on your channel. It will also help you interact with your audience in a healthy manner to learn about their ideas and expectations from your future streams.
Frequently Asked Questions
Can I monitor Twitch logs?
Yes, you can monitor Twitch chat logs if you're a streamer or a moderator. Twitch doesn't allow viewers to access logs like streamers and mods to protect user privacy and information.
Does Twitch save logs history?
Twitch saves your log history for 14-60 days, depending on the type of your Twitch account. You can access previous chats from a specific viewer using the /user or /stream commands.
How to delete Twitch logs?
To delete logs on Twitch, open the settings of your Twitch chat box and tap Switch to Mod Settings. Then, toggle on the Show Mod Icons option, type the command /clear in the message box, and press Enter. Your chat will be cleared.