So, you've come across 1and1 webmail but don't know how to use this wonderful tool for your business? If so, then read this article, where we explore the ins and outs of 1&1 Webmail, discussing some of its key features and functions.
From account sign-up to 1and1 webmail login, sending and receiving emails, and managing and organizing them- this article covers all you need to know about 1and1 webmail.
What is IONOS Webmail?
IONOS Webmail is a web-based email hosting service that lets you send and receive emails via web browsers from anywhere and at any time. Plus, there are many other value-added features that let you manage appointments, add contacts, schedule emails, create folders, etc.
Basically, IONOS webmail is perfect for businesses as it provides many useful email managing features. One can argue that many email hosting services provide these benefits. But the key difference between IONOS webmail and conventional emails is that you don't need a dedicated app (or email client app) to use its services.
How to Use 1and1 Webmail
To use 1and1 Webmail, buy a domain name (if you don't have it already), and an IONOS email plan. Then, create an IONOS webmail account, log into it, and manage your emails, calendars, address book, and more. Use the top menu bar to navigate to different sections and the left-hand menu to access specific features and settings.
To create and start using a 1and1 Webmail account, you'll first need a domain name on which you'll get your webmail address with a login password. Then, you'll need to buy an email plan from IONOS webmail. After that, you can set up your 1and1 webmail account and start using it. Here's an easy walkthrough of the whole process.
Getting Ready For 1and1 Webmail
To create your 1and1 webmail account, you first need to buy a domain. Then, subscribe to one of 1and1 Webmail's email plans. Once that's done, you can start creating your 1and1 Webmail account.
If you already have a registered IONOS domain and email plan, then you can skip this part.
With that said, let's move on to creating an IONOS Webmail address using the 1and1 Webmail service.
Free Domain Purchase on 1and1 Webmail
The first step to creating your 1and1 Webmail account is to buy a domain name. So, follow these steps to get a free domain for your business email address on 1and1 Webmail:
First, open a web browser and visit ionos.com.
Click the Email & Office option within the menu bar in the website's header section.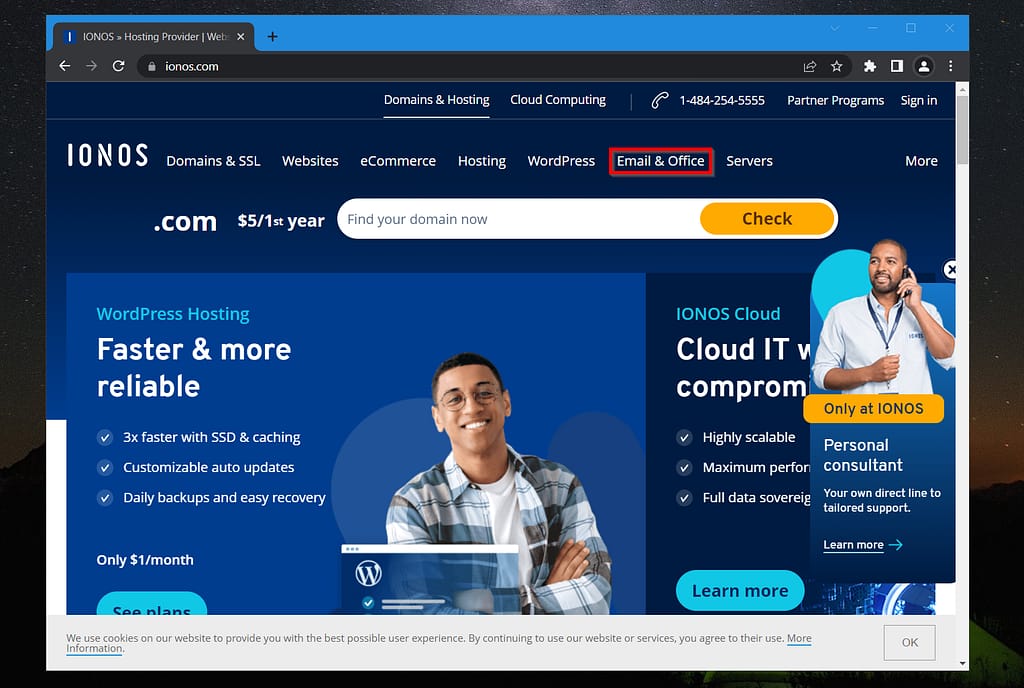 Now, select the Professional Email Address option from the drop-down list.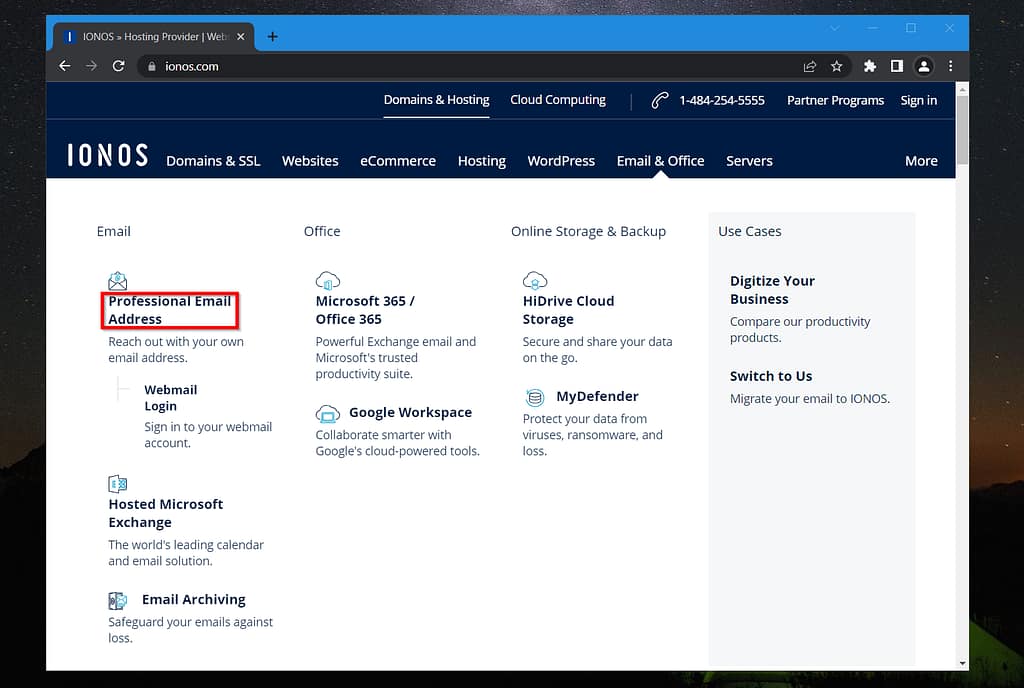 Click See Plan or scroll down to the Profession Email Plan section of the page.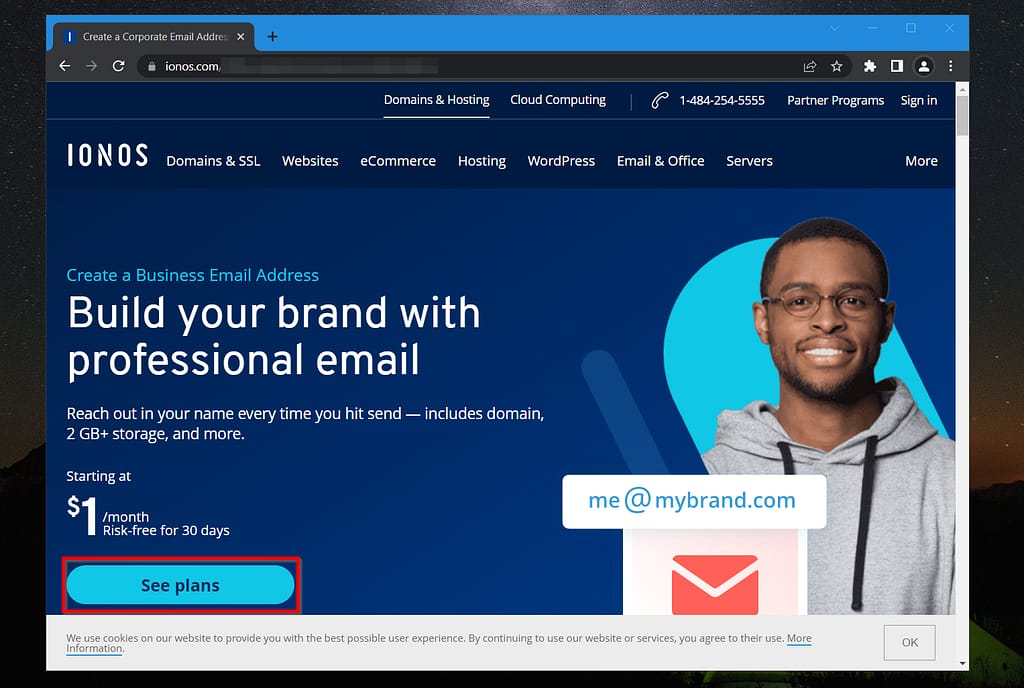 Make sure to select IONOS Email in the tab above the plans. Review and choose the email plan that suits your needs the best– I have selected Mail Basic 1. Then, click Continue within the plan you choose.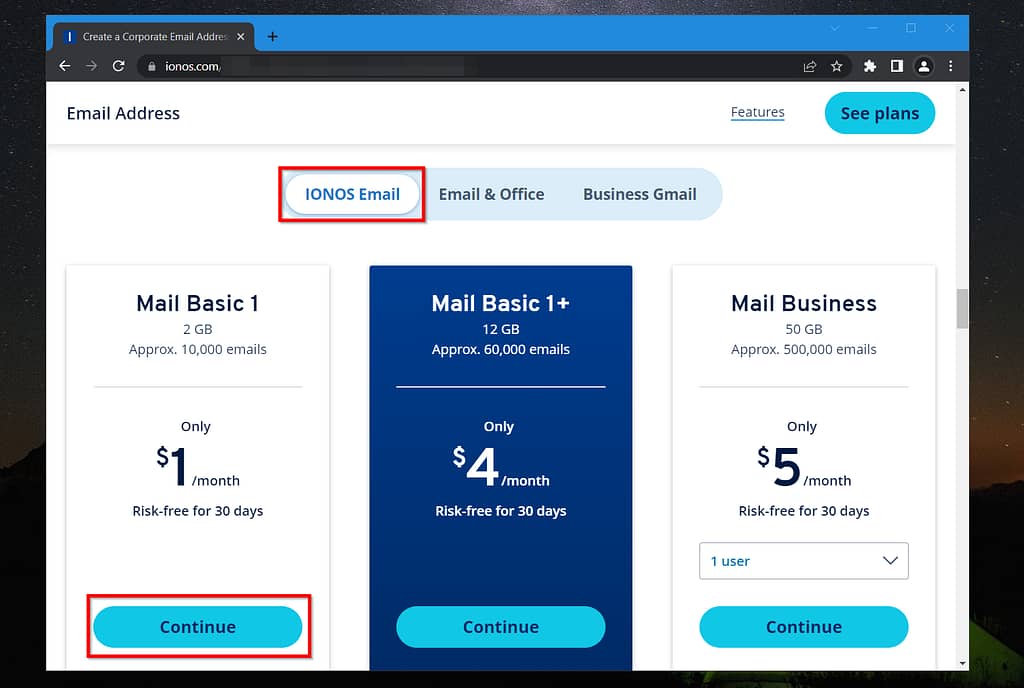 Now, type the domain name to check its availability.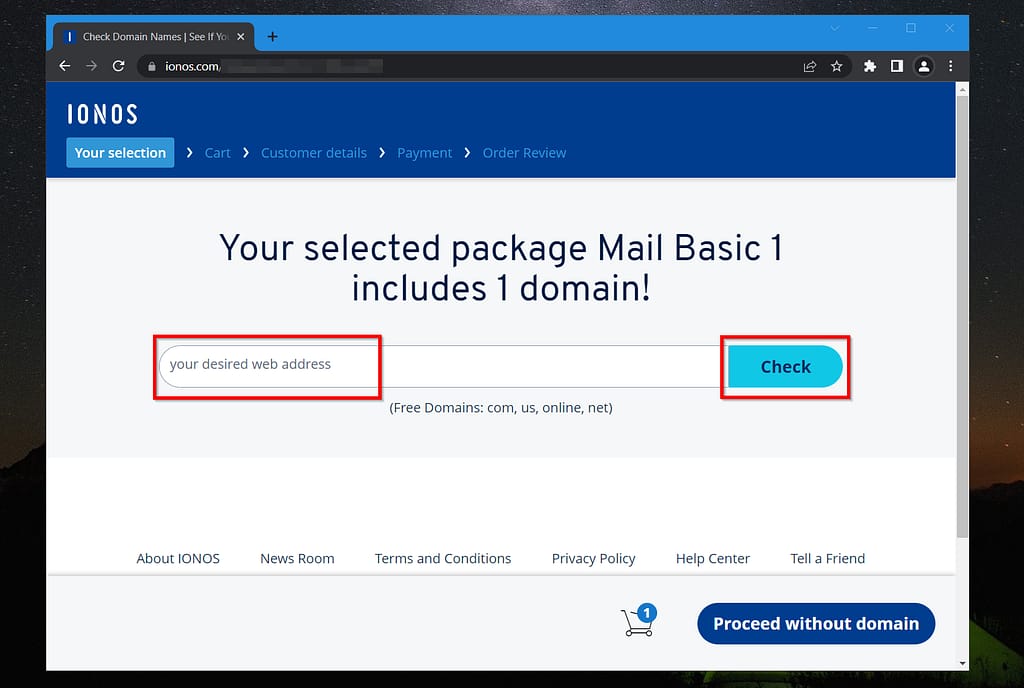 If the domain is already taken, try it until you find one available to use. Or you can scroll down and select one from the suggestions.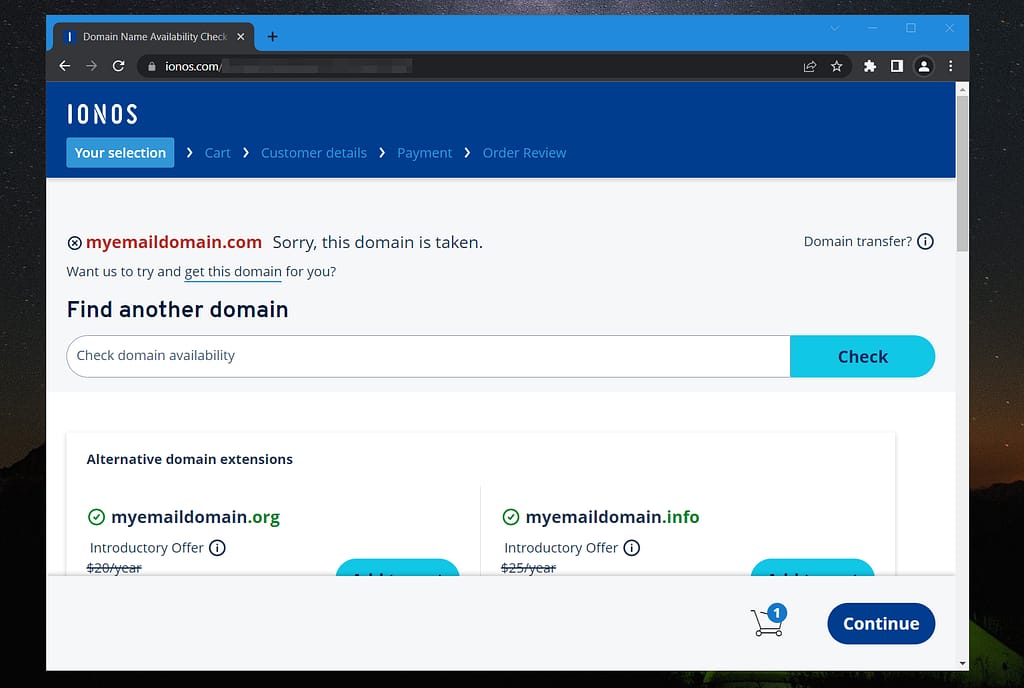 Once you get your desired domain name, click Add to Cart.
You'll see more related services to purchase, but you can simply click Continue at the bottom and proceed to the next page.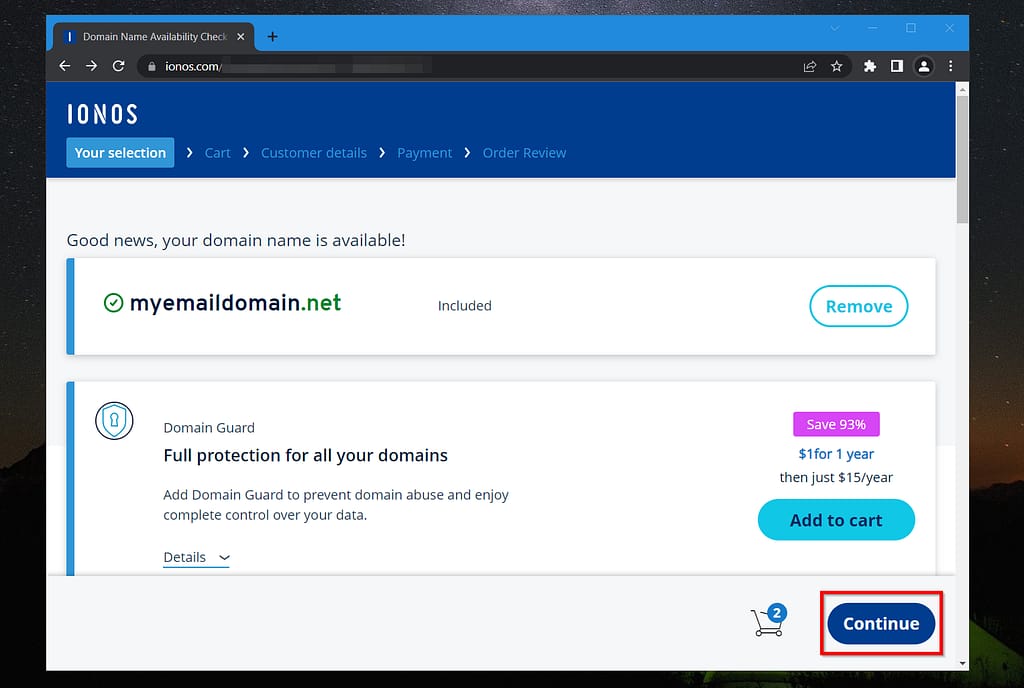 After reviewing the service details in your shopping cart, click Continue.
Here you can either click Continue to Checkout or Checkout with PayPal. In my case, I chose the former option.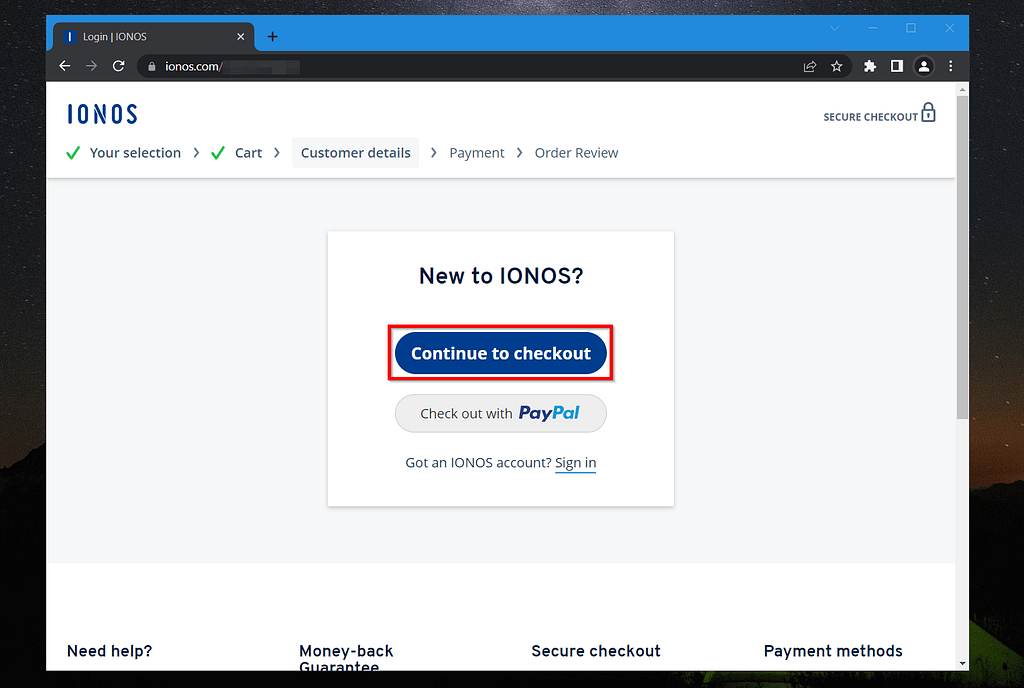 Fill in the form and click Continue to Payment Options. (Make sure your password meets the IONOS requirements. It won't proceed to the next page until you create a strong password.)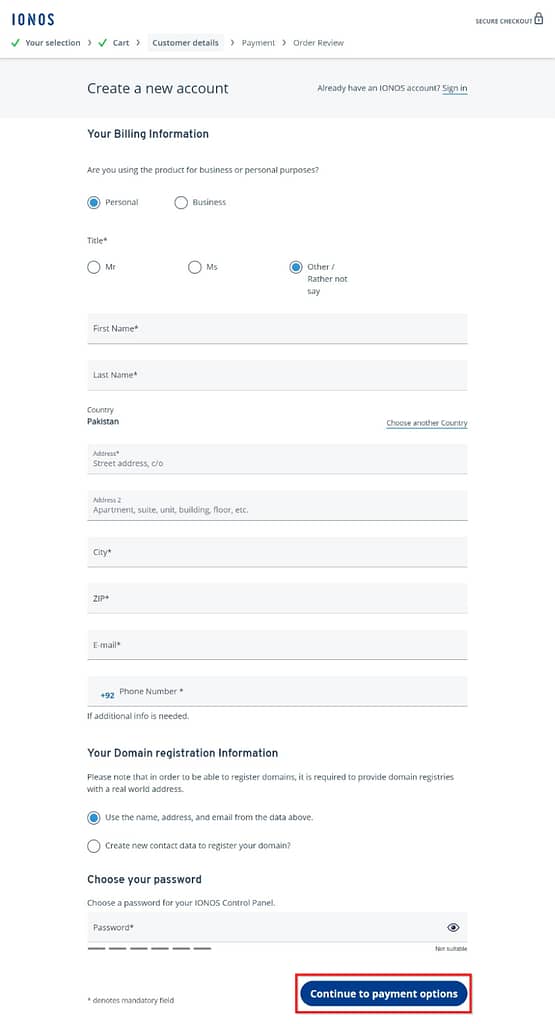 Enter your card information and click Continue to Order Review.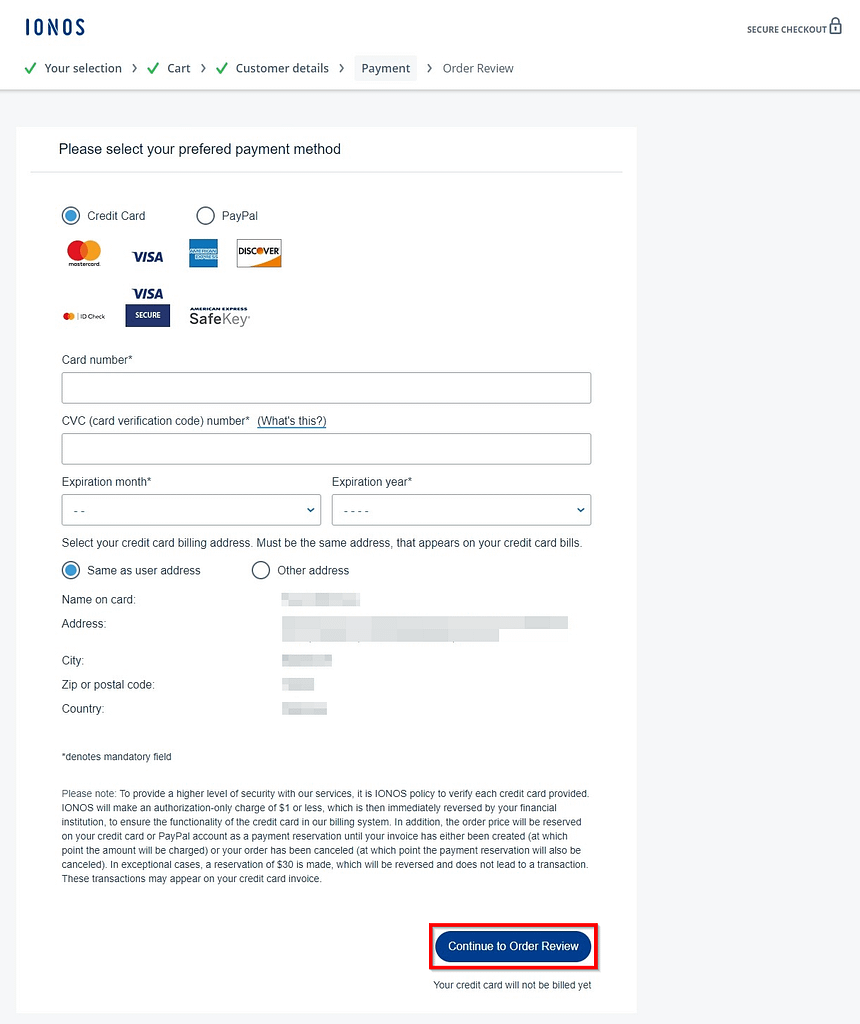 Review the complete information of your purchase details. Then, click Order Now.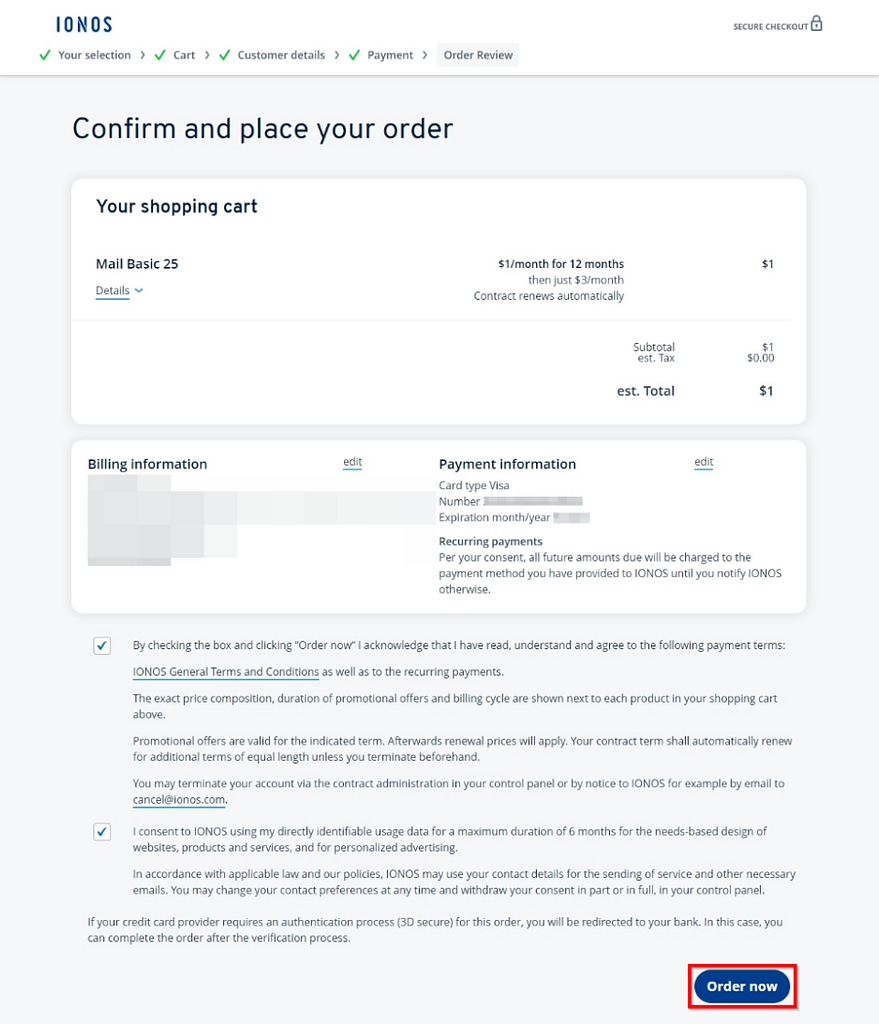 Since IONOS first lets you purchase a free domain– which is included in your email plan, you wouldn't have to pay anything for this email domain name.
Purchase Email Plan on 1and1 Webmail
After successfully purchasing the free domain, IONOS takes you to the Email Plan page. You'll find this purchase process almost the same, but the product is different. Plus, you'll make an actual transaction for the plan purchase. So, here are the steps for it:
Click Add to Cart under the Email plan.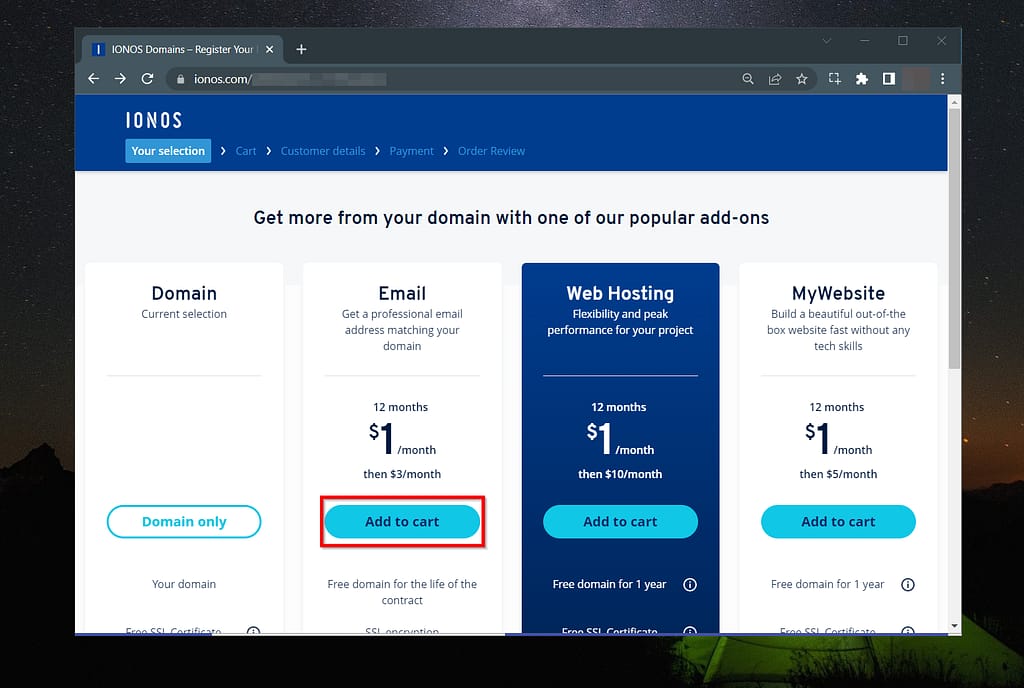 Click Continue.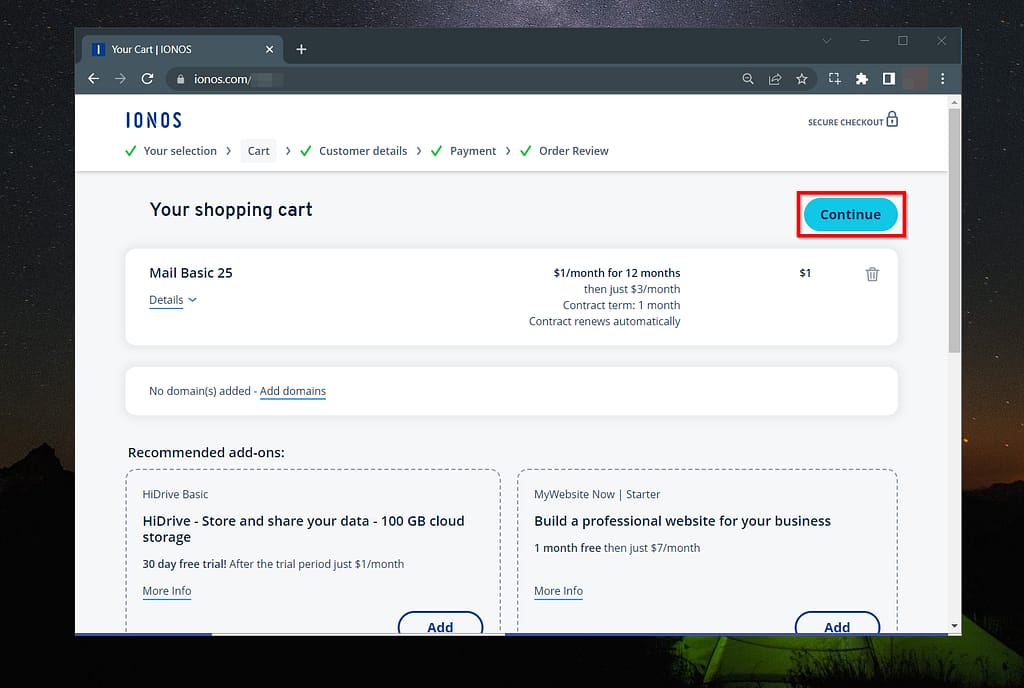 If you want to directly checkout with PayPal, click Check out with PayPal. Or else, click the Continue to Checkout button for more payment options.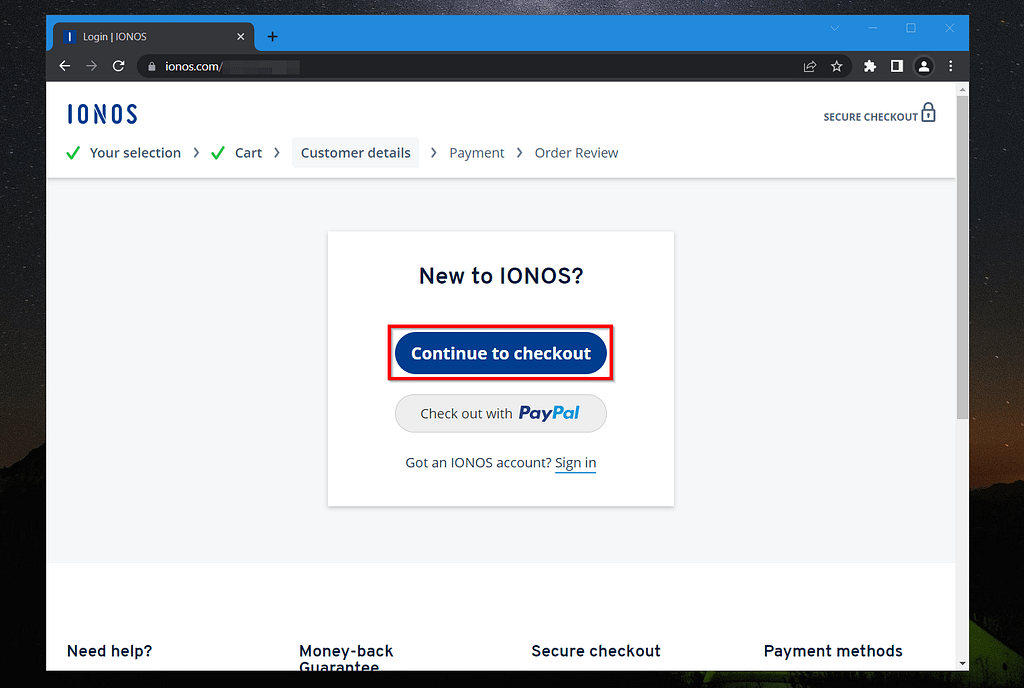 Fill in your billing information and click Continue to Payment Options.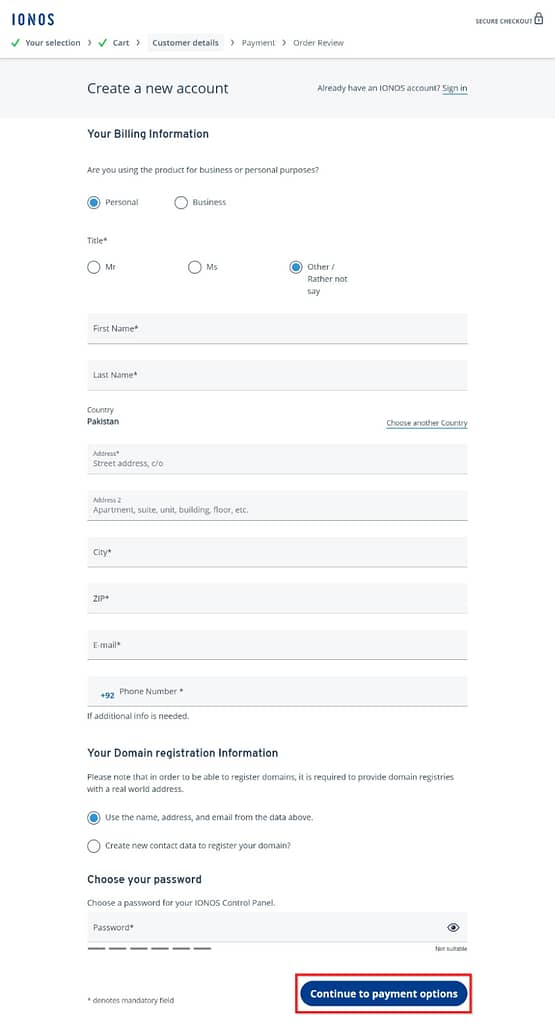 Provide the necessary credit card information to pay. Then, click on Continue to Review Order.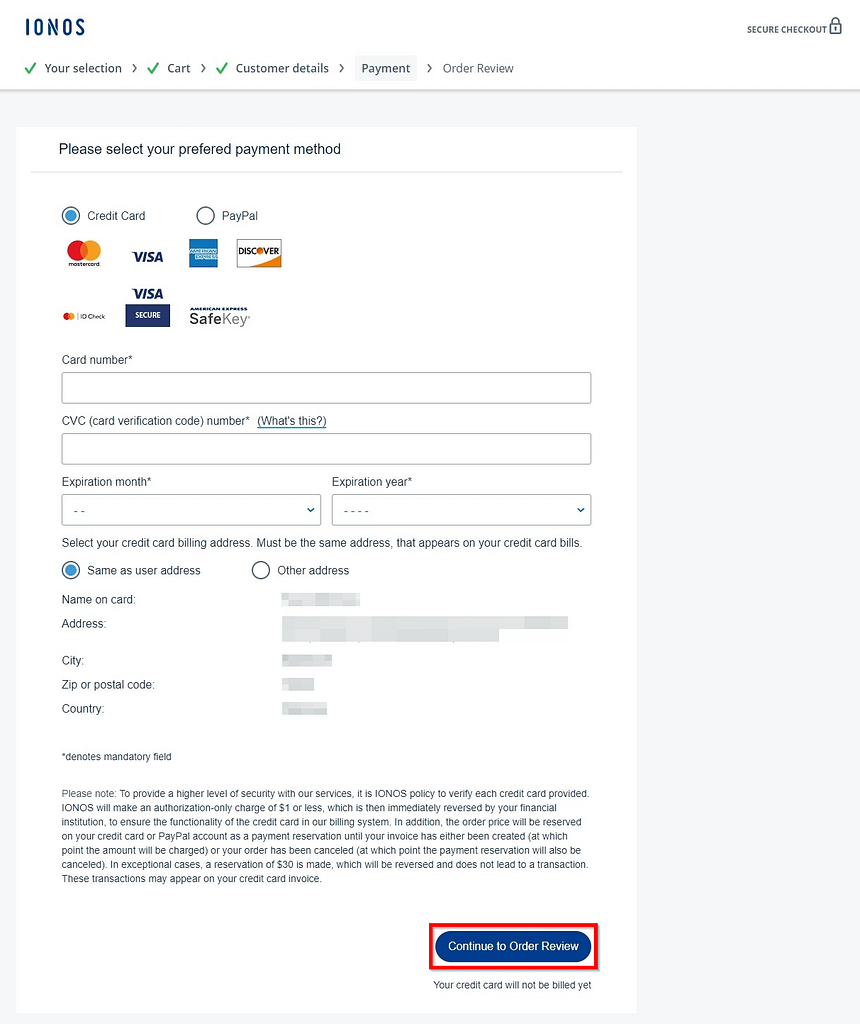 Once you review your order details, read and tick mark the checkboxes next to the Terms & Conditions mentioned. Then, click on Order Now.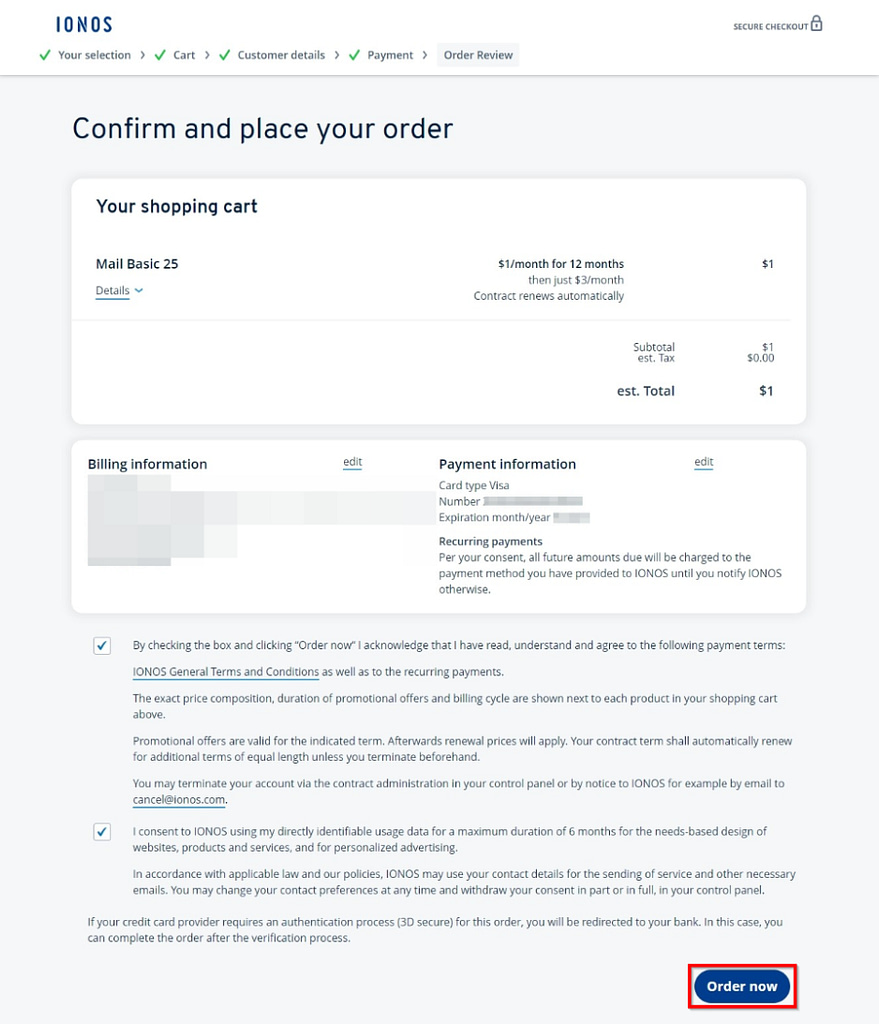 Pay for your IONOS Email Plan purchase. Enter the Passcode, which you'll receive via SMS or email, then click Submit.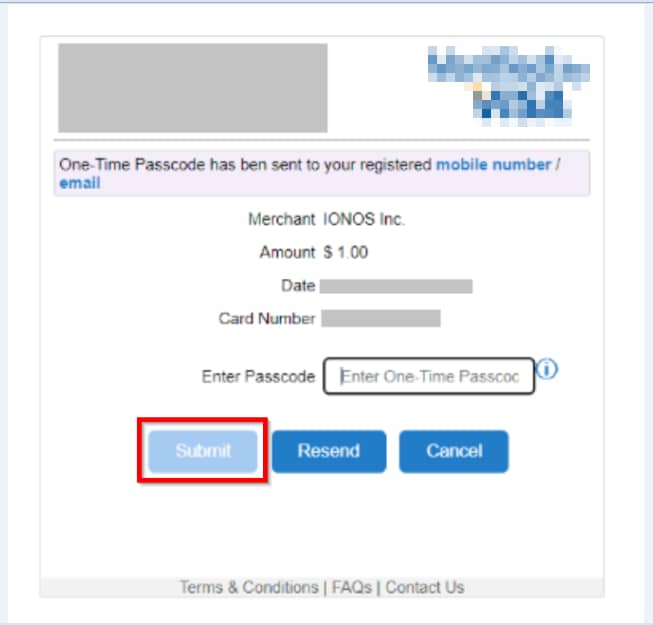 After receiving a transaction text from your bank and a confirmation email from IONOS, click the Get Started button to proceed further. Alternatively, you can head to the IONOS official site.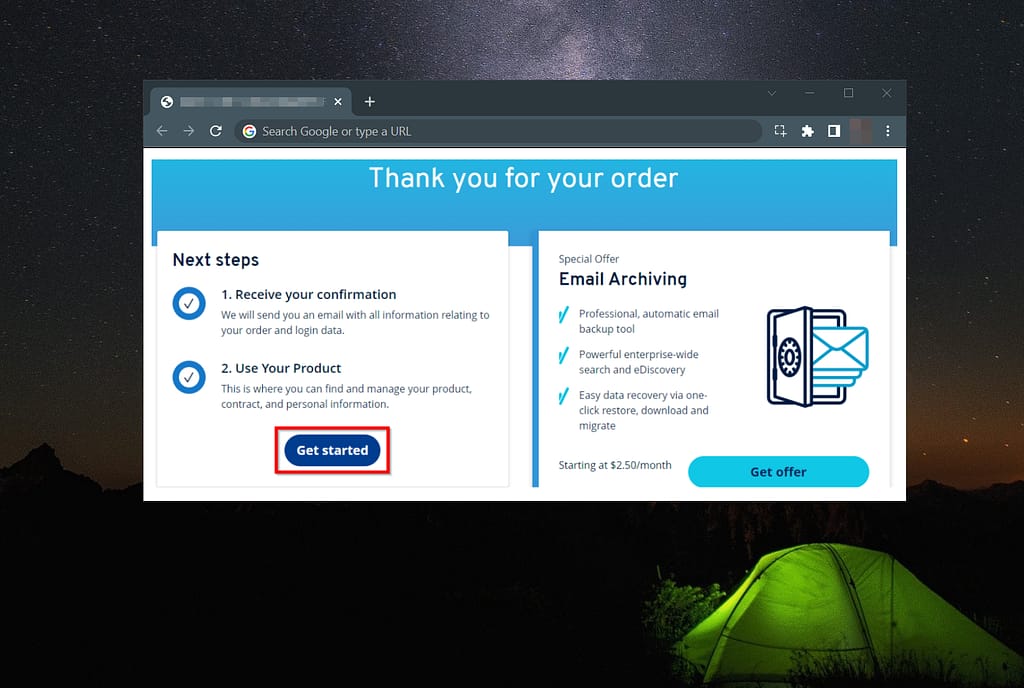 Creating IONOS Webmail Account
After the domain and Webmail email plan purchase, you will receive an email with a link to activate your account and a temporary password to log in for the first time. Now, create a permanent password and set up any additional security measures, such as two-factor authentication.
Once you are done with the purchase of domain and email plans, you can now create an IONOS Webmail. So, here are the steps that you need to follow:
On the IONOS official site, click Sign In at the top right corner.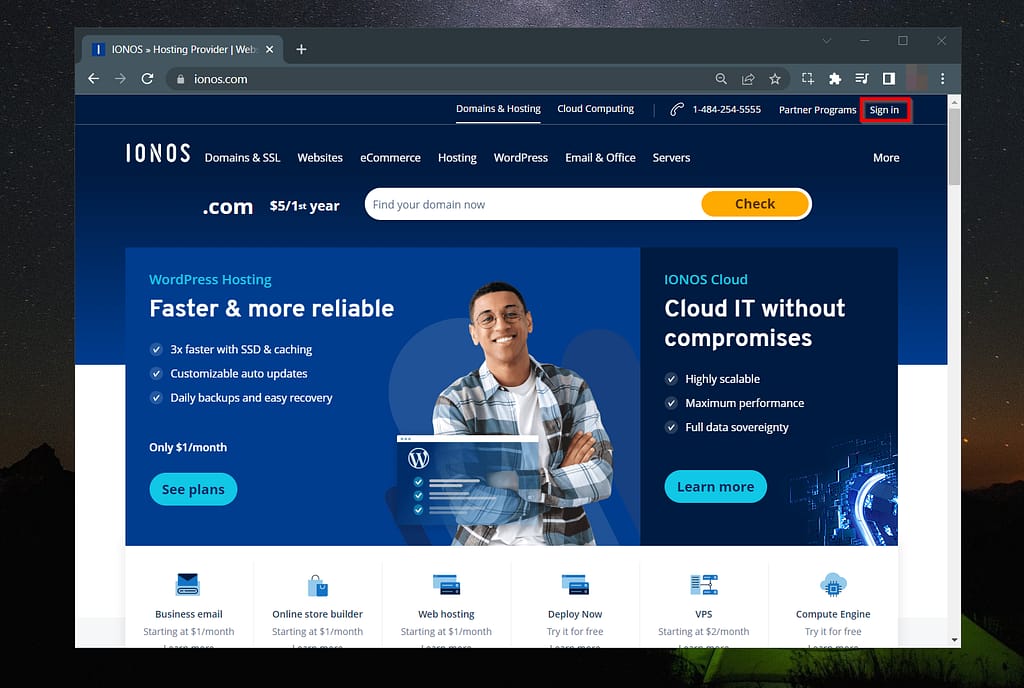 Enter your email address and click Next. (It may give you a pop-up to answer security questions).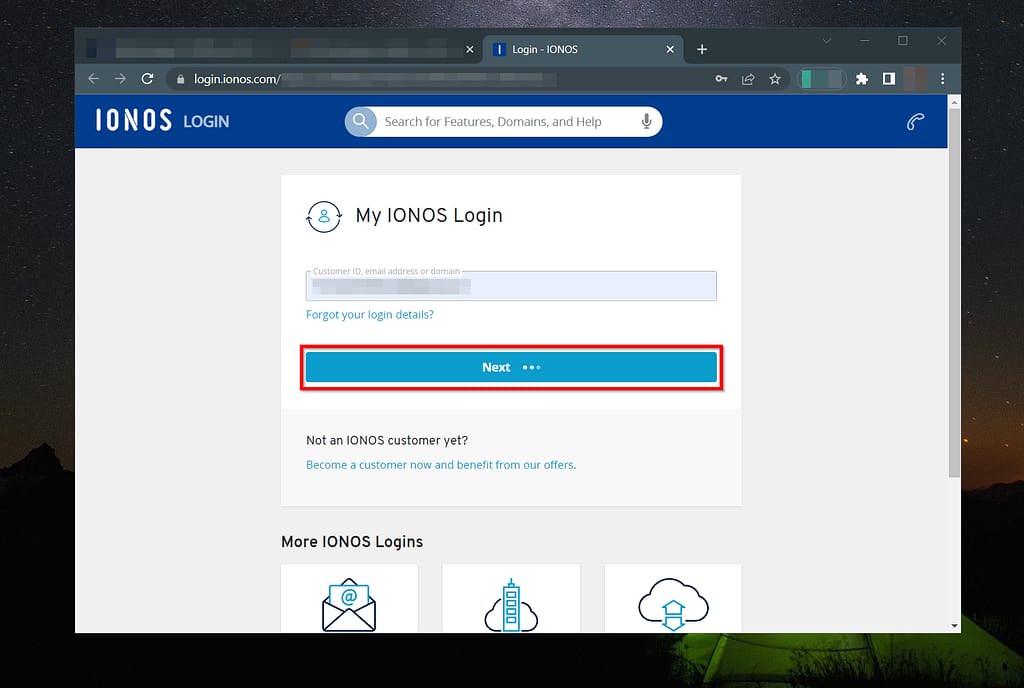 Now, enter your password, then click Next.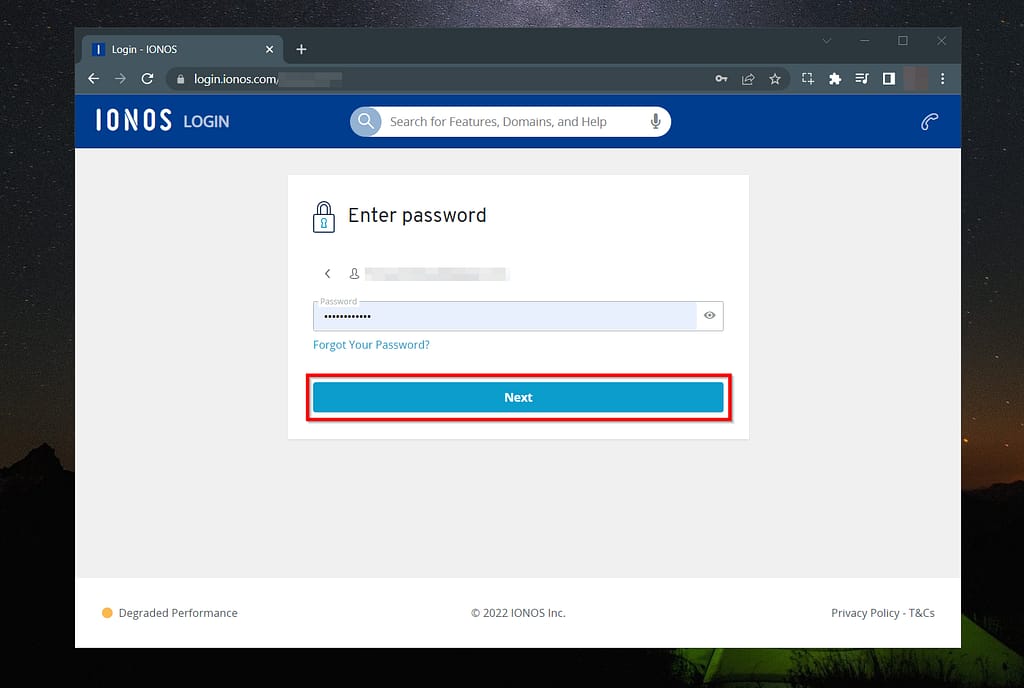 On your Home page, navigate to Domains & SSL.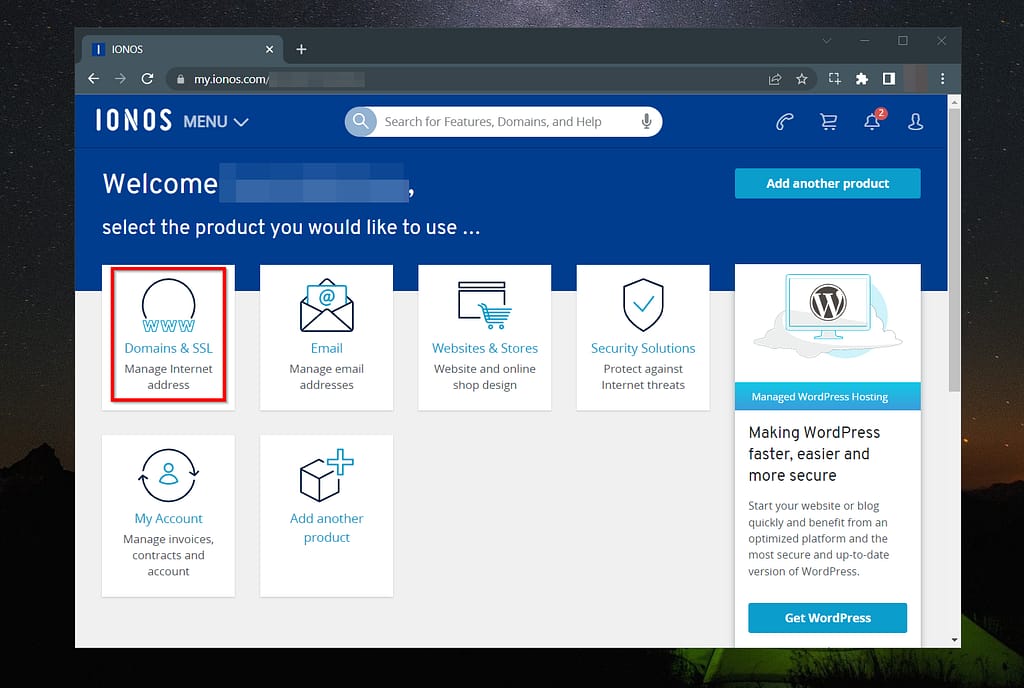 Click Domain to find more domain names available for your account.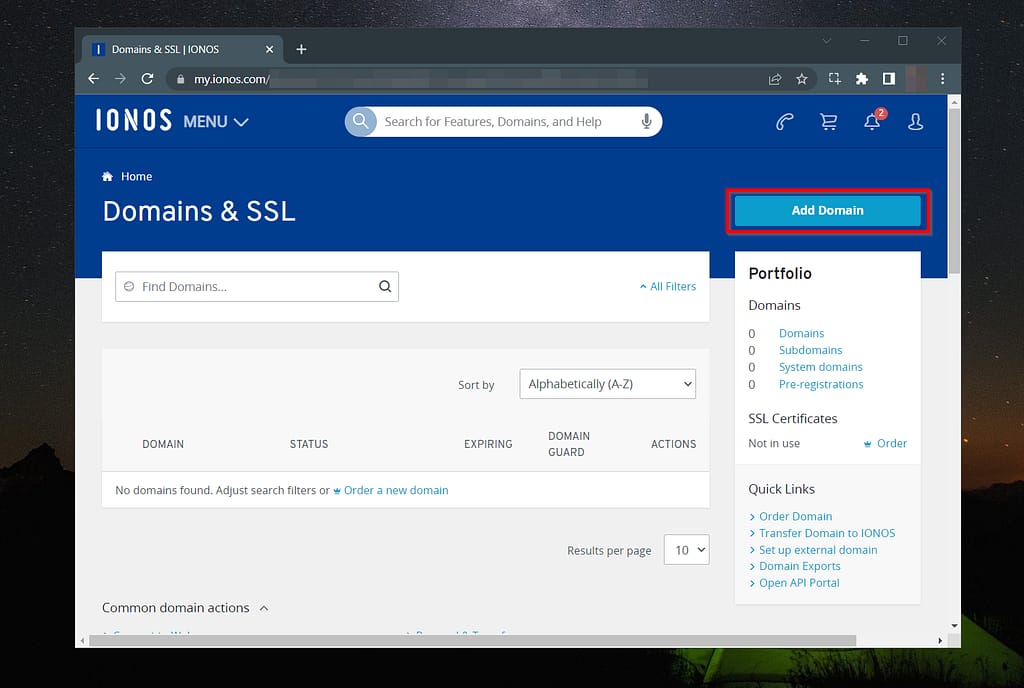 Check the available domains and proceed to Continue. You can either buy one or select from the free options. (I've chosen a free domain).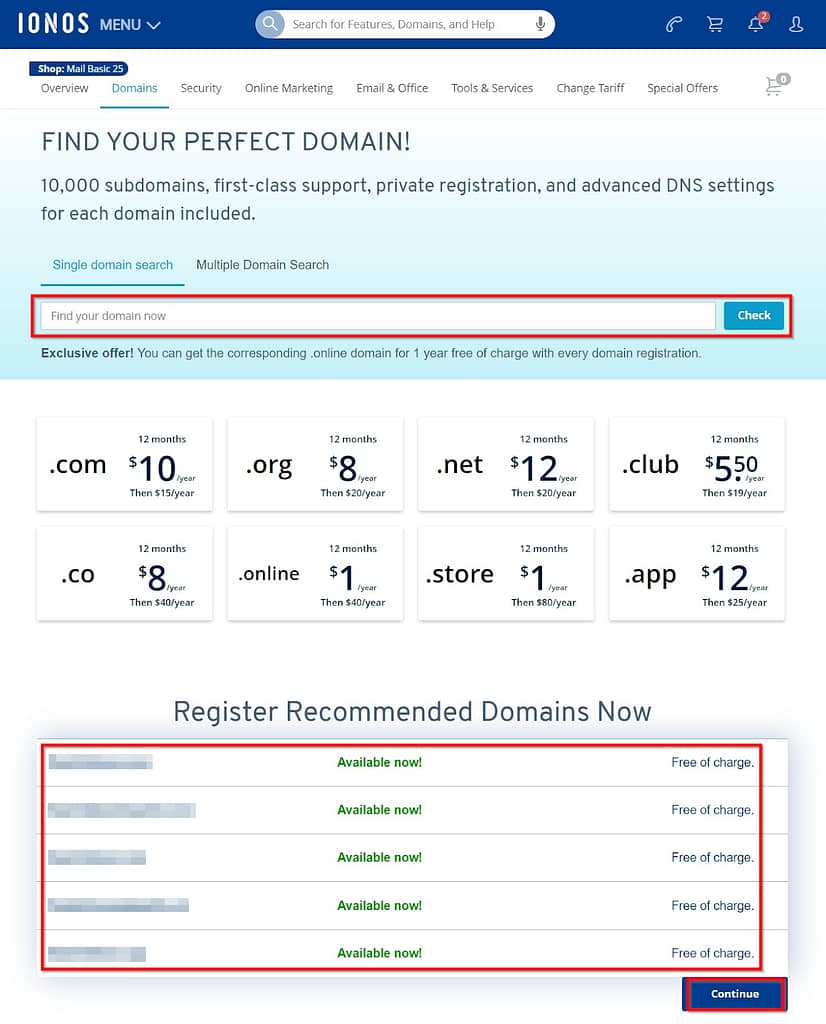 Now, click Add to Cart to get this domain for free.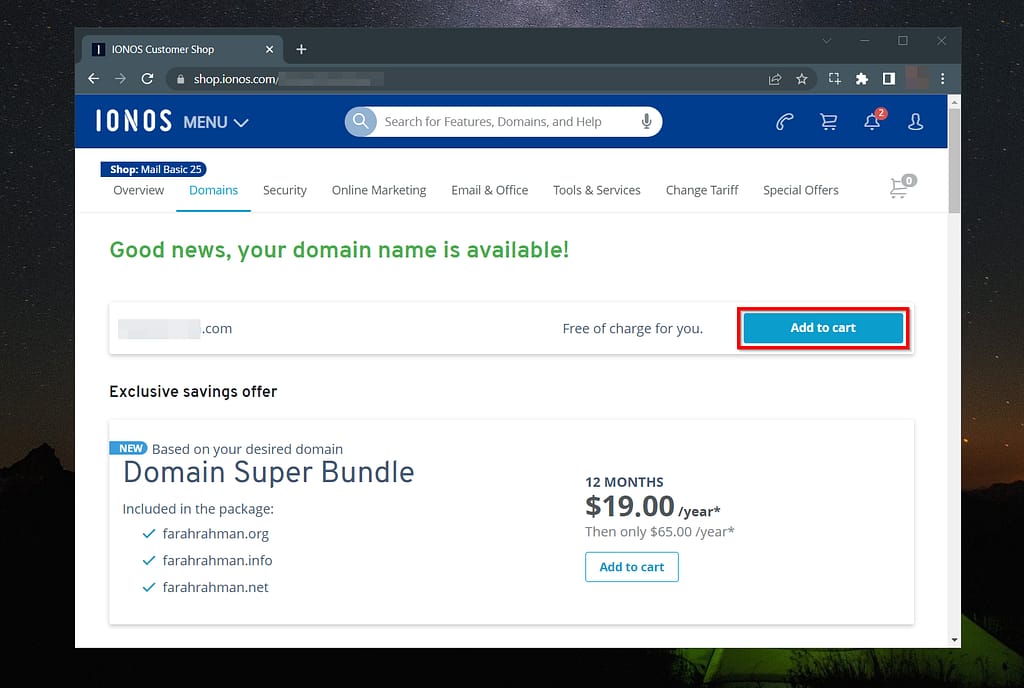 Click Checkout within the cart's drop-down list.
Click Continue to cart.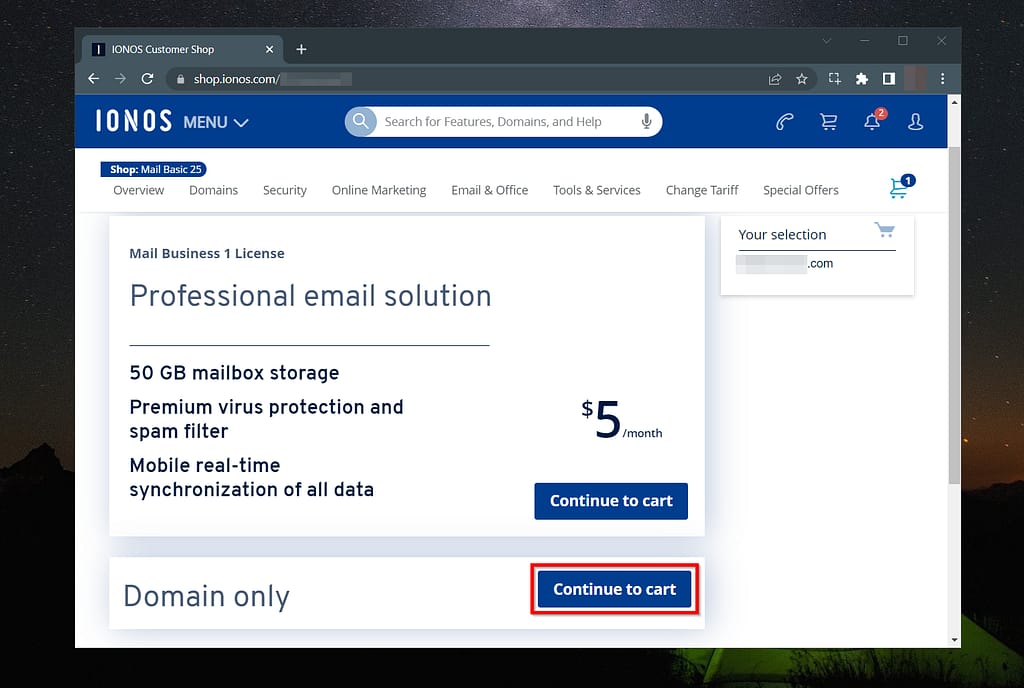 Tick the checkbox, then click Continue.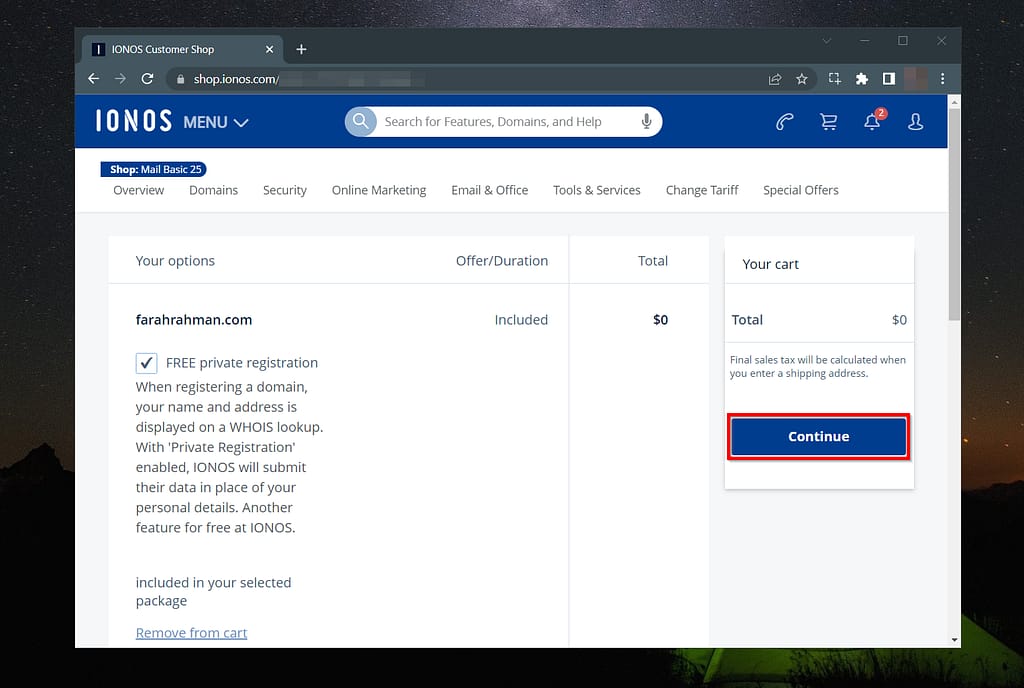 Finally, click Continue to Checkout.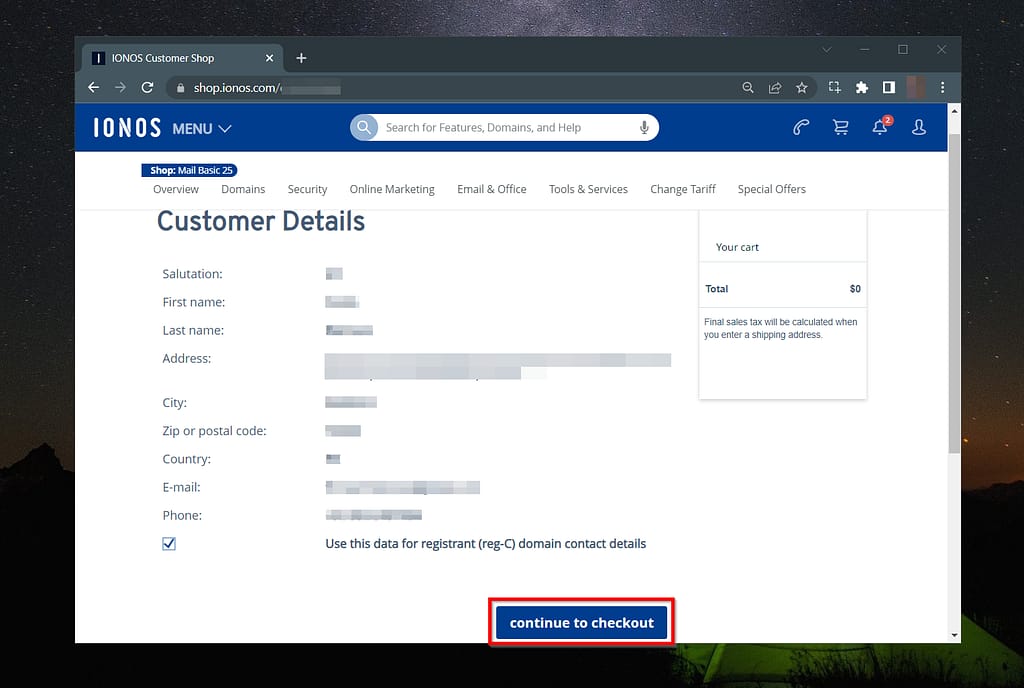 Review your order summary, then click Order Now. (After this step, you'll have to go to your email to confirm your purchase).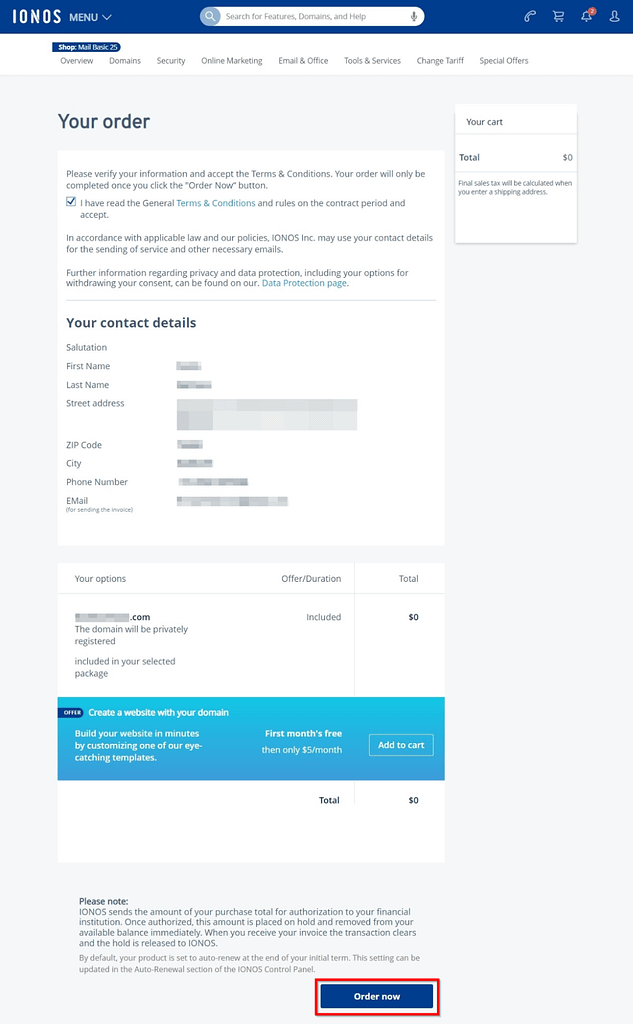 Now, open Menu at the top and select Email.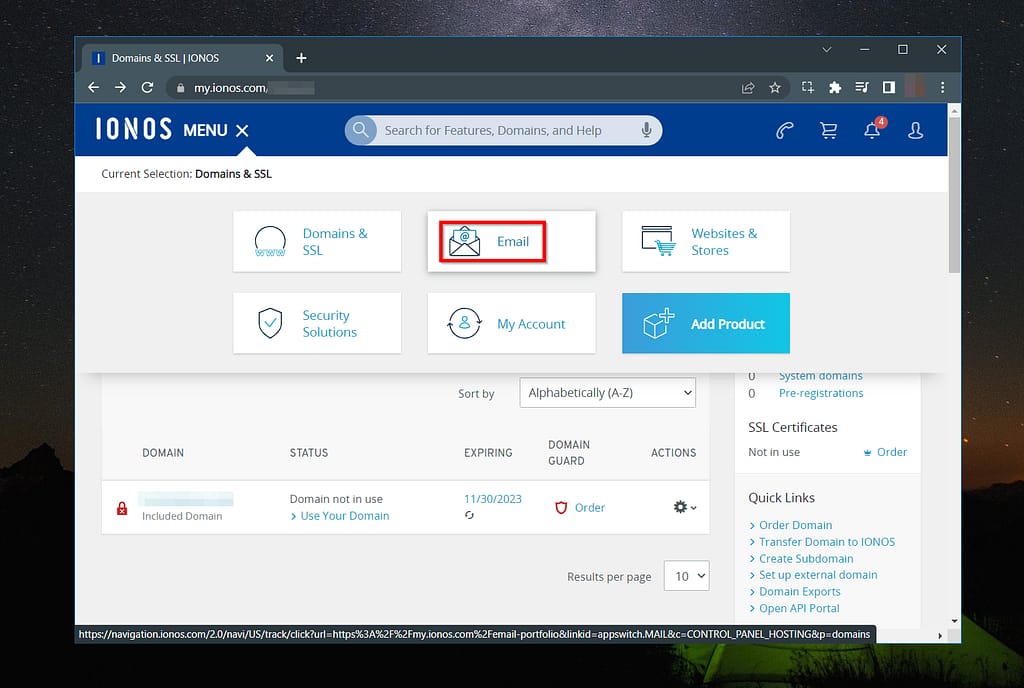 Click the Create button within the Mail Basic plan.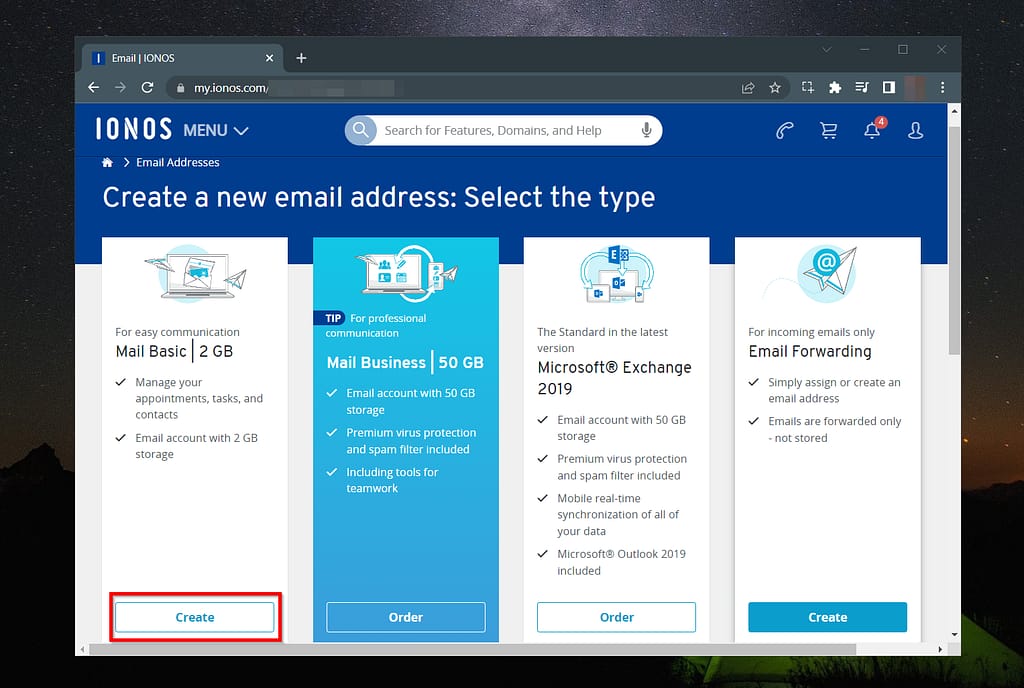 Type your desired email address and password for IONOS webmail, then click Save.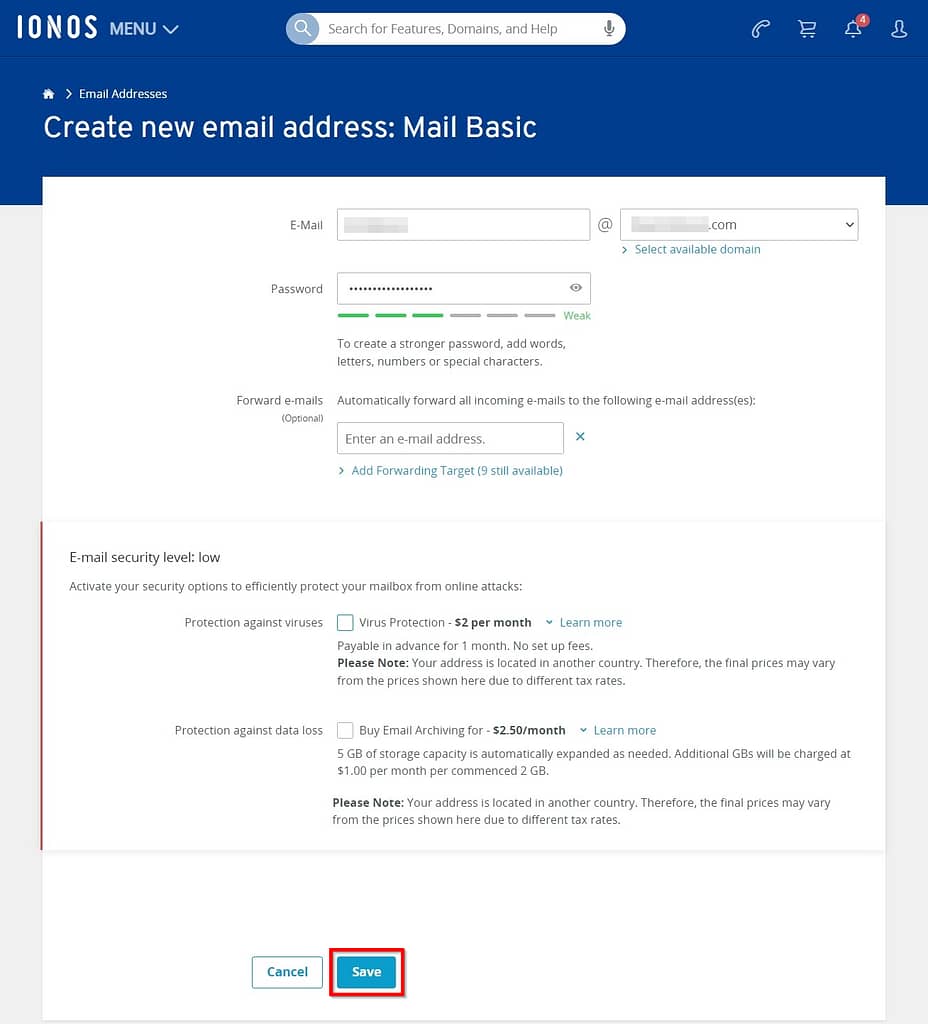 Once you see the successful notification for your new email address, scroll down until you find Use Email Address and click Go to Login.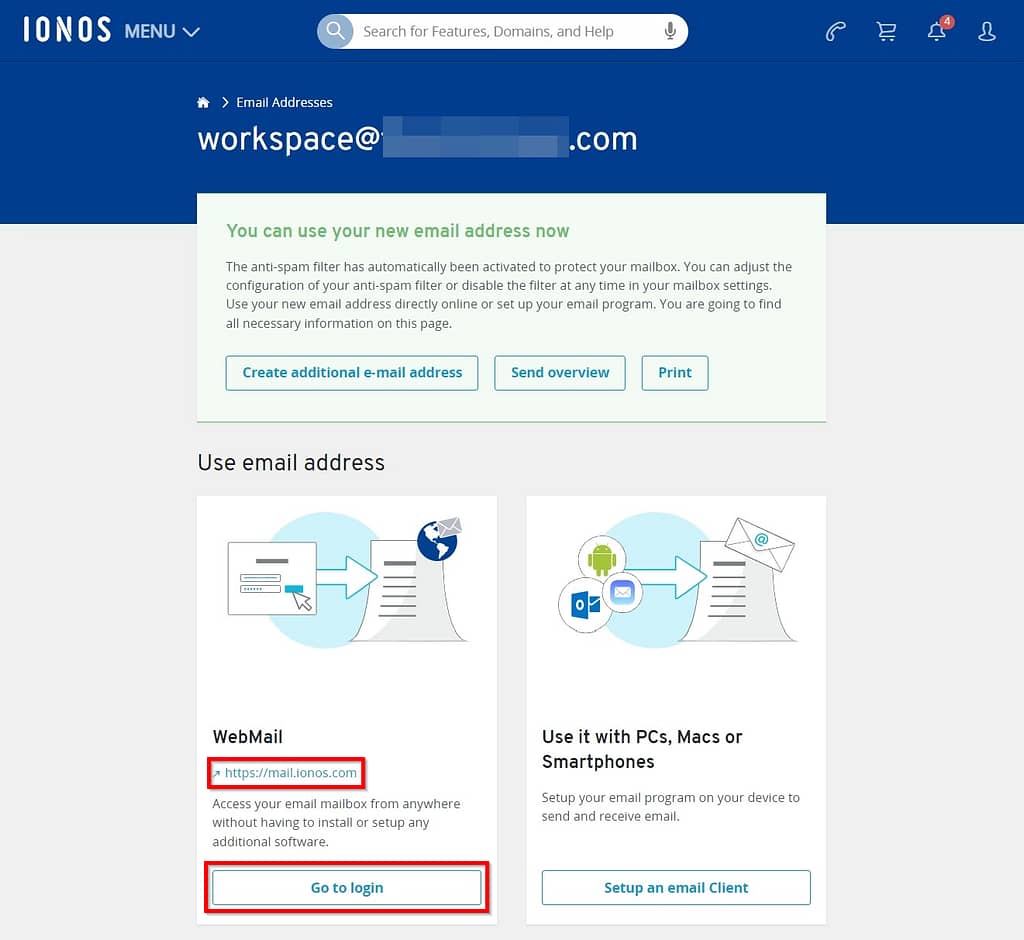 Use your associated email address and password to log into your IONOS account.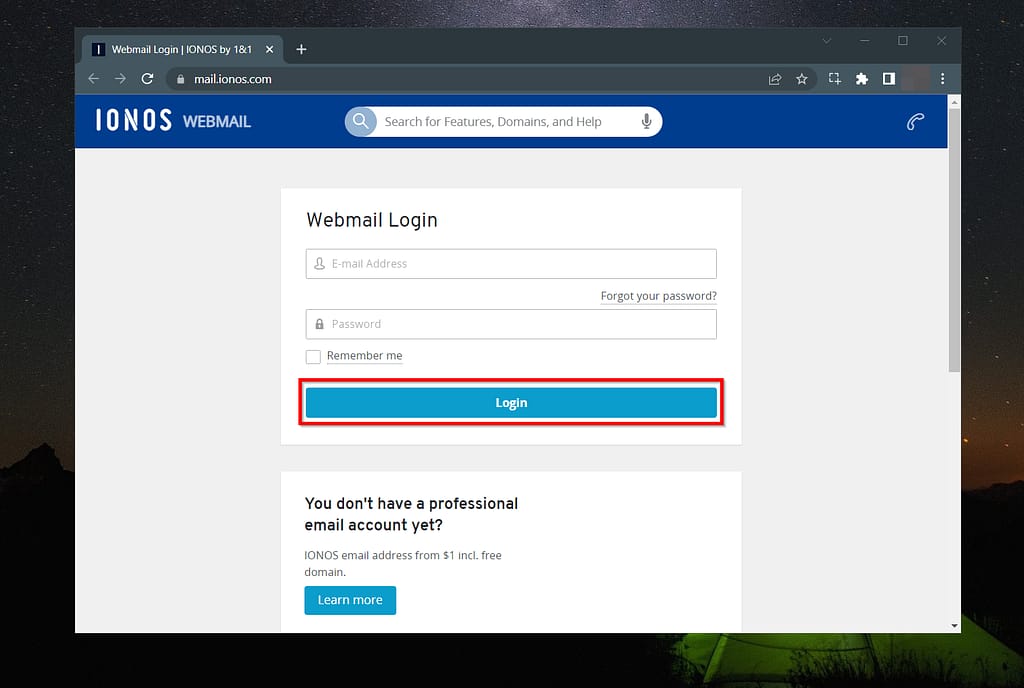 And that's it! You finally have a professional email address on the 1and1 Webmail platform.
Now, you can proceed further to learn how to access your newly created email address on 1and1 Webmail directly.
Direct Access to IONOS Webmail Login Page
To get direct access to the IONOS Webmail login page, visit mail.ionos.com. Alternatively, navigate to the IONOS website > Email > Email Login, and select Webmail from the drop-down menu.
Once you create your professional email on 1and1 Webmail, you may want to access it directly– instead of going through IONOS official website.
Here are the two simple steps for IONOS webmail login that you should follow:
Launch your web browser, head to mail.ionos.com, and enter your IONOS webmail and password. Then click on Login.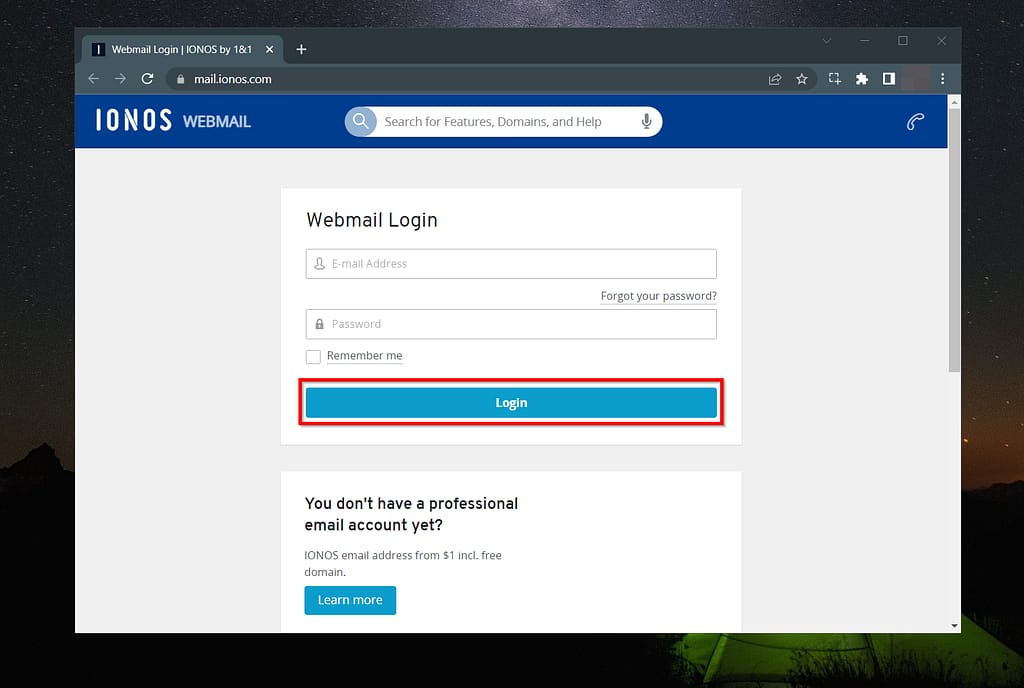 You'll now see your 1and1 Webmail inbox within a few seconds. Enter the information and click Save.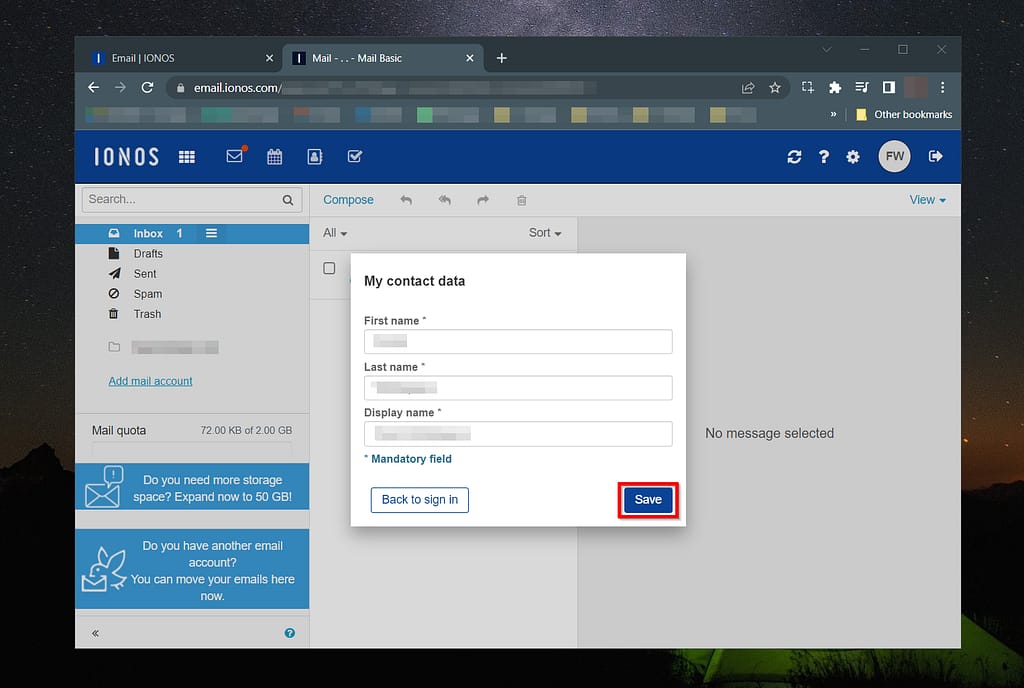 For a faster login experience, you can tick mark the Remember Me option – where you enter your email address and password for IONOS Webmail. And also, bookmark mail.ionos.com in your web browser.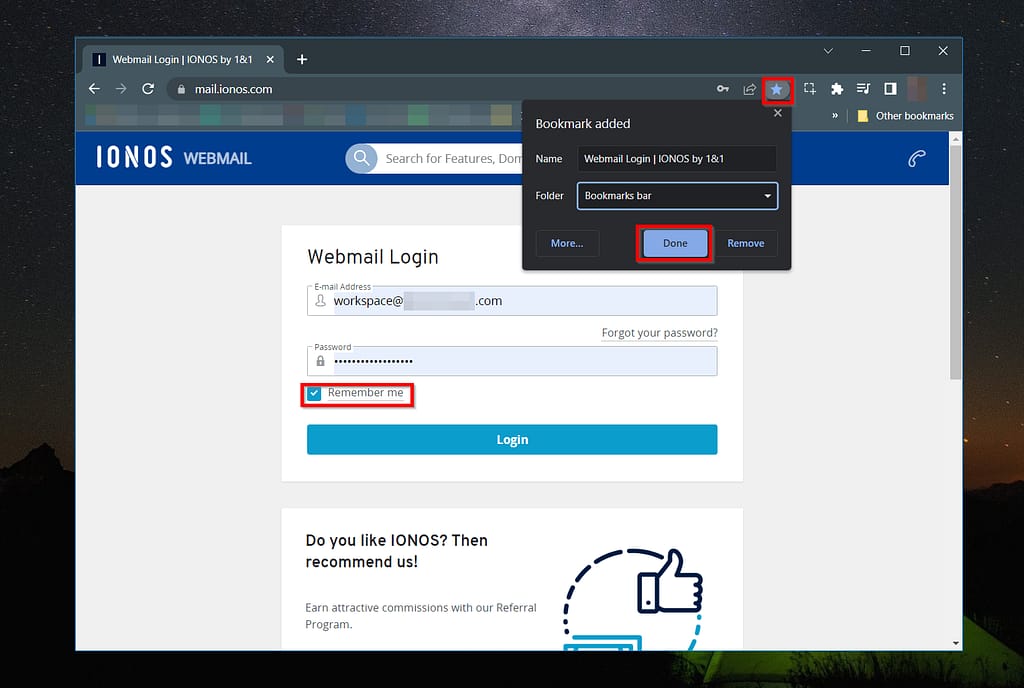 Now, you can have one-click access to the IONOS webmail login page. You can access your 1and1 Webmail account from your bookmarked web browser in just a few seconds.
Getting Started with 1and1 Webmail
Once you have completed the 1and1 setup process, navigate to the 1and1 webmail login page and log in to your account. From there, you can start using the various features of 1&1 Webmail, such as sending and receiving emails, organizing your inbox, and creating and managing contacts.
Knowing the essential features of your 1and1 Webmail account can help you make the best use of its service for professional purposes. So, let's have a quick look into the features of the 1and1 Webmail account here:
My Contact Data
The first thing you'll see is the My Contact Data prompt– if logging into your account for the first time. This basically lets others see your display name.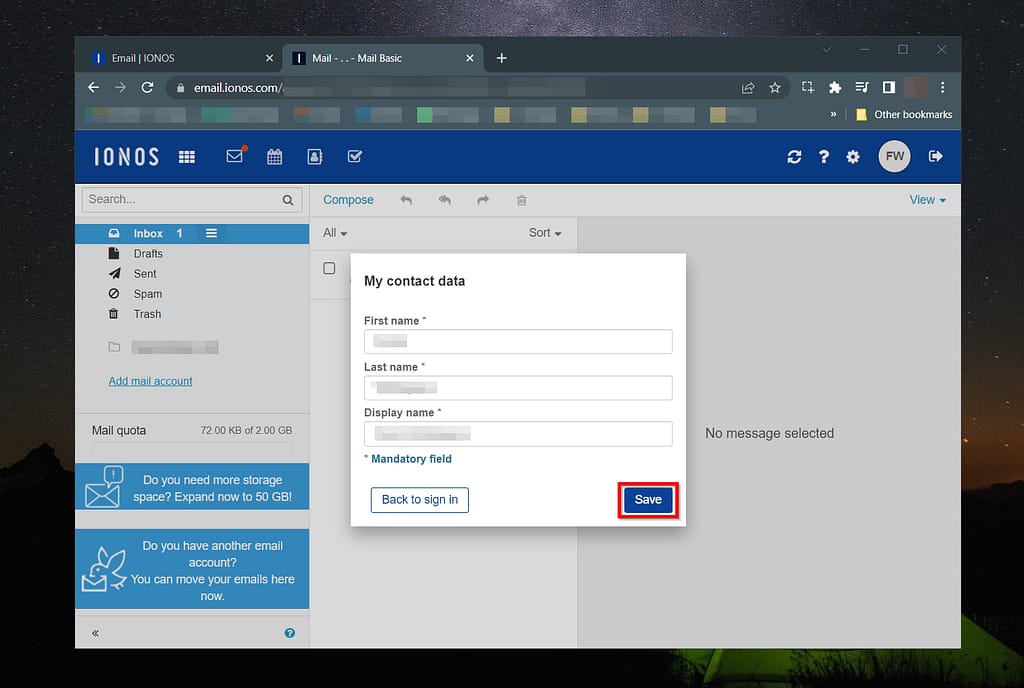 But if you haven't set up your information or want to change it later, you can by clicking your Profile icon in the navigation bar at the top right. Then, select Edit Personal Data from the drop-down list. You can now edit all the information that is necessary for your business.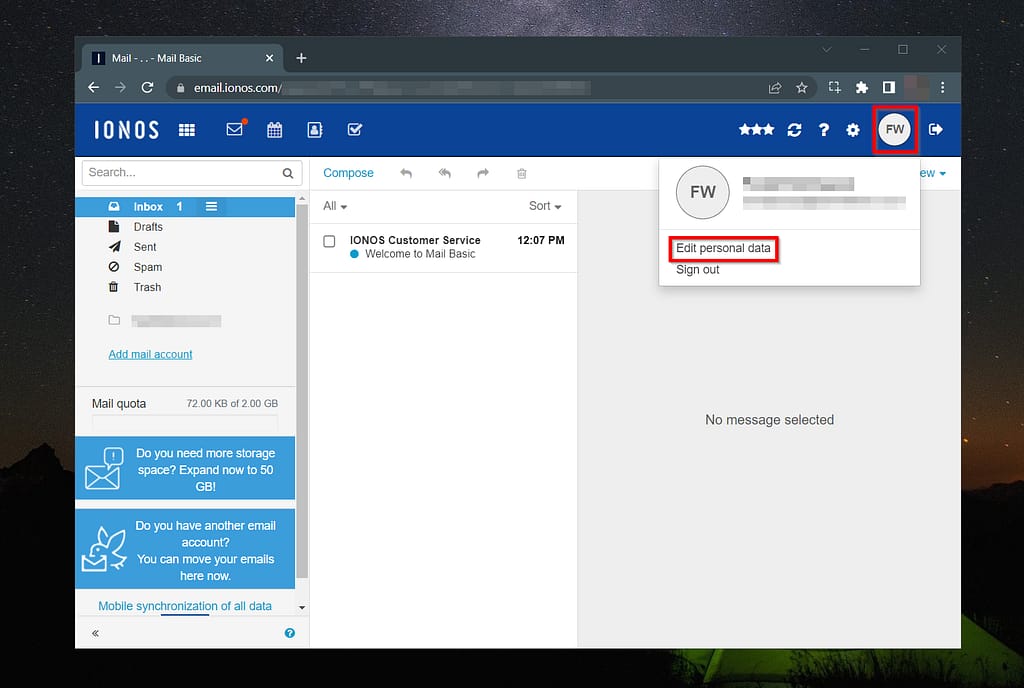 Email Interface
All the default folders– Inbox, Drafts, Sent, Spam, and Trash– are listed in the left navigation bar, along with the search bar above them. Additionally, you can create new folders to manage your emails the way you want.
The compose message interface has everything you need to make your emails look professional. That includes attachments, signature, text formatting, address book, and more options.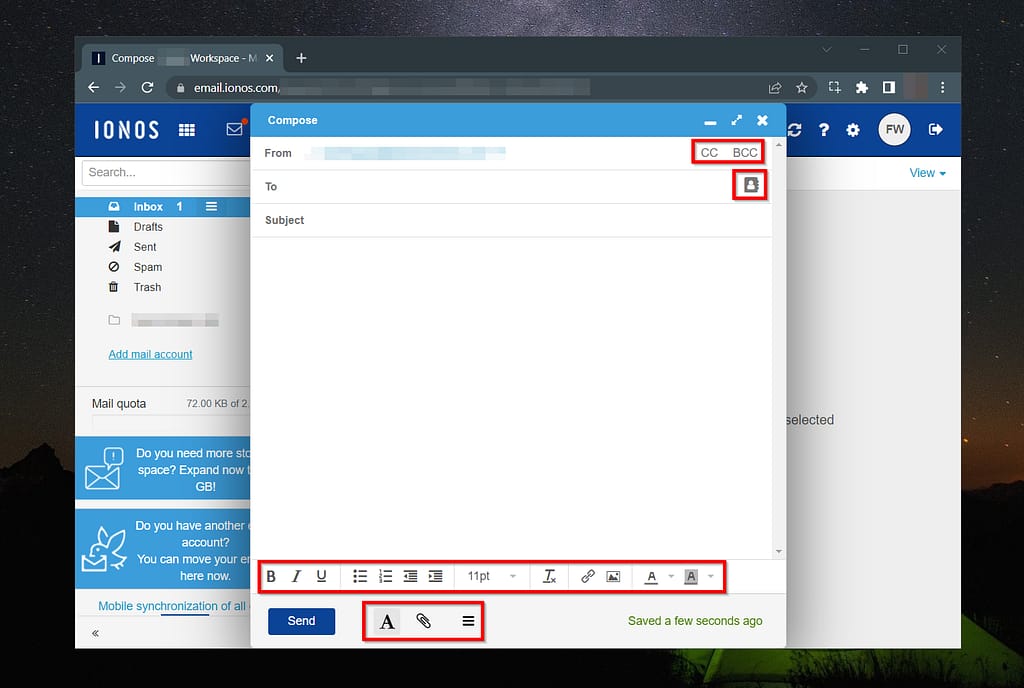 Another interesting feature is that you can save your emails as a file. This saves you from the hassle of going into your inbox again and again while viewing them offline.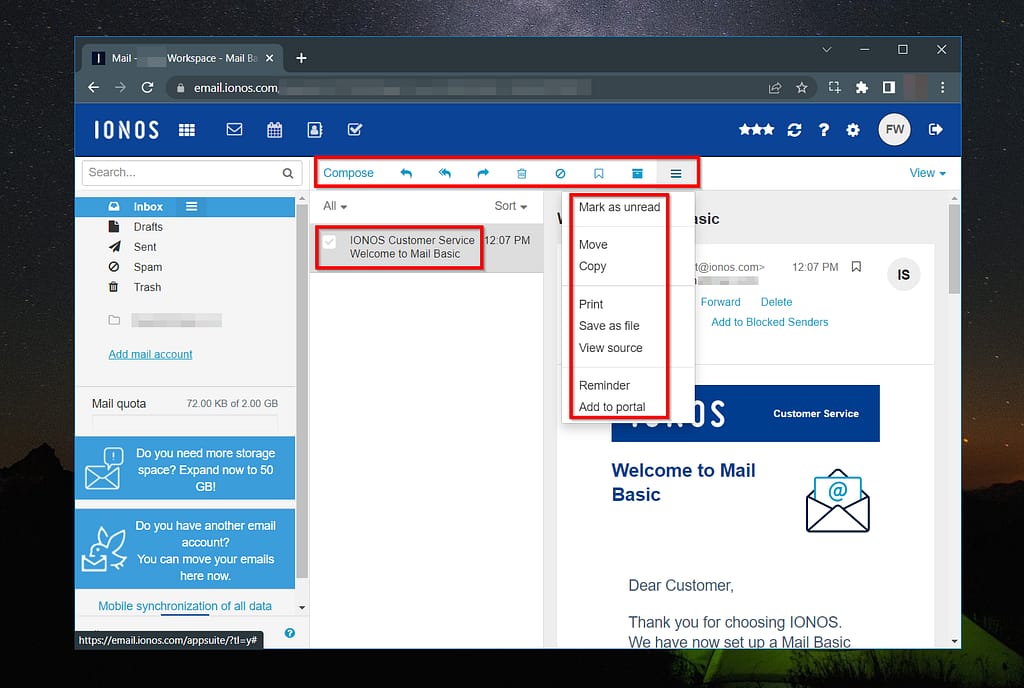 Business Value-Added Features
1and1 Webmail has placed all the valuable business features under a single icon- it looks like a checkered box. This gives you easy access to:
Mail – Connect with other email addresses like Gmail, Outlook, etc.
Calendar – Set up appointments, schedule meetings, & manage task dates.
Address Book – Add, delete, import, export, or edit contact details.
Portal – View your inbox details and customize widgets.
Task – Create and manage work-related tasks.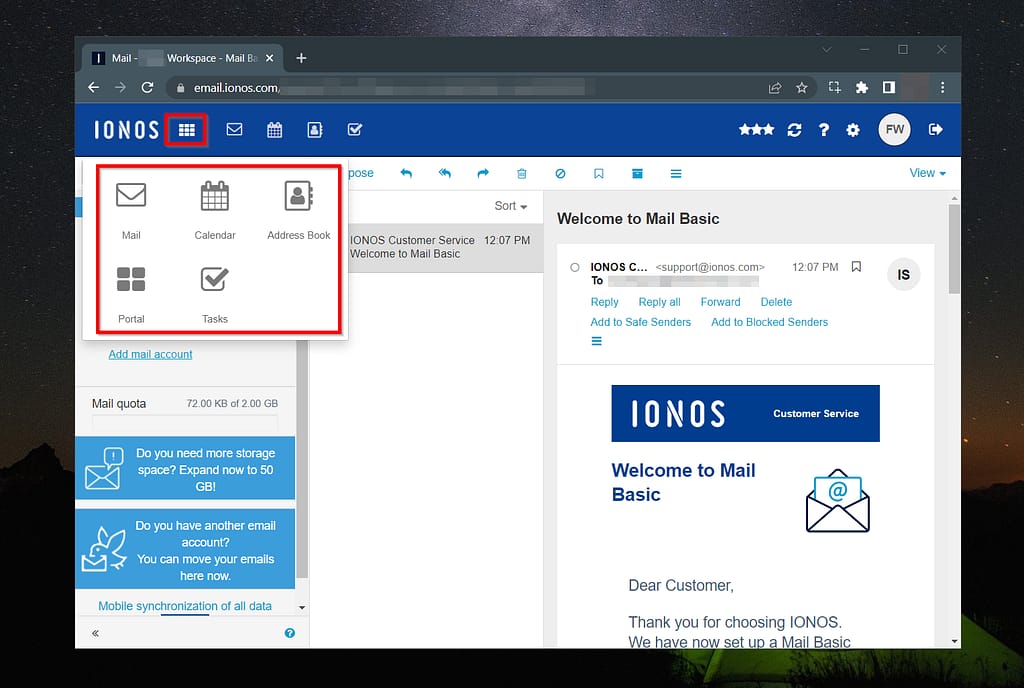 Settings Menu
You can view all the account settings via the Gear icon, located at the top right, just before the Profile icon. Here you'll find many options to explore and configure for your 1and1 Webmail account.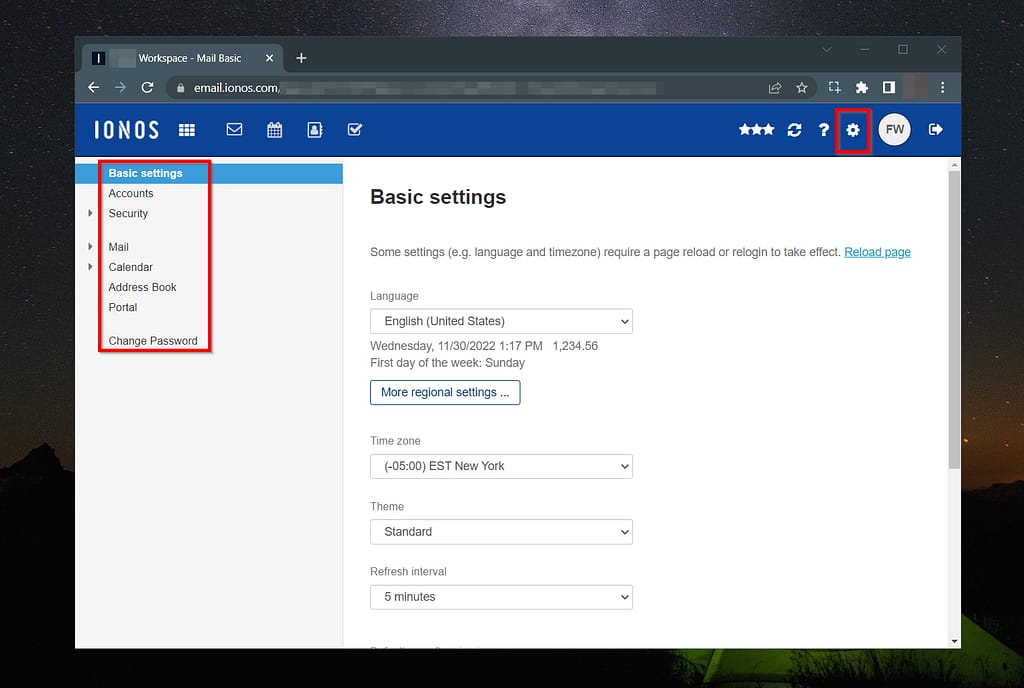 Usually, you won't need to set anything manually, as all the default settings are good enough to run your daily business activities. But if you still want to customize the account's settings, you can check out relevant settings and make changes accordingly.
Frequently Asked Questions
Why Can't I Log Into IONOS Webmail?
If you can't log into your IONOS webmail, possibly you have just created your account, so it could take the server some time to register it. In this case, you'll have to wait and try again later. Or else you may be entering the incorrect email address or password. To resolve this, you can also use the Forget Password option or reach out to the IONOS support team.
Is 1and1 Webmail Encrypted?
Yes, 1and1 Webmail is encrypted, which means that the interactions you do through this platform are protected. In fact, encryption is part of all the 1and1 Webmail email plans. So, it automatically enables encryption on the email addresses created on its platform. You don't have to go through any special settings or pay anything extra for it.
Is IONOS Webmail Free?
IONOS Webmail is included in the package if you are taking a hosting plan. So, it is free within the hosting plan. Otherwise, this service separately comes in three plans – Mail Basic 1, Mail Basic 1+, and Mail Business– with varying price tags.
Is it Safe to Use Webmail?
Yes, Webmail is absolutely safe to use. It secures emails with SSL/TLS encryption and provides HTTPS protection for data. Plus, most Webmails have additional features like auto-spamming filters, taking daily data backups, personalized blacklists, and more. You can also get virus protection, depending on the email plan you choose for your account.