Game Boy emulators are one of the most popular consoles of all time. However, they aren't easily available with the advancement in gaming platforms. So, here's my list of the top Game Boy emulators for iOS, as well as the best games to play on them. If you want to bring back the nostalgic experience of GameBoy games, read on.
Top 6 Game Boy Emulator iOS Devices
The top emulators for the iOS platform are GBA4iOS, Delta emulator, Eclipse emulator, Happy Chick, Provenance, and RetroArch emulator. They offer excellent ROM support, user-friendly UI, authentic retro gaming, and cheat code support. Continue reading the guide to find out more about each emulator and enjoy a real GBA experience on your iPhone or iPad.
Here's a detailed review of the 6 best game boy emulators on iOS:
1. GBA4iOS Emulator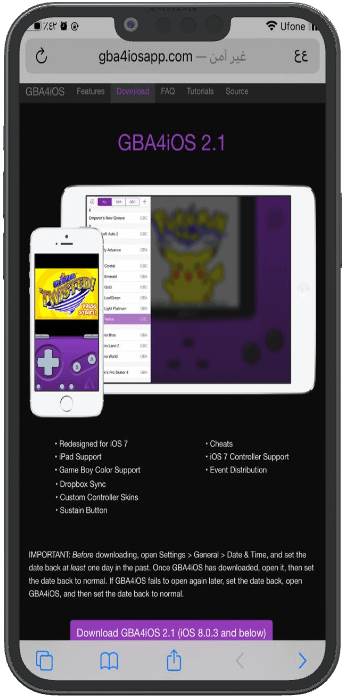 The GBA4iOS emulator is pretty famous mainly because of three reasons. One, it is free and easily accessible from its official site. Second, this emulator is compatible with most iOS devices – whether it's iPad, iPhone, or even iPod. Lastly, their developers continuously update the emulator to stay compatible with the recently released iOS devices.
Another upshot of the GBA4iOS emulator is that you can use Airplay technology to play GameBoy games. This means you can enjoy your favorite retro games on a bigger screen, enhancing your gaming experience on your iOS devices.
The top features of this emulator are:
Wide variety of vintage games
Dropbox integration
Cheat codes
AirPlay large screen support
Support for save game state
2. Happy Chick Emulator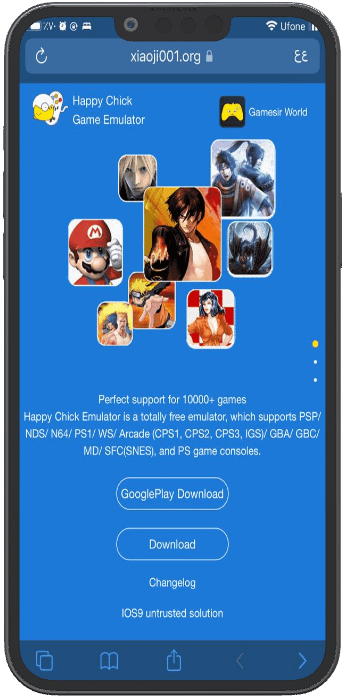 Happy Chick is another amazing GameBoy emulator for iOS devices. Currently, it supports more than 18 retro gaming consoles, including GBA and GBC games. Furthermore, you can find the top vintage games in the ever-growing collection in Happy Chick. That includes Street Fighter, Pokemon, and the Legend of Zelda.
In addition to its extensive collection of classic games, the Happy Chick emulator also supports multiplayer gaming so that you can enjoy GameBoy games with your loved ones. This makes it an even more appealing option for retro gaming enthusiasts.
Some pros of the Happy Chick emulator are:
Cloud sync support
Wide variety of classic games
Multiplayer support
External controller support
3. Delta Emulator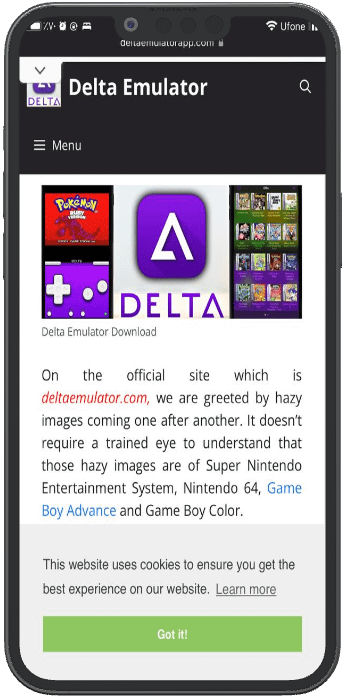 Delta emulator also serves as an all-in-one emulator. It can emulate not only the Game Boy Advance but also Nintendo Entertainment System, Nintendo 64, Game Boy Color, and more. So, with this emulator, you'll have several retro games to play and explore.
Moreover, the Delta emulator has a user-friendly UI that allows you to easily set up and play games on iOS devices. It also comes with convenient features like cloud storage and cheat codes, which can be especially helpful when playing games. Overall, it's a reliable and efficient choice for playing Gameboy games on your iOS device.
What makes Delta emulator a great choice:
Cheat codes support
Availability of various retro games
Dropbox and Google Drive synchronization
Jailbreak not required
4. Eclipse Emulator
The Eclipse emulator takes the lead in having the cleanest UI, especially for newbies. It is also equipped with the necessary features to have a seamless and efficient gaming control experience on iOS devices.
In addition, the customization options for screen size, orientation, and more, makes this emulator a good choice for all retro iOS gamers. Besides that, it also supports retro games of Game Boy Advance, Game Boy Color, Nintendo 64, and Super Nintendo Extended Systems.
Lastly, loading the ROM game on this emulator is very easy. You can directly download game ROMs from a repository, add a game ROM from a URL, or use a built-in Game Hub to add the game ROM.
The top features of the Eclipse emulator are:
Clean and seamless UI
Emulated gaming retro consoles
Easy cloud integration
Different UI skin support
Load games in the GBA emulator
5. Provenance Emulator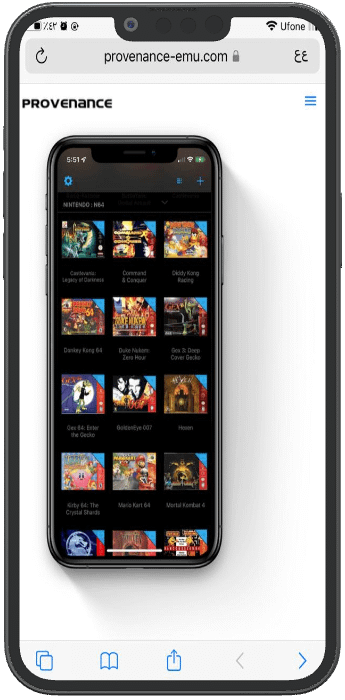 Provenance is also one of the top iOS emulators mainly because of its easy-to-use modification options. Just like other emulators, it also supports GBA and GBC retro gaming. So, you can enjoy a huge collection of retro gaming.
Moreover, the Provenance emulator allows you to load and play GBA games with a single click. That is, you don't have to download any prerequisites to run games on this emulator. All you have to do is download this emulator, and the game launches.
The main features of the Provenance emulator are:
Cloud sync support
One-click play support
Does not require jailbreak
Customize game controls and maps
6. RetroArch Emulator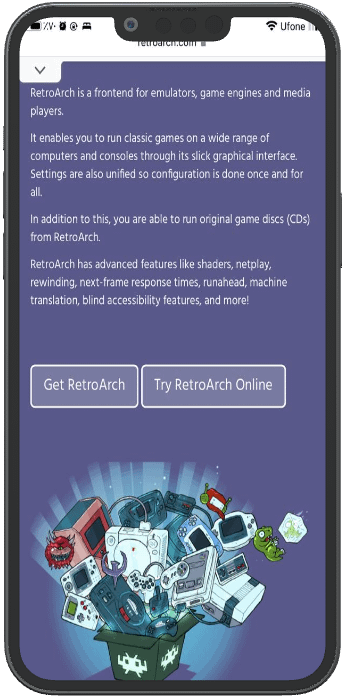 Classic gaming fan? If yes, the RetroArch emulator is the one for you. This emulator supports controllers of several retro consoles. It also has advanced features, like shaders, rewinding, netplay, and more, making it more appealing to have on your iOS device for GB or GBA gaming.
As the RetroArch emulator is adapted from the libretro API, it is lightweight, fast, and provides a seamless retro gaming experience. Plus, it allows you to record your sessions and enjoy new games as they appear in its collection. You can download ROMs and add them to the GBA emulator. So, there are several options to explore on this emulator.
Some great features of the RetroArch emulator are:
Add new ROMs to the emulator
Save and record GBA game states
Cheat code support
Rewinding and machine translation
Best Games to Play on GameBoy Emulator for iOS Devices
The best games to play on the GBA emulator for iOS platforms are Pokémon (FireRed, LeafGreen), Super Mario Bros 3, the Legend of Zelda (The Minish Cup), and Golden Sun.
Since GBA emulators let you play all classic GameBoy and GameBoy Advance games, here is a list of some top games that you may enjoy using these GBA emulators on your iOS device.
1. Pokémon FireRed and LeafGreen Versions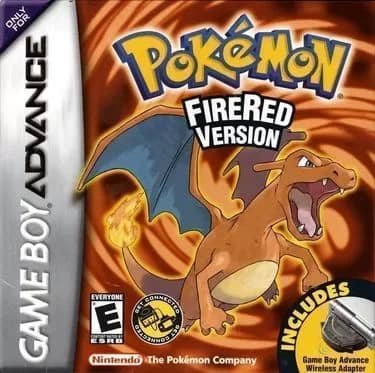 The classic Pokémon FireRed and LeafGreen game is still widely regarded as some of the best in the series. With a strong storyline and a good balance of difficulty, you'll also enjoy the RPG retro style in this game. Plus, you'll find this Pokémon game on all top emulators due to its high popularity in the retro gaming world.
2. The Legend of Zelda: The Minish Cup
This game of Zelda series opens up a whole new world of exciting puzzles. You'll have control over some paths with incredible superpowers for combating enemies. The storyline is simple but keeps you at the edge till the end.
3. Super Mario Bros 3
Super Mario Bros 3 is a classic GameBoy game that is popular due to its easy controls and enjoyable levels. Its improved power-ups for the main character make it particularly addictive to play. If you are a fan of retro games, you will likely enjoy playing this game multiple times.
4. Golden Sun
The Golden Sun game is a popular fantasy RPG with a well-developed storyline that is both engaging and challenging. One of its standout features is the ability to have two players and an intense treasure-hunting journey. It also offers puzzle-style exploration and complex loot routes, making it a highly engaging and enjoyable RPG adventure for most retro iOS players.
Frequently Asked Questions
Is the Gameboy emulator available for iPhone?
Yes, there are several Game Boy emulators for iPhone and iOS. Some top emulators for the iOS platform are GBA4iOS, Delta emulator, Eclipse emulator, Happy Chick, Provenance, and RetroArch emulator. They offer excellent ROM support, user-friendly UI, authentic retro gaming, and cheat code support. All of these emulators are discussed in the article above.
Are emulators safe to run on my iPhone?
Yes, emulators are safe to run on any iPhone as long as you download emulators and ROMs from credible sources. Most emulators do not harm iPhones and are legal to use. However, you may need to limit your playing hours because some games may drain your iPhone's battery faster.
How to install the GB emulator on my iOS?
To install the GB emulator on an iOS device, you need to download the emulator onto your iOS device. Then, tap on it to open the app. Next, you have to tap the install button to start the installation process. Once done, you can now enjoy the emulated games on your iOS device.
Can you emulate it on an iPhone without jailbreak?
Yes, you can. All the emulators discussed in this article do not require jailbreak. That means you can enjoy all the games on the mentioned emulator without jailbreaking your iPhone or iPad.